While I do have a few glass front cabinets in my kitchen, I do not have very many places for elaborate displays.  My Christmas decorations are a mishmash of long treasured items with newly created crafted masterpieces.  While these items feel homey, my house will not be featured in any holiday magazines anytime soon.  For others, Christmas is the time to bring out elaborate collections.  This is definitely the case for one local family.  The Felthousen Christmas house collection is quite amazing to see.
For years their Christmas display has been bringing joy to family and friends. Now this year, the Felthousen Christmas house collection can be found at the Strategic Air Command and Aerospace Museum between Lincoln and Omaha.  Here is a bit more detail from the official press release about the Christmas house collection that is currently on display at the museum through January 5th.
The Strategic Air Command & Aerospace Museum received a donation of what the collector says is the largest collection of Dept. 56 Snow Village & Dept. 56 Christmas North Pole Villages in the state of Nebraska.

Robert and Grace Felthousen are residence in Plattsmouth, Nebraska and donated over 400 villages along with hundreds of little displays that go along with the collection. The majority of the pieces are no longer available for sale at outlets that carry Dept. 56 Villages. The collection, a display of rare and retired pieces, took the Feltousens 33 years to acquire.

The villages are so popular the Felthousens welcomed over 350 guests in their home last year. Now they hope to share their collection with a larger audience for years to come. "The number of people who are interested in visiting the villages is overwhelming for one household," said Robert Felthousen. "We donated it so that Museum guests can admire and enjoy what took us a lifetime to collect."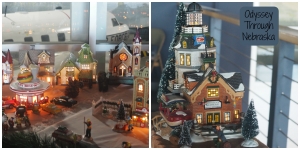 Right before the display opened, my daughter and I were able to take a sneak peak.  (Thanks, SAC!)  Due to needing to get back for a basketball game, we were not able to look as long as we would have liked.  But we were definitely impressed with what we did see.
The detail on all of the houses is incredible.  Taking in all of the different shops and scenes would take a long time. Evidently there is a even a working water mill, but that part was not working the day that we were there.  We both liked this large light house area.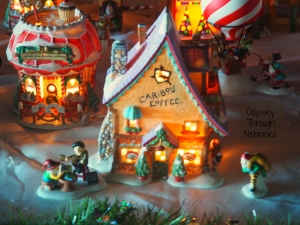 One of my favorites was the coffee shop area.  As you can maybe tell from this picture, photographing the display was a bit tricky.  To allow visitors to fully experience the Christmas house collection village, the lighting in the foyer area is dim.
Visiting this Christmas House Collection
Children will enjoy seeing this village.  Only general admission is charged to see the display, and you can enjoy the rest of the museum for the same cost.  One word of caution – the tables are at eye level, and the barrier from them is limited.  The small figures might be rather irresistible for children that struggle with being hands off.   You might want to wait another year or two to bring them along.  Since this display was donated to the museum, the Christmas house collection will be a part of the December festivities at the museum for many years to come.