Studying all of the states individually has left our family with the quite the list of travel destinations.  Thanks to my former college roommate, Jodi, her state just might be near the top.  After all, since she is now a photographer, she has captured her home state in a BEAUTIFUL light.  You definitely need to check out her Oregon landscapes!  She has literally run all over the state and probably indirectly influenced our dinner choices – a healthy meal made sense!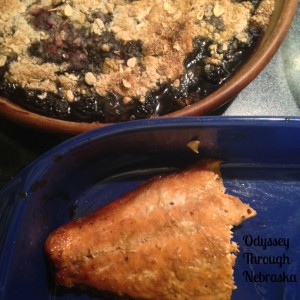 Oregon
Maple salmon was a natural choice for this state that hugs the ocean.  Paired with brown rice, this was a delicious choice.  I actually took the time to make a dessert as well.  Baron's Blackberry Cobbler featured a popular Oregon fruit.  I did not have the exact ingredients though, and my adaptation was probably not as good as the original.  But I tried.  And I made dessert.  That is something, right?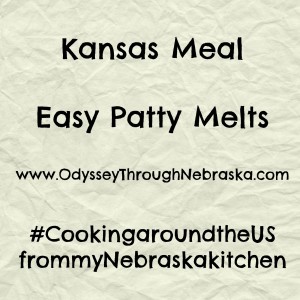 Kansas
Since this state directly south of us is known for its beef,  what a lovely excuse to make Patty Melts.  This type of sandwich was a favorite of my Grandma Gus, and she would often order it. I think it has become my favorite type of burger as well – something about the grilled onions, cheese and beef on bread that is simply sensational.  Of course, no American cheese allowed – cheddar is must, but provolone or Swiss also works.  I did not follow a recipe – just cooked the burgers, sautéed onions in a bit of oil, added them to bread, then broiled the cheese.  Yum!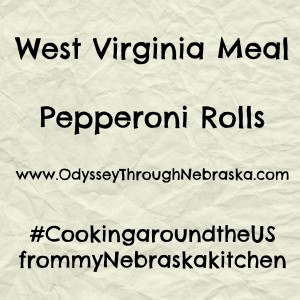 West Virginia.
I was rather excited when I discovered that Pepperoni Rolls are almost an official state food in West Virginia.  This one was a fun one to make and to eat.  Somehow I need to find the time to make up another batch just to have on hand in the freezer.  Totino's has nothing on me! 🙂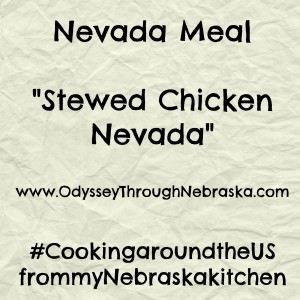 Nevada
I always smirk when I read ratings of recipe where people give the recipe four stars then proceed to explain ALL of the ways that they changed the recipe.  I am not sure that their evaluation is exactly accurate since they strayed so far from the original.  But when it came to the recipe for Stewed Chicken Nevada, I pretty much did some adapting.  For one thing, I threw everything into the crockpot.  I cannot exactly remember this meal which tells me that it is not particularly memorable.  I think I have other chicken recipes that I would possibly prefer, but this one was just fine.
Nebraska
For state #37, we are finally home.  The last time that we studied Nebraska, I made homemade Runzas.  After all, that sandwich is a fast food staple in our town.  In fact, every Tuesday in January and February,  our local Runza restaurants offer Temperature Tuesdays where the cost of the sandwich is based on the temps outside once you buy fries & a drink.  (Needless to say, we frequently take them up on their deal – feeding 6 of us for under $20 is always a bargain).    Since I actually make Runzas at home a few times a year, I decided to branch out.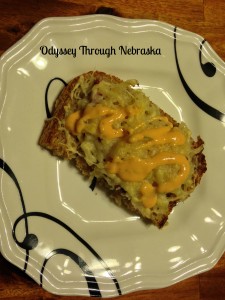 Supposedly the Reuben sandwich began here in our fine state.  Right down the road in Omaha, Nebraska.  Of course, there also is a chance that Hollywood was involved, but they get credit for lots of things already.  You can read all about the history of this sandwich and make your own conclusions.  As for me, I am sticking with the Nebraska idea.  Our family created more of a Reuben melt – putting the corned beef and kraut on top of rye bread, then broiling Swiss cheese on top.  With a drizzle of Thousand Island dressing, we had this creative sandwich combination.  I thought this version was decent – I am not sure if I cooked the corned beef correctly because it seemed rather tough to me.  Surprisingly I did not mind the sauerkraut, but please don't tell my mother-in-law that since I never take any when she serves it at our family Thanksgiving celebrations. 🙂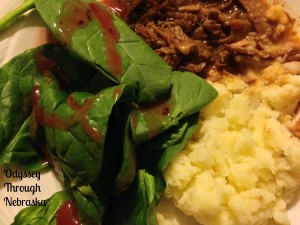 Colorado
The recipe for Chile Colorado appealed to me because the guys in our family love anything spicy.  Cooking up chiles, then grinding them seemed like a winning combination.  Interestingly, this meat was not overly spicy once the roast cooked for several hours.  Just really flavorful.  This will become one of my go-to roast recipes.  I did shred the meat, then put it back in for a few more hours – that seems to work the best.  Combined with mashed potatoes and spinach salad, this meal was delicious.
Two more weeks.  Twelve more states.  But who's counting? 🙂