Evidently I was not in the mood to take the pictures the weeks that we studied these six states since I took only ONE photograph.  Oops!  Overall these Midwest and Mountain meals were yummy.
North Dakota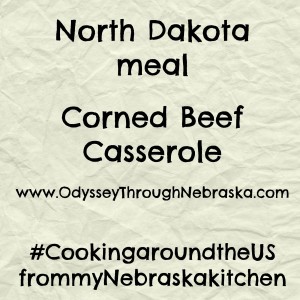 North Dakota Corned Beef Casserole This was a great way to use up the leftover corned beef from our Nebraska meal.  I thought the recipe was pretty good – the salty corn beef did add lots of flavor to the noodles.  A great Midwestern casserole.
South Dakota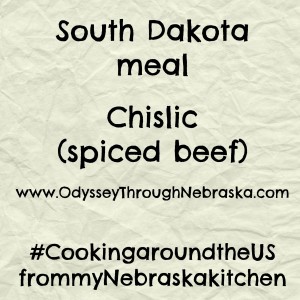 For this state, I combined two recipes Lee's Chislic and South Dakota's Chislic.  This style of spiced meat is evidently popular in the state, going back many years.  I think I served this meat over mashed potatoes that we happened to have leftover.  Or it might have been rice?  This was a fairly easy recipe that I would try again.
Montana
One surprising result of this United States food challenge – my kids LOVE bison meat.  Go, figure!  This time we purchase our meat from Omaha Steaks. While their prices can be a bit more expensive, their quality is quite impressive.  I just browned the meat with some taco type spices.  Although not particularly healthy, the base for our bison and other taco toppings (lettuce, cheese and such) was  Fry Bread.
Washington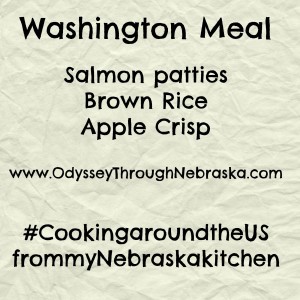 What happens when weeks pass between when you make a recipe and have to write about it?  You might just forget what you made.  I finally figured out why I was stuck – I made a childhood recipe: salmon patties accompanied with brown rice.  Since after all, Washington is considered the apple state, I thawed out a homemade apple pie mixture from earlier in the fall, and I added a toping.  Just as fresh as when I put the mix in the freezer.  Delicious!
Idaho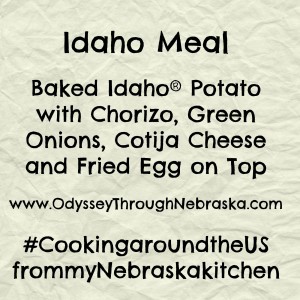 Baked Idaho® Potato with Chorizo, Green Onions, Cotija Cheese and Fried Egg on Top As we were finishing up these baked potatoes, I realized that I forgot the egg on top.  Oops.  I think the Idaho potatoes might have been the only item really reflecting this state's food culture.  But the recipe was yummy, and the chorizo did add substance.  I REALLY liked the cotija cheese that is a Mexican grated cheese.  Will definitely make this again.
Wyoming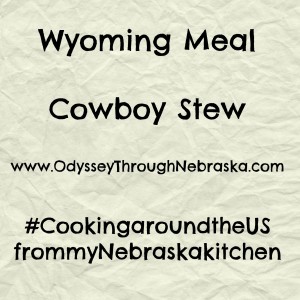 Cowboy Stew Possibly this was a bit too easy of an attempt since we have had this recipe many times before.  Yet this was the week that we were officially launching our new business, so I needed a simple recipe.  Love that I can make this in the crockpot, and the whole potatoes are a nice touch.  This was chosen in honor of Wyoming being the cowboy state.