As I began to work on this post, I realized something.  We are more than halfway through this cooking around the United States project.  Wohoo! I guess since it is December that makes sense.  Being in the middle has caused me to forget to take some pictures.  Sorry.  I promise that we really did make each recipe. 🙂
Alabama
For this state, I decided to try the blackened chicken.  Despite the fact that the calendar page said December, my husband did grill the chicken for me.  That was a great way to have it.  Served with white barbecue sauce made it even more sensational.
I kept our sides fairly simple.   Making hush puppies in a mini muffin tin is a brilliant idea.  I think these are easier than corn muffins.  My only change will be to add a bit more salt.  Steamed okra, our other side, was one which most of us liked.
Maine
What else could you make for Maine but Lobster Newburg?  I will admit that we technically used imitation lobster.  Delicious either way.  I had planned to make a side, but we served leftover mashed red potatoes from earlier in the week instead.  I really wanted to try Maine potato candy too, but I guess that will have to be for another time.
Missouri
Sweet 'n' Smoky Kansas City Barbecue Ribs  This was possibly my husband's favorite of our state meals so far.  While he normally does not even like ribs, I think he had third helpings of these.  I did change this up slightly.  I did make a rub mostly using the suggested spices, then I wrapped the ribs in aluminum foil.  I baked the ribs in the crockpot for 8-10 hours.  This made the ribs SO good.  I forgot to take a picture of the meat, but I do have a picture of one of the sweet potatoes that I made. Since that is a bit lame, we will skip it. 🙂
Arkansas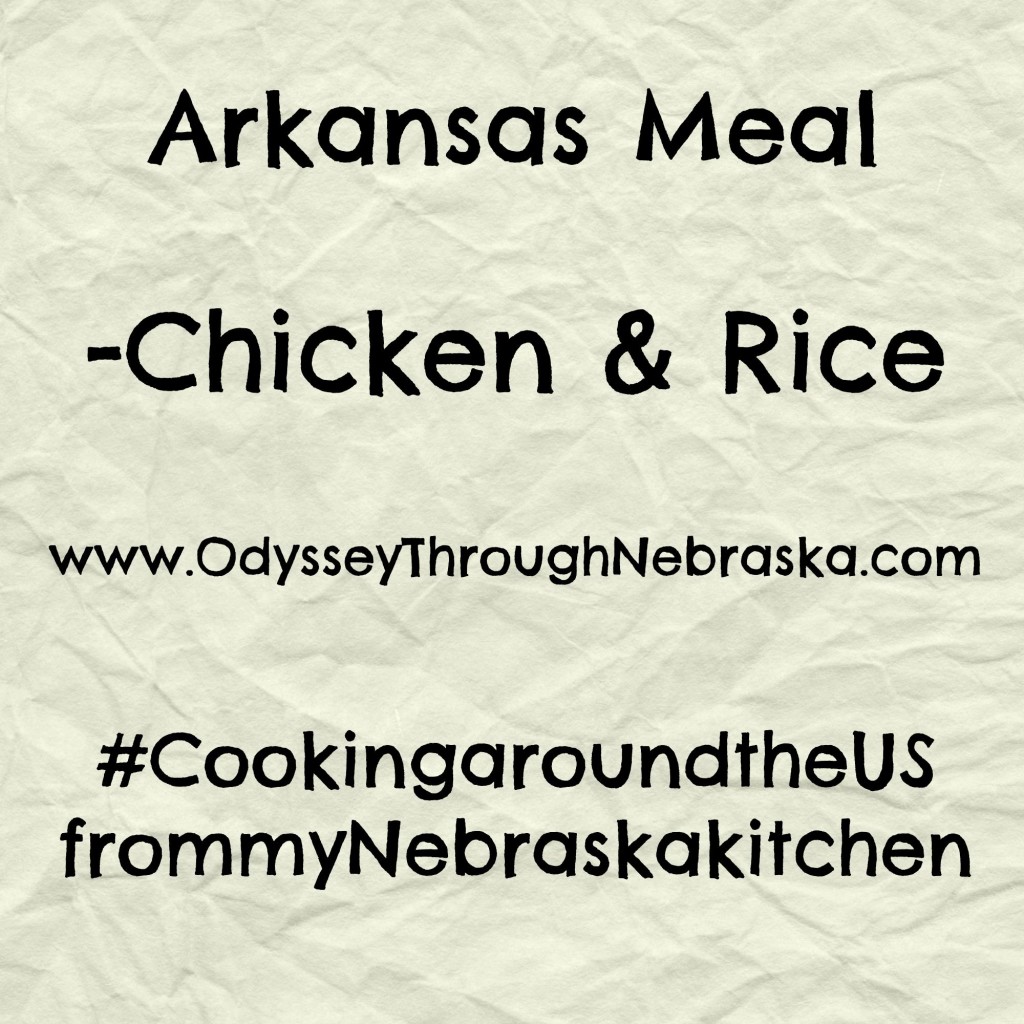 Since this state is the leading producer of broiler chickens and rice, that is what we had.  I did not exactly follow a recipe – I just put Italian dressing mix on top of my chicken.  As for the rice – from a box.  Still a good meal, but nothing that was really unusual from our regular dinners.  That happened to be exactly what I needed to do on a busy December day. 🙂
Michigan
One of my dear friends is a transplant from this state. To get to have her family come and eat this meal with us was a joy.  This was our last state meal of the year and possibly one of the most challenging.  I made Upper Peninsula Pasties.  (Note: pronunciation on this meal is QUITE important).
I fiddled with this one. While I used three pounds of meat, I only used five golden potatoes and one rutabaga along with the two onions.  That seemed to be plenty of vegetables.  I also made mine slightly smaller.  In fact, I was able to make over 40 of these turnovers with meat mixture leftover.   This makes for a mama since I know have pasties waiting in the freezer for me.
As for the leftover meat, I made butter roll dough in my bread machine.  Rolling the done dough in a large rectangle, I then cut the dough into 16 triangles.  By imitating crescent roll shapes, I made a wreath.  The pastie filling worked so well.  I was almost certain I took a picture, but I must have gotten distracted.  If you think at my similar post from last year, you will at least get the idea. 🙂
Now we officially get a two week break from cooking around the United States.  Meal planning might be interesting without having this help me focus.  Oh yeah- I have plenty of meals already determined due to our holiday gatherings.
I did just remember that we do have one more state recipe on our docket that we will hopefully get to enjoy soon.  My blogging friend, Jessie, recommended that we make a veggie dip from Michigan.  Bilbo's dill dip to be process.  The story behind this creation is quite fun.  Thanks, Jessie, for helping me find an certifiably authentic Michigan recipe that I am certain we will definitely enjoy! 🙂