A big thank you to Alley V for the free laser tag games!
Earlier this month on the "Good Life Moms" site, I wrote about how our family likes to enjoy "March Madness" together.  (Only one of my Final Four Teams made it, but that is a  lament for another day …)   That week, we also happened to celebrate "National Ice Cream Cone Day" as well.
Today we decided to add another holiday to our arsenal … "National Laser Tag Day."  What better place to celebrate than at Alley V in Omaha.  Earlier this month, a friend and I enjoyed their "Mayhem of March" to start off tournament watching.  Today I was excited to return with my whole family to let them try out all of the games!
Somehow until now, I have never played laser tag before.  Going into this experience, I was bit worried that perhaps there would be a few tears (hopefully not from me but from the kids!), but everyone did surprisingly well.  Maybe because you are never exactly sure when you are "hit."  At least I wasn't.  The competitive side of me is quite sad to admit that I had the lowest score of anyone in my family.  I am not sure if it was because I was not aiming correctly, was too slow on the draw or because I was walking around with our daughter for much of the time.  Okay, enough excuses.  I lost.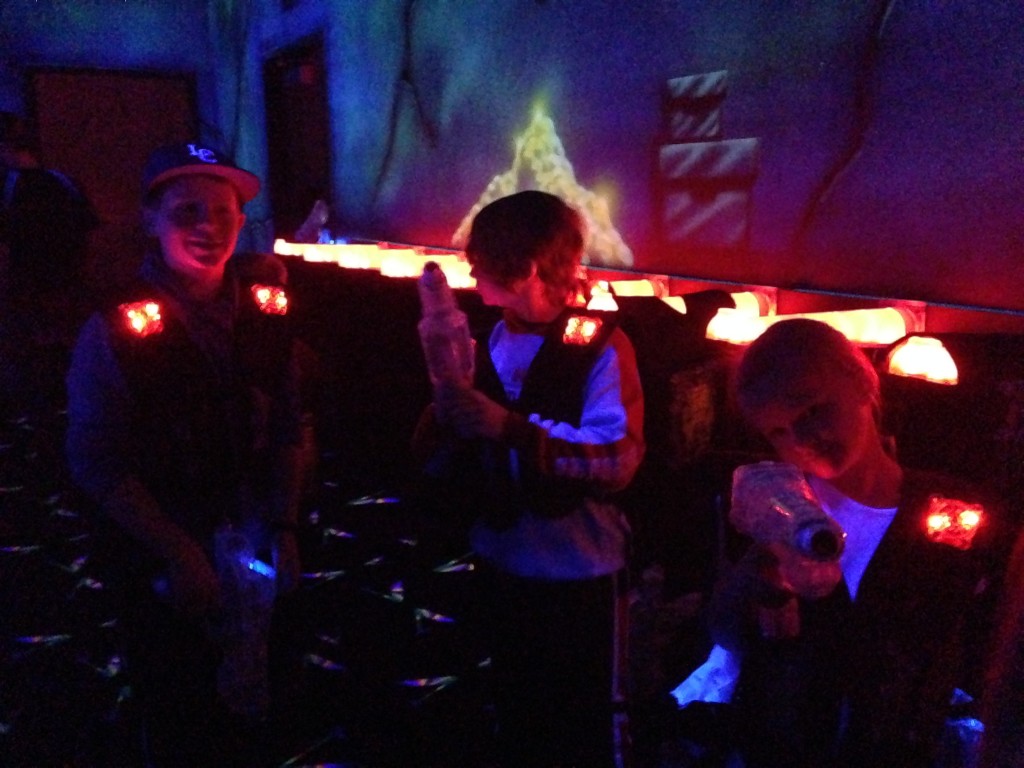 That being said, there is something rather thrilling about sneaking about in a room filled with fluorescent objects with a gun in hand.  Especially when they started playing music from "James Bond."  I could get rather addicted to laser tag.  (Shh, don't tell my kids that, as they would want to play every day!)  Anyway, my kids won't have to twist my arm too hard to play again.  As we are planning on spending the afternoon here at Alley V, I bet there will still be a rematch.  Especially today as all games for anyone are ONLY $1.  And this time, I am playing to WIN!  And if I do just that, I will make sure to post that info on my OTN Facebook page.  If my 2nd attempt is equally unsuccessful, well, I will probably just keep that info to myself.  😉
Here is some information directly from Alley V at all of the happenings at this great family place as you REALLY need to come check it out for yourself …
Alley V is one of Omaha's premier entertainment venues, with 20 lanes of state-of-the-art bowling and a 4,000-square-foot laser tag arena. With so much space, laser tag at alley V is perfect for groups from 2 to 20.  Additionally, alley V offers sports viewing with 40 TVs so you can catch every game, as well as live entertainment, arcade games, two bars and a restaurant.

Games of laser tag at alley V are normally $6.99 plus tax per person, so the National Laser Tag Day deal will allow patrons to try out the fun and save. Guests are limited to three $1 games each, and the deal cannot be combined with any other offer.

Spring Break fun

In addition to the National Laser Tag Day festivities, alley V will be offering a special Spring Break deal throughout the month of March. Receive one game of bowling per person, shoe rentals, $40 in game play, a large one topping pizza and four soft drinks for up to four guests for $49.99. This offer is available Monday through Friday from open until 5 p.m.
GIVEAWAY …
Did you see this very important word in my post heading?  Not only has Alley V been wonderfully generous to me and my family, but they are going to be great to you as well.  I have a few $20 arcade gift cards to pass along.  All you need to do is comment below as to which event you would like to try at the Alley V.  (Bowling, laser tag, pool, darts, arcade games!)  These gift cards do not expire for awhile, so you can pick the time that will work best for you to come to Omaha and check out Alley V for yourself! The winner of the giveaway will be announced next Monday, April 4th.