Since Nebraska became a state after the Civil War had ended, I thought that slavery did not play a part in the state.  But Nebraska's Underground Railroad Path was important even though it was not very long.  One of the main locations was found in Nebraska City underneath a little house known as the Mayhew Cabin.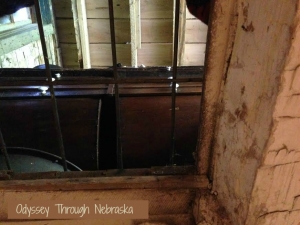 Discovering that the small Mayhew Cabin is not actually in its original location (due to a highway being built) was surprising.  Learning that the current "cave" tunnel was not even in existence during the time of the Underground Railroad was almost disheartening.  I almost wondered why one would even visit this site that is shrouded in mystery.  Many of the details of this location as even being a part of Nebraska's Underground Railroad path cannot be confirmed.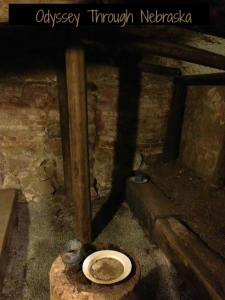 Underneath the original Mayhew Cabin through the cellar door you can climb into a cave.  One that has been reinforced for safety and connected with a long winding tunnel to allow you to exit.  I was sitting there waiting for my children to come back.  My oldest had come down and offered to find the others.  He started by looking through the cabin.  Once I heard him walking around above me, the need for this place made me sense.  While I knew who was above me, I was instantly filled with an unexplainable fear.  Footsteps long ago meant something ominous.
My imagination took me to a place in time over 150 years previously.  Being down in the cave, I suddenly realized what being a fugitive must have felt like.  To hear the heavy thud of footfalls above that might mean discovery.  Was the person friend or foe?  One providing safety or capture that would lead to death or an even worse fate?  Having to hide to preserve your very life and the life of your children must have been incredibly frightening.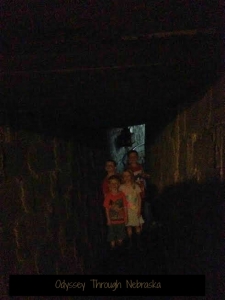 My children seemed to "get" slavery for the first time.  They pretended to hide from me the slave owner.  As we were the only visitors at the time, this worked.  Thankfully they let me in on this game eventually.  This cabin, cave and tunnel helped history come to life for my family!
As you walk along through the damp and drafty tunnel, rooms have been chiseled out giving you an additional feel for what a fugitive would have experienced.
Beside the tunnel, the interior of the museum also gave us glimpses of slavery life.  Including a black curtain closet with a plank ceiling where you could pretend to hide from the slave owners.   While I was talking to the museum docent, my boys managed to silently hide there before I finally found them!  They also have a wagon showing a "slave" escaping in a wagon.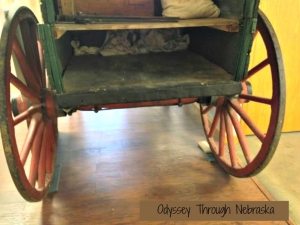 Can you see the "person" hiding?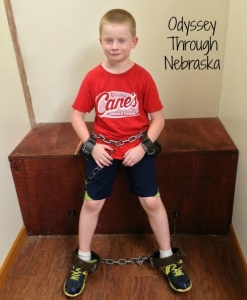 They also have shackles that you can try on to experience the misery of not being free.  Do you like my son's attempt at a mournful expression?
While perhaps this is not the largest or most polished of the recreated Underground Railroad Stations, at the Mayhew Cabin and John Brown's Cave they do an excellent job at helping to bring history to life, especially for children.  In addition, you can watch a short video, filmed by a Mayhew descendant, about the history of the cabin.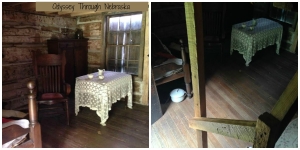 To learn more or to schedule a tour, please visit the Mayhew Cabin website.  Note: this is one of the many fine places to visit in Nebraska City.  Here is more about Nebraska's Underground Railroad Path.  To learn more about other Underground Railroad significant locations across the United States, please visit the Network to Freedom website.