Are you planning on taking a Nebraska vacation?  I know that this is the time of year that I start to get excited about summer travel.  Nebraska Stories is here to help.  You will definitely want to get your calendar handy.  This episode is the perfect one to watch to help you plan a Nebraska Adventure.  Or several adventures.  Hopefully you know by now that our state contains many travel possibilities.  As always, the italicized notes are directly from NET.  The remaining text consists of my ideas about the adventures as well as my opinions.  Also, while these are archival segments, I think you will enjoy the new presentation!
"Toadstool" Located within the Oglala National Grasslands, Toadstool Geologic Park is named for its unusual toadstool shape formations.   This arid sandstone badlands with it unworldly natural sculptures looks more like a moonscape than a serene corner of Nebraska.  This is one of my favorite places to visit in Nebraska.  In fact, I definitely think that my family needs to return.  After all, when we went five years ago, two of our kids were too young to hike.  What is fun about this location is the fact that you can blze your own trail.  The perfect place for a Nebraska adventure.
"Pottery Walk" There are four stops along a 45 minute drive from Omaha to Herman but if you do it right, it'll take even longer…  It's the annual Omaha North Hills Pottery Tour featuring 16 local and national clay artists including stops at some working studios. We take the tour, meet some interesting artists and discover some pretty great ceramics along the way.  I have not ever done this tour before.  Although I have stopped at Florence Mill, they were closed.  Since I do appreciate art, I know that I would enjoy this experience.  According to their website, the 2018 tour is happening October 6th and 7th.  Perhaps this fall I will get to see some of you also enjoying this Nebraska Adventure!
 "The Villagers of Taylor" Meet the unusual villagers of Taylor, and the artist who brought them to this small Nebraska town, creating hundreds of life-size cutouts of 1920s era people in and around Taylor. When I did my 1,700 mile Nebraska adventure in 2016, stopping in Taylor was one of my priority stops.  And I definitely owe that to NET.  I actually found out about Taylor and the villagers from this Nebraska Stories segment.  If you are going to be in the Nebraska Sandhills, you absolutely must take a detour Nebraska through this charming town.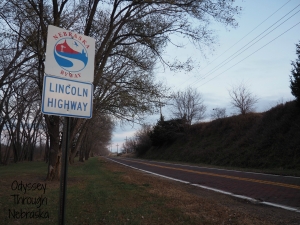 "Highway to Tomorrow"    It's hard to imagine cars without highways, but once there were only dirt roads.  Then a century ago the Lincoln Highway, built of bricks and concrete, created a dream of the future.  And Nebraska helped make it happen.  A few years ago, I was running an errand for my husband when I came upon the sign for the Lincoln Highway.  I am so glad that I decided to turn that direction.  Not very far from the main road, the pavement turned to brick.  Right between Omaha and Elkhorn, you can drive on the original highway pavers.  What a great Nebraska adventure to enjoy.
"A Day in the Life of Lauritzen Gardens" We go behind the scenes at Lauritzen Gardens to see a day in the life of this ever-expanding botanical center that has been two decades in the making.  From rare botanical wonders to carefully curated displays of art, we'll tour this urban oasis nestled in the riverfront hills of Omaha and meet the conservation team protecting the most vulnerable plants on the Plains.  Watching this segment gives you enough a glimpse into Lauritzen Gardens to want to explore on your own.  This Omaha location is a family favorite.  I cannot wait to return to explore again!
How about you?  Have you experienced your own Nebraska Adventure at one of these locations?  Or which one of these places would you most like to visit?