This year, I hit another milestone … 25 years of being out of high school!  Since some days high school seems like yesterday, the fact that so much time has passed is surprising.  Several of us gathered together to celebrate this week.  Although we were small in number due to short notice, we had so much reminiscing.  Catching up was wonderful.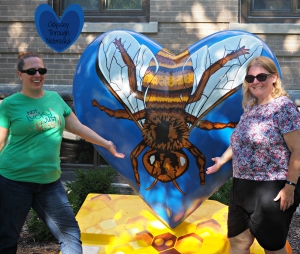 How we determined the timing of our gathering was because one of our members was coming up from Texas.  Now that so many classmates live out of state, visits do not happen as often.  Since my friend, Charis, was traveling up, we thought this would be a good time for our reunion.  Why am I telling you about her?  She is providing my first BLOGIVERSARY giveaway this July!  Charis creates personalized gifts and shares them on her blog.
While I consider both of us to be creative, Charis goes one step beyond me.  She is incredibly crafty.  If you take a look at her Artful Angel Blog, you will see that there is very little that she is not willing to try to make.  She did mention that she does not knit or crochet.  But other than that, she stamps, designs with paper and can personalize almost anything.  You can place an order with her, and she will send her creations your direction.
Although Charis has lived away from Nebraska for over 20 years, she still considers herself to be a Husker.  When I asked if she wanted to be featured on my blog, her response was immediate.  Absolutely.  Little time passed before she knew that she wanted to create a t-shirt to give to one of my readers.  Although the below t-shirt features Nebraska, her personalized gifts can be modified.  Her only limitation is she cannot recreate any copyrights or logos.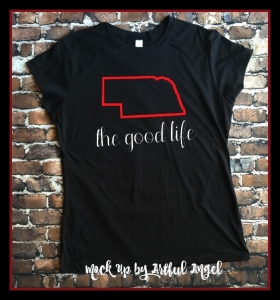 Isn't this such a great t-shirt?  She did a quick mock-up, so that you all would have an idea.  But she will not make the actual shirt until there is a winner.  That way whoever wins can pick the right size.  If one of my guy readers happens to win, she does have more a straight cut black t-shirt that she would make for you instead.  I am wishing that I could win this t-shirt, but I promise I will not enter my own contest.  Instead I might have her design me a t-shirt or two for when my book comes out this fall!  She was quick to point that you can order personalized gifts for yourself.
To win the t-shirt giveaway …
To enter, all you need to do is comment below.  Please tell me about the crafts that Charis creates that appeal to you.  Or tell me your favorite part about living in Nebraska.  Or simply tell me why you think you should win.   That is all you need to do.  Although if you would like join, Charis' Artful Angel Facebook Group or follow along with her blog, I am certain that she would appreciate it.  But that step is not required.  I will pick a random winner from the entries next week.
P.S. Since Charis' workshop is in Texas, I could not peruse her crafts for a feature image.  I have had this wooden angel for awhile, so I thought it fit her blog name.  So she did not create this figure.  But I bet she could if you asked!