This post is sponsored by Nakturnal.  Information was compiled by me, and all opinions are mine.  Plotting out our homeschool in advance means that I try to schedule breaks.  As we were off from school this week, I had so many travel possibilities in mind.  Thanks to limited time and money, instead we mostly stayed home and did a few things locally.  (Considering our whole family has been sick, I am glad that we did not bring illnesst on the road with us.)  While hopefully we will be able to travel during other school breaks, being home was a good thing for us this time around.  But that doesn't mean this girl can't dream.  Although I have been to almost half of the states, there are still many more that I hope to visit someday.  This time, I spent part of my time planning my Ohio Bucket List.
Why Ohio?  Well, I first became fascinated with Ohio when we studied this fine state several years ago.  So much early U.S. history happened here.  Plus I must admit that I liked the Ohio food that we prepared.  Cincinnati Chili with buckeyes for dessert.  Yum!  (Of course, the buckeyes that I am talking about are the candy kind rather than the nut).
One more draw … an online friend that I would love to visit someday in real life.  Tonya Prater was on the first bloggers to welcome me to travel writing, and I think we have many interests in common.  Recently she re-branded her site.  Travel Inspired Living is so well done.  You definitely need to check it out!
So what I would want to do if I visited Ohio?  Well, the state is definitely full of beautiful places to hike and explore.  I am sure that we would stop at as many as possible.  Yet for this homeschool mom, I think my priority would be the museums.  I had fun checking out many of the museums that this state has to offer. What I discovered is that I would not be able to stay in only one location – the state has so much to offer.  That is why I am glad that it was pointed out to me that another group of people also travel across the state of Ohio with the purpose of helping others find a place to call home. HER Realtors!
When I look at their site, I can see that they have almost 90,000 listings to pick from.  Although we are not looking to move to Ohio right now, we are looking to move in Nebraska.  Having that many options to pick from is quite impressive.  Across the state, there are 65 HER realtor offices.  That means that for many of my museum locations, there is an office within a short driving distance.  Although they are primarily concentrated in the southern half of the state, I have a feeling that may change.  SO if you are looking to move to Ohio as opposed to simply visiting, you will definitely want to check HER Realtors out!
For now, I simply hope to visit Ohio.  Without further delay, these are the top five museums on my Ohio bucket list.
Location # 1: Planes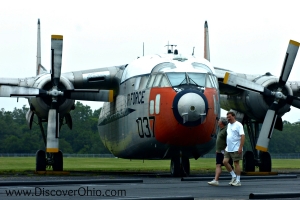 When I think of the Air Force, I think of Colorado Springs since that is where you will find the Air Force Academy.  But I was intrigued to find out that the National Museum of the United States Air Force is actually found outside of Wright-Patterson Air Force Base.  Fairly close to Dayton, this museum celebrates freedom that is found in the skies.
The Museum is organized by conflicts, so that visitors can grasp some of the history of military flight.  Although some of these style of planes are found at Nebraska Strategic Air Command  and Aerospace Museum, they do have one section of planes that we do not: the Presidential collection.  In addition, they have an outdoor air park with several planes.  This would be a fun place to explore, but I can tell already that you need a really good pair of walking shoes!  One of the best things about this museum: FREE admission!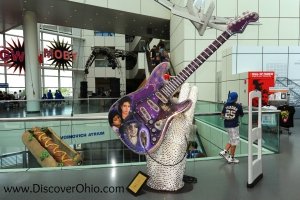 Location 2: Music
I am not ashamed that I married a long hair dude.  Okay – my Kyle did not look like that when I met him.  But he definitely did in high school.  That is why I had to add Rock and Roll Hall of Fame in Cleveland to my Ohio Bucket List.  After all, we did visit the Country Hall of Fame in Nashville.  I guess rock & roll deserves a chance too!
For starters, the building itself is a work of art.  And when a museum can exhibit everything from Elvis to the Beatles to Motown, there is definitely something for everyone.  If you can visit at the right time, you could even be treated to live music.  Admission to this museum is not free.  Plan to spend the day there to make it worthwhile.
Location 3: History
I had to include a bit of history in my ultimate museum Ohio bucket list.  Although we did have an Underground Railroad station or two in Nebraska, we do not have the history that Ohio has in helping others escape from slavery.  The National Underground Railroad Freedom Center presents an impressive history of freeing others from tyranny.  Not only do they have permanent exhibits, but they also have temporary exhibits at their Cincinnati location.
Upcoming topics include music, art and even economic themes.  One of my favorite parts is their online resources available to educators.  That way I can do some advanced teaching before we visit to make our experience more meaningful.  Admission is charged at this museum, but I think the cost would be worth it.  One intriguing fact – not only do they address slavery from the past, but they are also work to stop the trafficking that happened in the past.  Our daughter has been reading about the Underground Railroad lately.  So I know that she would really enjoy this location.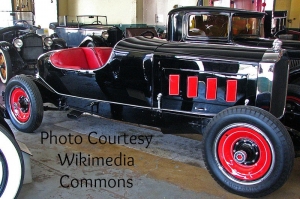 Location 4: Automobiles
Besides enjoying music, my husband is also a car guy.  Since he is not necessarily into museums, I would need to pick places that would intrigue him, so that he wants to keep traveling with us. 🙂  Evidently Warren, Ohio, is home to a unique classic car.  Naturally then, the Packard Museum is located in the city of its origin.
From the history to car part collections, this is the place to learn about the automobile that has been around for over a century.  If you can visit during the annual Packard Legacy Week-end, you would be treated to an even better show as cars travel to this location from several hundred miles away.  Although admission is charged, the cost for a family is quite reasonable.  I wonder – if you travel to the museum in a Packard, maybe you could get a discount?
Location 5: Football
This last place on my Ohio Bucket List is for my boys.  From September through January, our television seems to be stuck on football games.  I have to admit that I am a football fan as well, although I am definitely not as die hard as they are.  A trip to the Pro Football Hall of Fame in Canton, Ohio would be quite enjoyable.  Of course, all three of our boys like different teams.  So that might make determining where to visit first a bit challenging.
But they do seem to cover every aspect of professional football.  Besides the Hall of Fame players, they have archival displays along with mementos from the game.  Every single Super Bowl is covered.  Now they even have interactive displays as well.  Admission is a bit pricey for this one as well.  But for your child who gets a picture with the helmet from his/her favorite player, the cost will be worth it.
And now to Cracker Barrel …
If you have managed to map out all of the driving that we would need to do to be able to make it to all of these Ohio bucket list stops, that might be a bit much.  Enter Cracker Barrel.    With almost 40 locations across Ohio alone, we would have plenty of possibilities to enjoy a meal that tastes like home cooking.  What else is great about the Cracker Barrel for travelers?  Their Books-On-Audio Program.  You can purchase an audio book, then exchange it for another title when you finish.  Granted, there is a bit of an exchange cost, but this is such a great way to expand your listening without having multiple book series to store.
I am so excited that I get to give one of my readers a $25 gift card to the Cracker Barrel.  You can use the gift card to enjoy one of their delicious meals or to even find something great in their  country style stores.  Online or in person, they have so many great possibilities.  Including music to help the traveling seem a bit quicker.
To win the $25 Cracker Barrel Gift Card …
Please tell me about which place would be on your Ohio travel bucket list.  You can pick one my places or some place completely different.  If this stumps you, simply comment below on what makes traveling more enjoyable for you.  I will be announcing the winner the end of next week on my Odyssey Through Nebraska Facebook page.  By the way, if you have not already, I would LOVE for you to LIKE that page.  This helps more people to learn more about our Odyssey Through Nebraska and Beyond.  Thank you!
P.S. Unless otherwise noted, all pictures used for my Ohio Bucket List  are courtesy of the Office of Ohio Tourism and used with permission.  I appreciate them having a photograph resource for writers!