On the eastern edge of Nebraska lies a small town that I am not sure I would have discovered except for a detour.  On our way back from our Webster City, Iowa, trip last summer we decided to take the backroad highways home.  That is when I discovered the first of the Tekamah murals.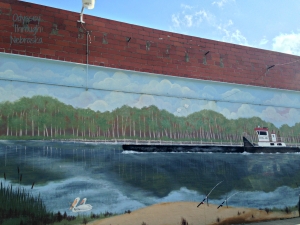 Since we were fairly close to the Missouri river, the boat and grasslands seemed to fit with the town.  The artist did a beautiful job of capturing a scene that is important to the town.  This is why settlers came here to begin with – to have easy access to the river.  Then I looked across the street and saw the second of the Tekamah murals.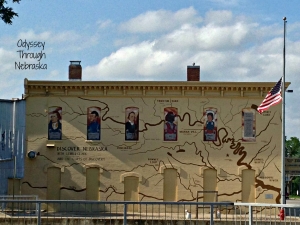 This one of the Tekamah murals is even more detailed.  This chronicles the route of Lewis and Clark across Nebraska.  Figures are inset inside the windows.  Rivers are marked.  Towns are noted.  This "Discover Lewis and Clark" mural is definitely a site to behold.
More on the background of these Tekamah murals will be added soon!