Yesterday we made our way to the Nebraska State Fair.  Here are some of the highlights from our trip.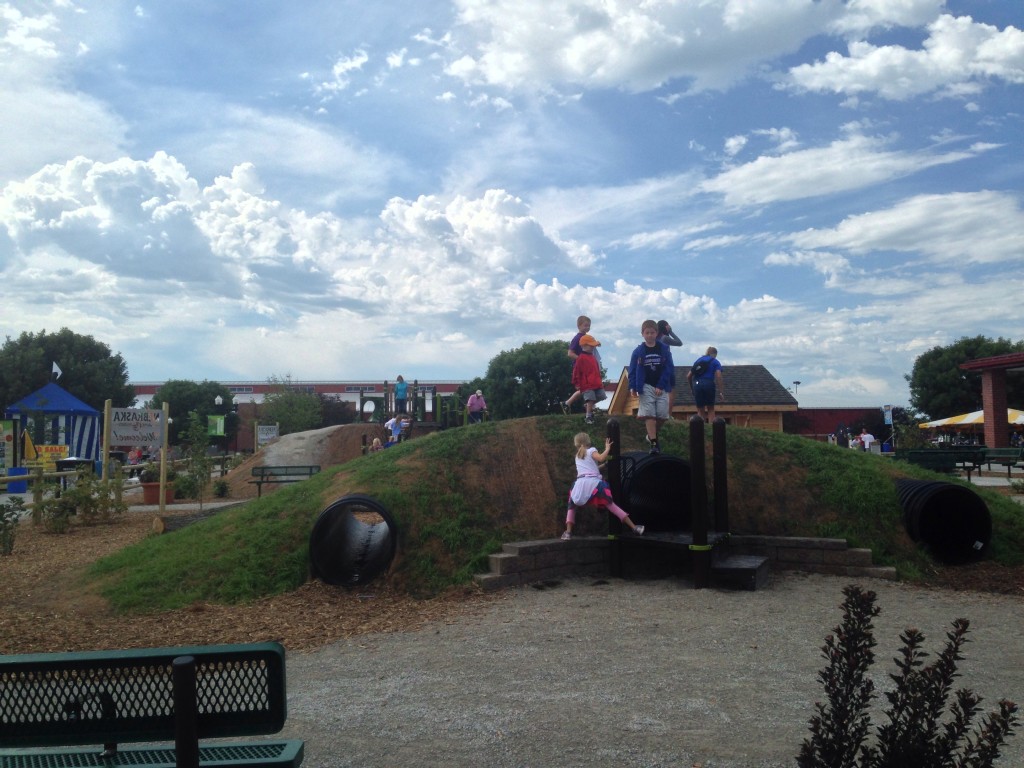 The playground.  Complete with tunnels and located right near the entranc, my kids could have played there all day.
The new Nebraska building, which is also near the entrance is AMAZING.  This was probably our favorite location due to all of the hands-on activities and fun things to see.  The Nebraska Game and Parks Commission has does an excellent job in their space to engage children.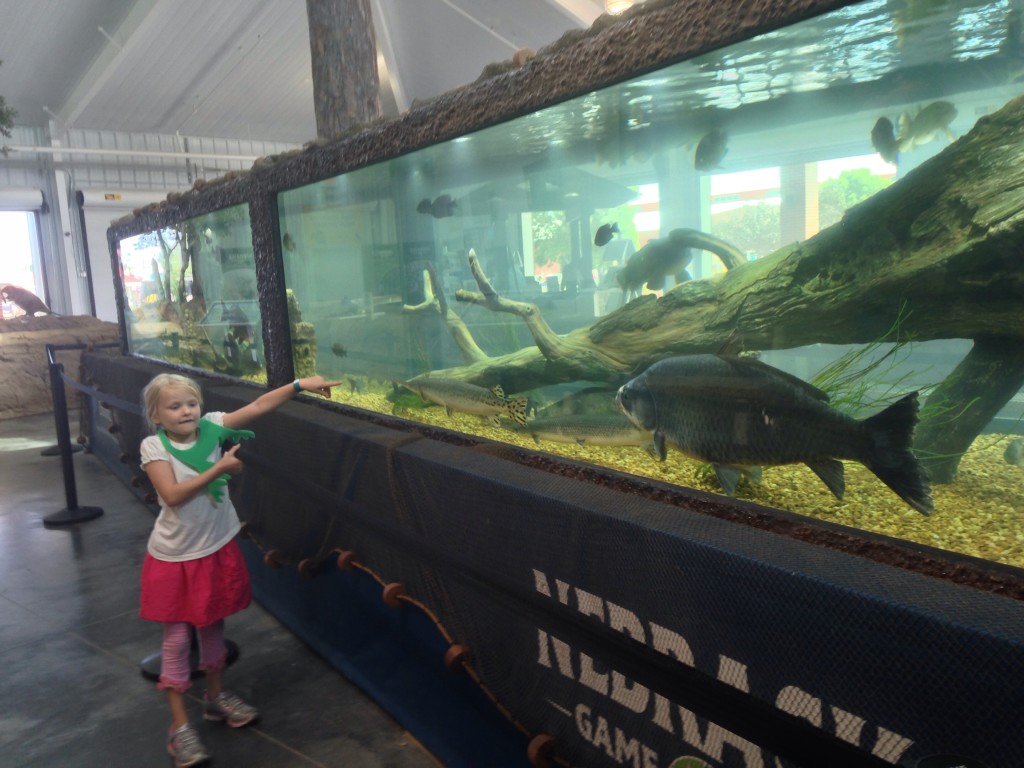 Including the aquaraium full of Nebraska fish.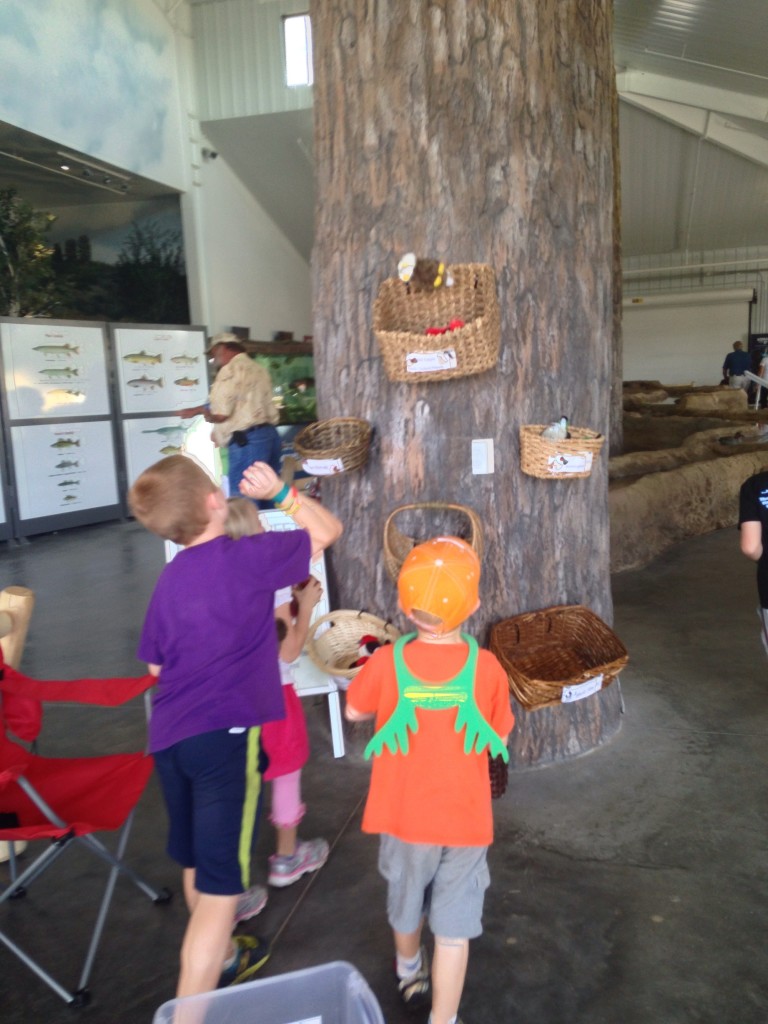 Tossing birds into their nests (much more interactive than Angry Birds 🙂 )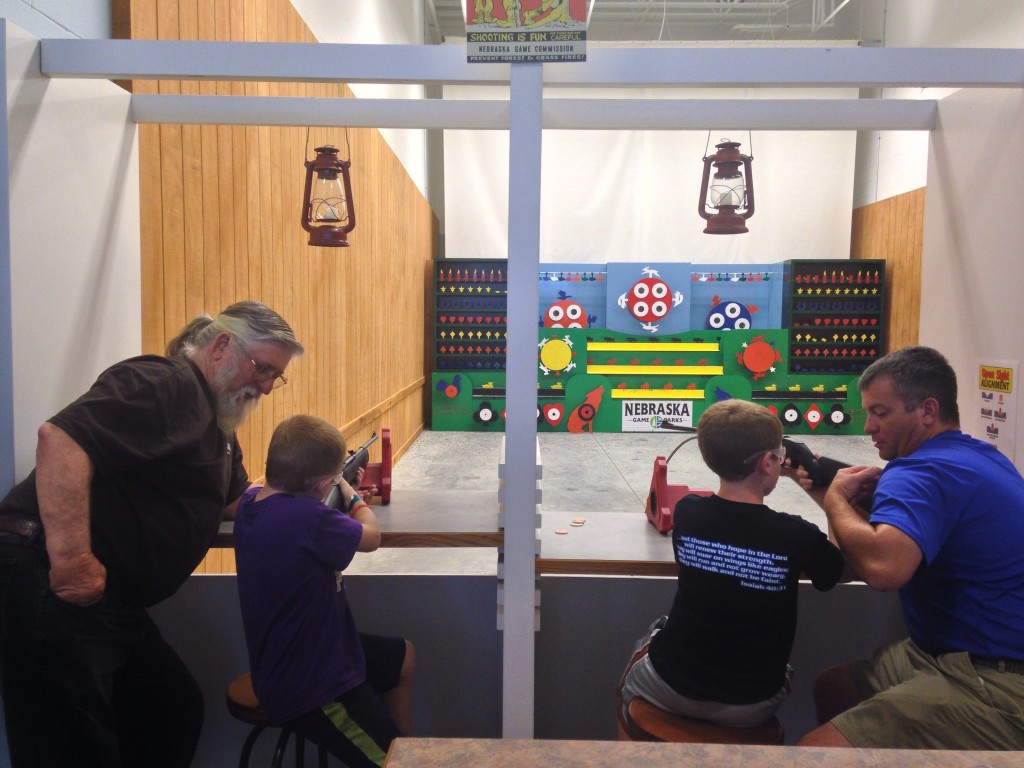 Shooting practice for the older ones who now want air soft guns more than ever.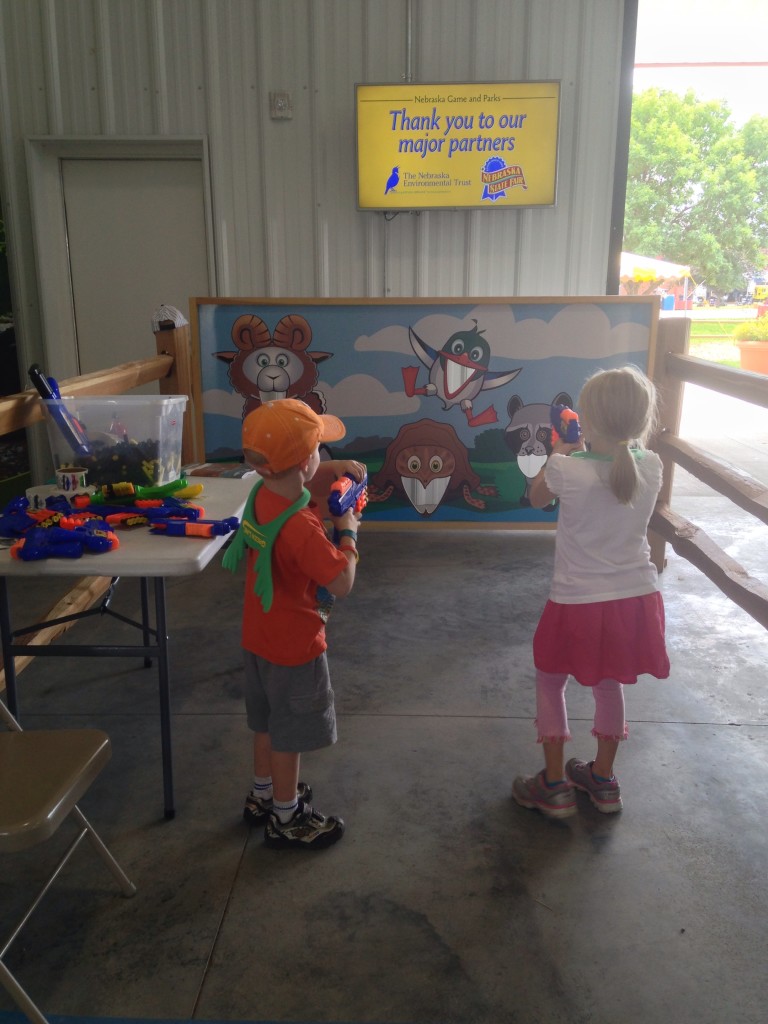 Even fun nerf guns for the little ones to get to do their own target practice. The kids also got to try archery, but my phone camera was out of batteries by that time! 🙂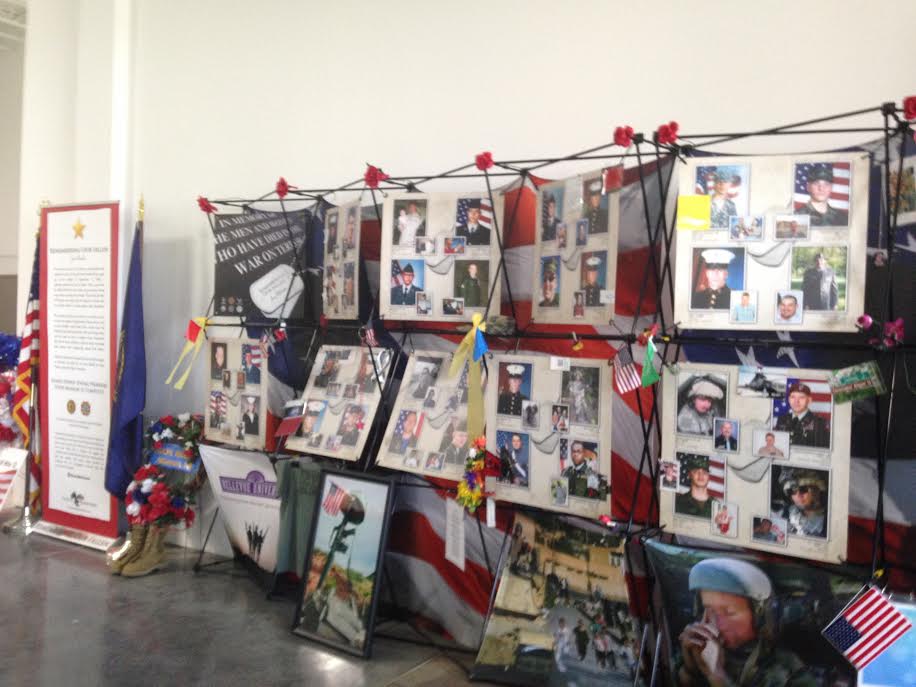 In the same building is a long time feature of the Nebraska State Fair – the large model railroad with multiple tracks.  They also had a very touching tribute to Nebraska's fallen soldiers.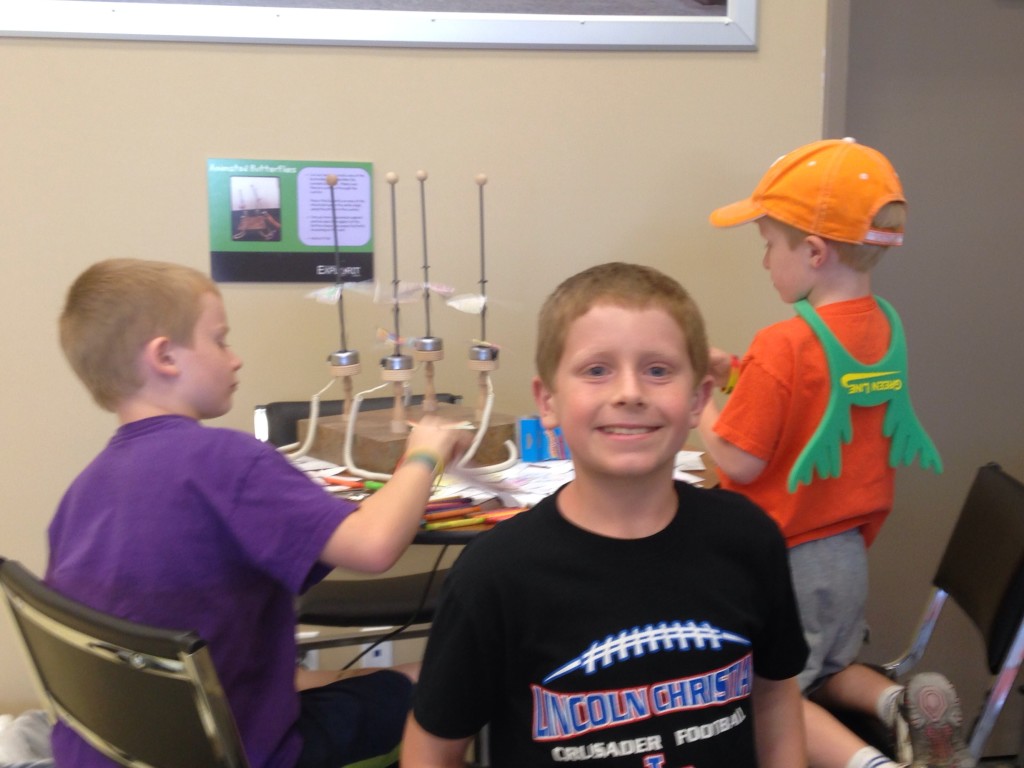 In the middle of the building, Edgerton Explorit Center has their "Traveling Explorit Center."  So many fun hands-on interactive science exhibits that I think I had to tell the kids we were leaving in five minutes at least five times.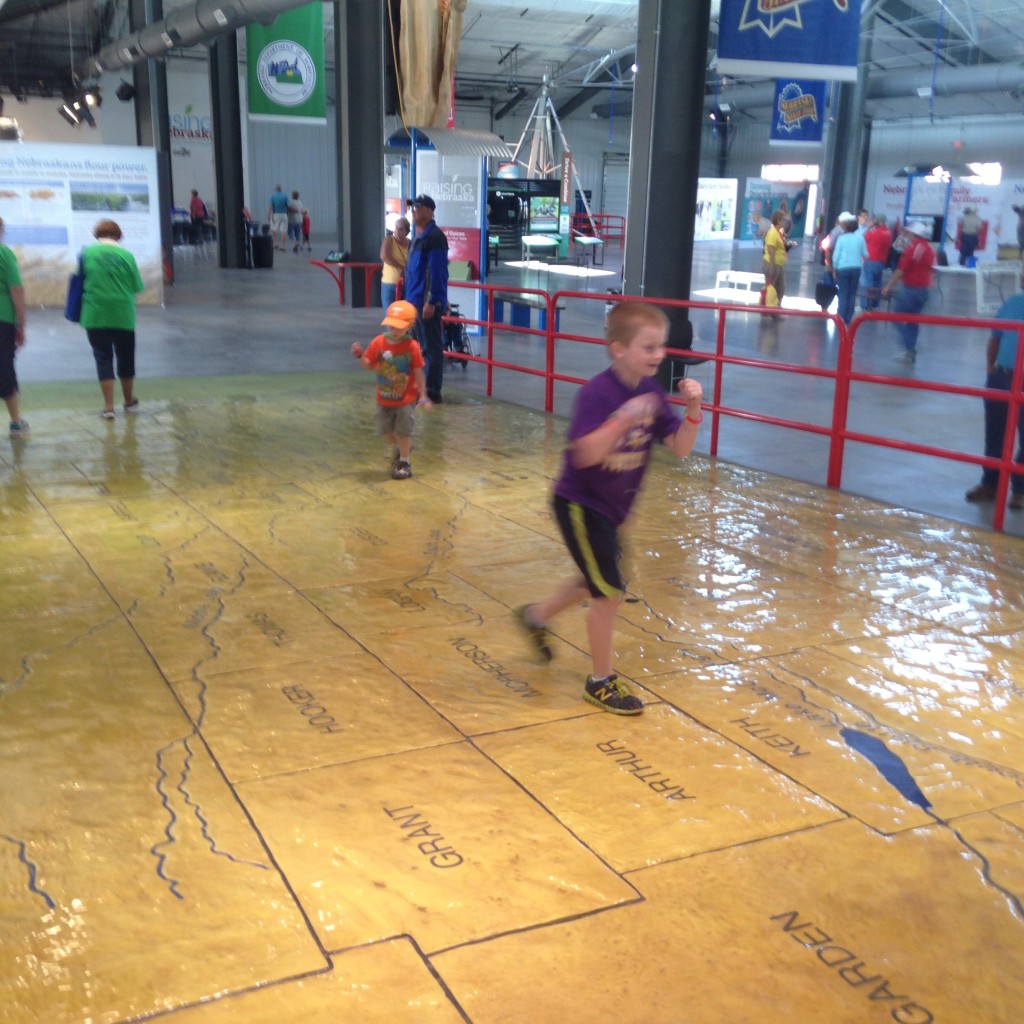 Personally I thought that the very large Nebraska topographical map was very cool.  Getting to see the county size and water amount comparisons was quite cool.  I wonder if I get my husband to install one this size somewhere in our house.  I guess that the elevation changes might make our floor rather bumpy.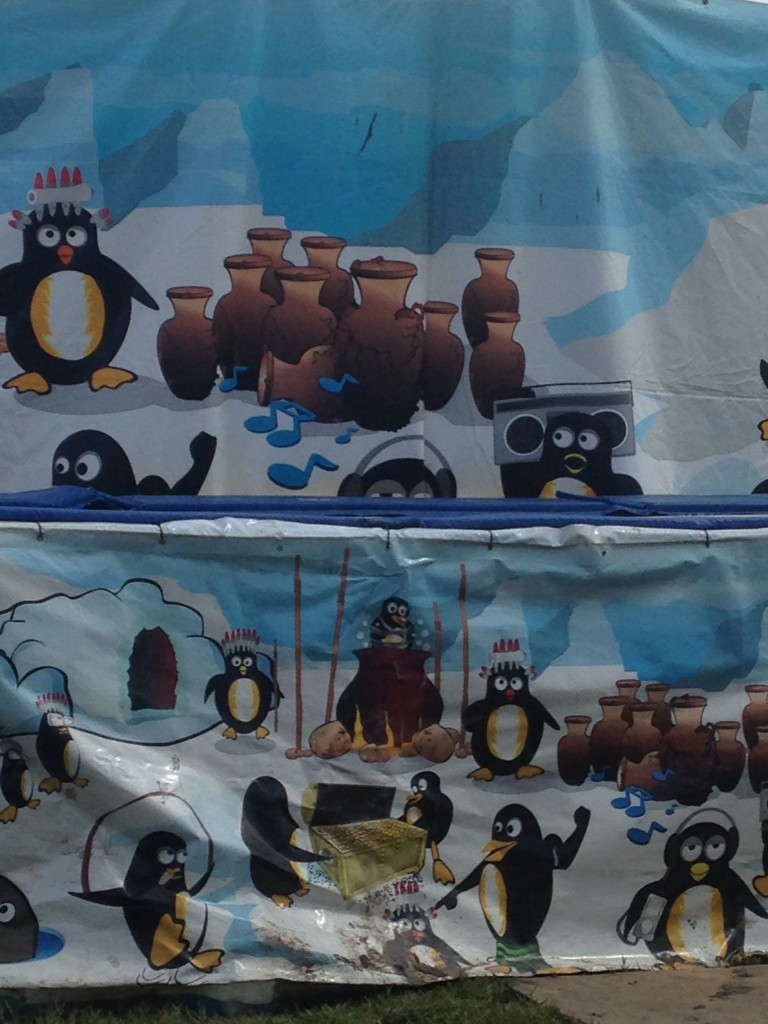 Although the show was not what we expected, another family favorite was the diving penguin show.  To not give anything away, I will post a video on the Odyssey Through Nebraska Facebook page that you can watch if you are curious.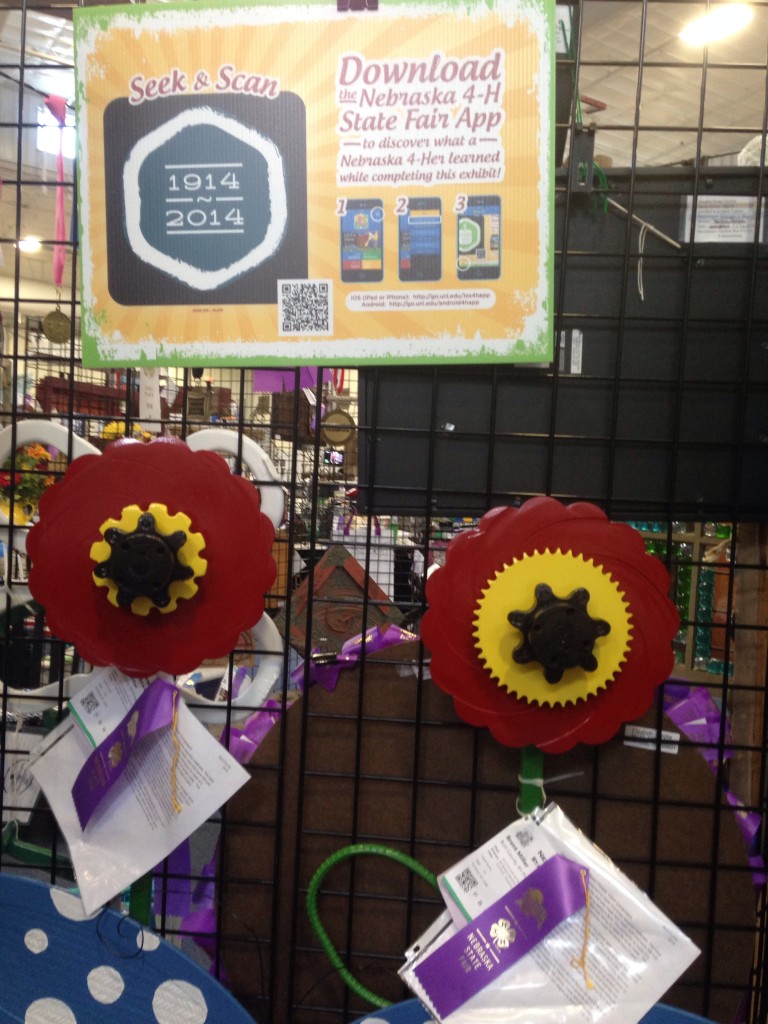 The fair has now gone high tech.  You can scan all of the 4-H products to listen to what the kids personally learned from all of their projects.
The kids enjoyed participating in the "Battle of the Bulbs" and other electricity activities.
Besides getting to see lots of fun things, we also got to do some meet and greets.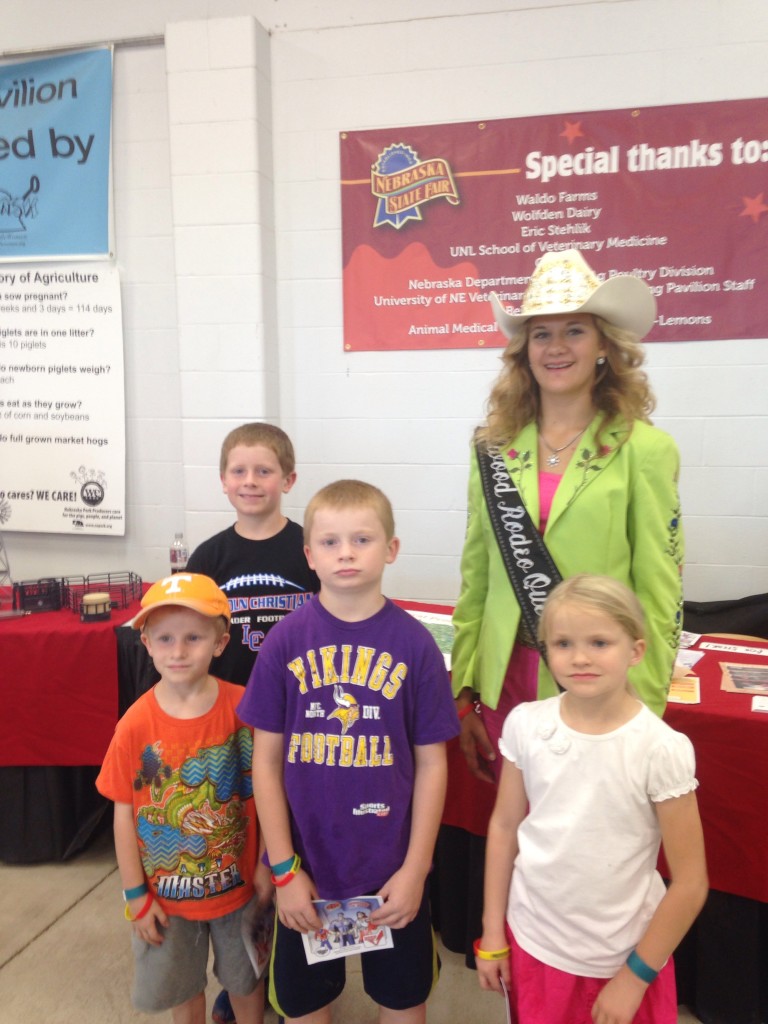 Rodeo Royalty AND …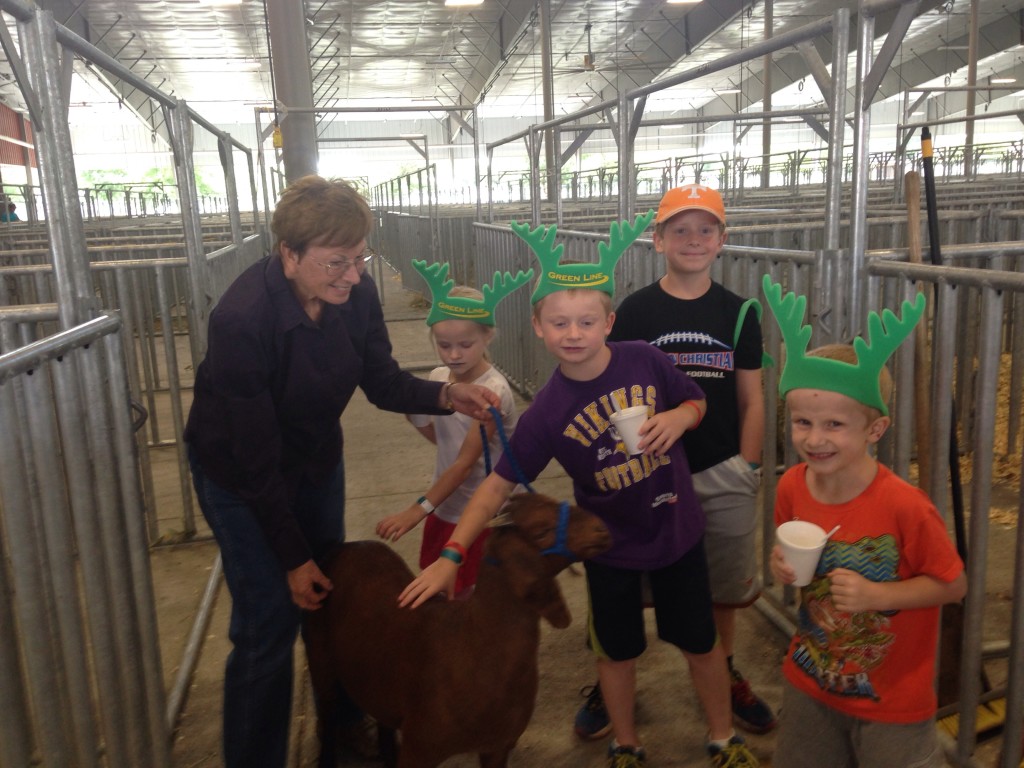 Mittens the goat!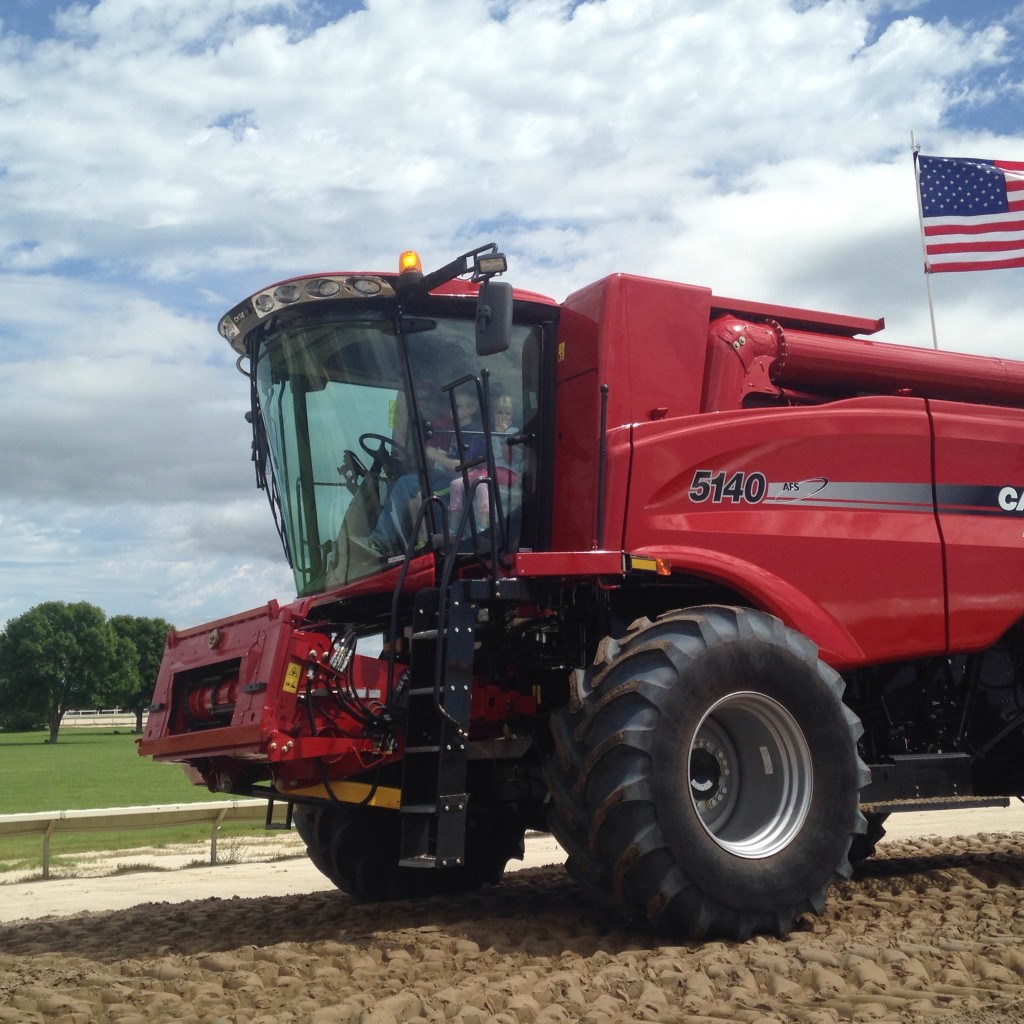 The kids rode the combines two by two around a large track.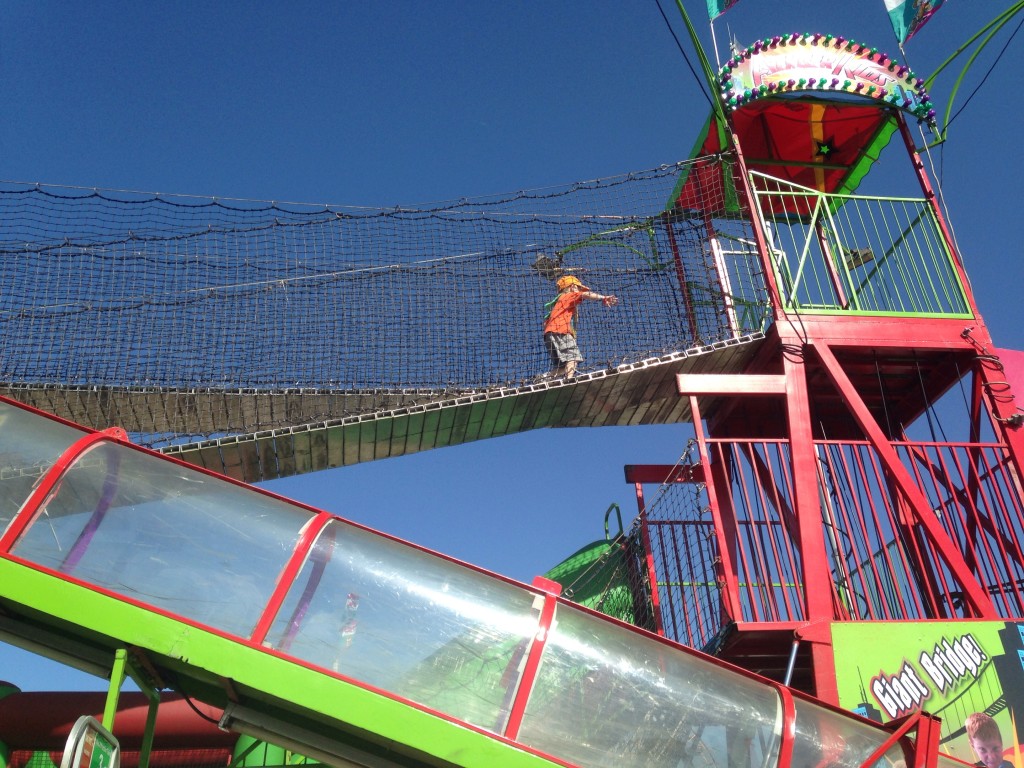 Thanks to completing the summer library "Read to Win" program, the three youngest were given a bunch of free coupons including a free "kiddie" ride.  (Our oldest read also but is now in the "teen program" although he still is only 11).  Free snow cones and drinks also were given – thanks to those booths that participate.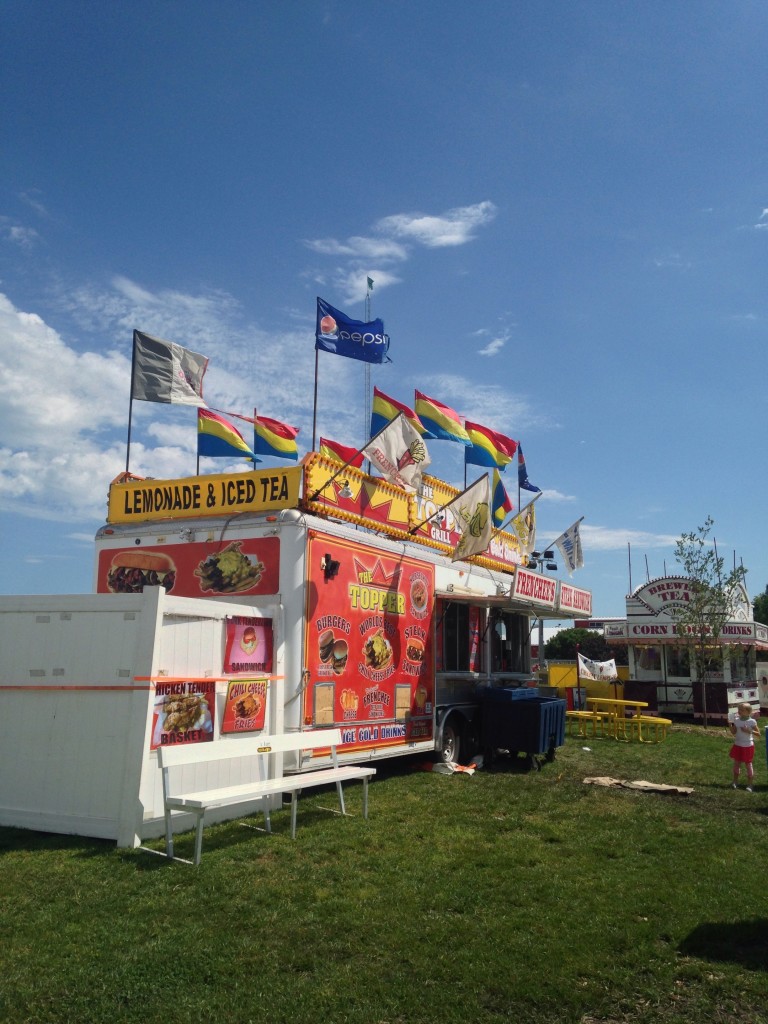 Toppers gave them free hot dogs with a purchase, so my oldest son and I bought our lunch there.  He declared that this was the best cheeseburger EVER.
Despite yesterday and today being the days for students to officially come, as the teacher, I personally learned a few things …
Before we even arrived at the Fair, we had to make a quick stop at Goodwill.  Surprisingly it was chilly off and on.  $2 sweatshirts for all, and we were on our way.  We will now be adding sweatshirts to what we carry around all of the time in the back of our van.
Cash.  Very few places take credit cards.  A few take checks, because after all this IS Nebraska.  ATMS are on site.  They will gladly give you money for a $3 fee.  Next time I will be bringing my cash in advance!  My oldest and I would not have enjoyed/ survived the afternoon without food, so I guess the extra money was worth it.
Stroller/wagon  My youngest two were quite tired by the end.  Taking turns pushing them around in our umbrella stroller (that they have probably outgrown) worked fairly well.  Maybe bringing our wagon would be worthwhile.
Stuff.  Lots of free items.  Carry a bag.  Despite upsizing to a bag bigger than my regular purse, I still did not have enough room.  I had to make a trip to the car to stow it all.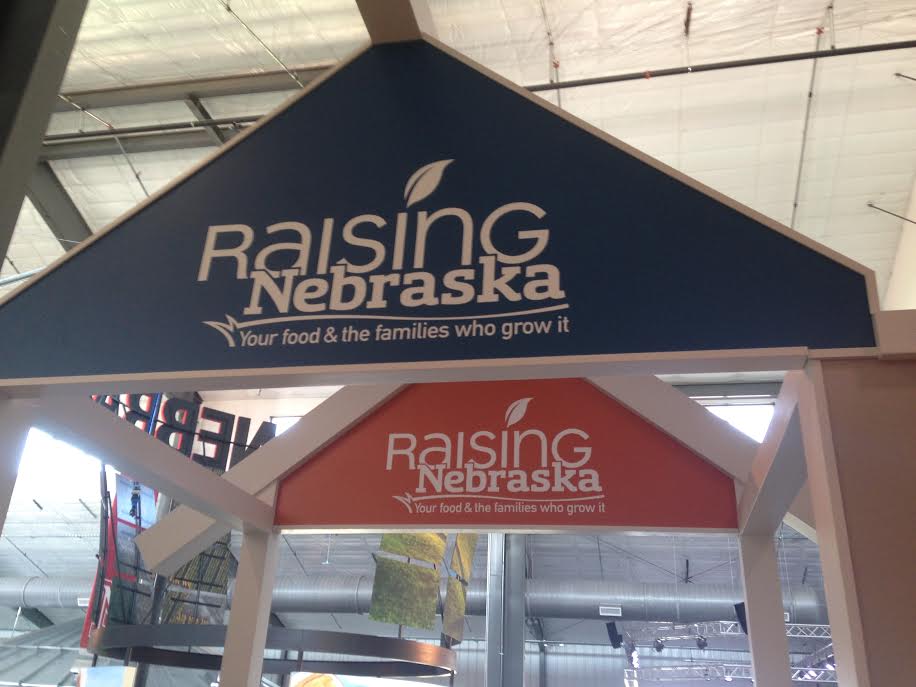 I do hope that we will return to the Nebraska State Fair next year.  Unfortunately my husband had to work this year, but I really am wanting him to join us next year.  What a fun way to spend the day in Nebraska!