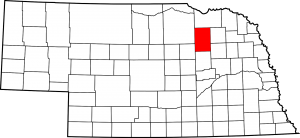 Antelope County in Nebraska
Organized June 15, 1871.
County seat: Neligh
Nebraska license plate number: 26
Naming a county in honor of a dead animal does not seem very inspiring.  But Antelope County in Nebraska obtained their name in just such a way.    Leander Gerrard, actually of Platte County, shot an antelope (the record is very specific that this killing was for food, not for sport) while on the trail of Indians.  Evidently this was an incident that he remembered fondly since this recollection resulted in a new Nebraska county name.  This Northeast county was not organized until Nebraska had been a state for 3 1/2 years.  Today between 6,500 and 7,000 people live here, so this county would be considered a medium-sized one.
Neligh is the county seat and was named for the early settler, John D. Neligh, who owned the land where the town is settled.  His mill helped to found the town and can still be toured today.  For almost a decade in the late 1800's, Neligh was also home to Gates College – one of the few higher learning institutions between the Platte River and Dakota Territory.
Towns lost to time …
Royal started its town life with the name "Savage."  Named initially for a Sioux City doctor who had promised to donate money for a school to any nearby place who would rename the town in his honor, this name was short-lived.  Reverend Bear objected to his Sunday school being named "Savage School."  Since Dr. Savage never came through with the money, the town name reverted to Royal for Royal Thayer who was evidently more honorable.  You can still visit the small town Royal today.
Eggleston.  Actually this was never the name of a town.  But Farmer William Eggleston thought that since he was willing to donate a spot on his farm for a post office, he should get that honor.  Postmaster Gailey from Oakdale disagreed.  Instead he looked up the names of Illinois towns in a post office guide.  Evidently Elgin passed the muster and can still be found today.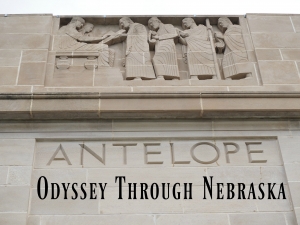 Antelope County Today …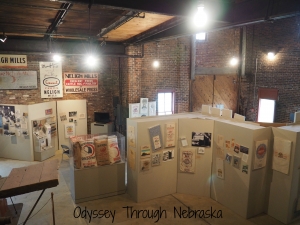 You will want to visit Neligh Mill.  With three stories to explore, you will get a glimpse of what running a flour mill was like.  The original millworks are still there along with other artifacts – all original.  Including the wooden steps.  Climbing up the steep stairs that the workers used to run the mill is not an experience for the faint at heart.   You can also find the Antelope County Museum in Neligh and follow that link to learn more about TK Drive-In Theater (one of only two in the state) that is open during the spring into early fall.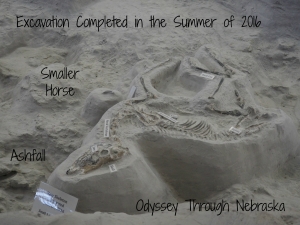 Another great Antelope County location is Ashfall Fossil Beds near Royal.  Getting to take my kids to see this Nebraska wonder was something I had wanted to do for a long time and happened shortly after I originally put up this post.  Back when I went 20 years ago, excavations were just beginning.  Now the Rhino Barn is much bigger.  Every summer their goal is to excavate just a little bit more, and they estimate that the entire barn area will take another 10-15 years to complete.  Pictured is this summer's project.