A big thank you to the Omaha Children's Museum for the complimentary admission.  My kids can't wait to come back!
Growing up, my super hero attempts were limited to jumping off of my cousin's bunk bed.  Not sure if we were trying to fly or just liked the "living on the edge" feeling that jumping down four feet made us feel.  My kids are a different story.  One of my children loves anything to do with "super heroes," and my other younger ones have HUGE imaginations.  Last week, when they found out that we were going to Omaha, they begged me to take them to the "Super Power" exhibit at the Omaha Children's Museum.   This is not a recent exhibit – actually children have been visiting since October 17th.  (Sometimes we are a bit slow to the party!)  Anyway, my kids would all say that getting to go was worth the wait.
What I appreciate about the museum's special exhibits is that they have a little bit for everyone.  An area for "Mini Heroes" to safely climb that is "blocked off" from the bigger kids.  Animated areas.  A playground structure for heroes to rise to the top, once they have removed their capes of course.   Plus plenty of life-size super heroes to provide the perfect atmosphere.  The favorite of my kids?  The climbing walls and the zip line which are both at the perfect height for the younger set.
From a teacher's perspective, what I really like about the special exhibits at the Omaha Children's Museum is that they manage to hit a variety of learning styles and interests.  Kinesthetic activities that help to get the heart rate up and keep kids moving.  Spaces to draw and reflect.  Places to use imagination.  Activities for visual and audio learners.  From a moms' perspective, what I really like about the exhibits is the fact that nothing is overly tall.  Now that they are older, my kids can scatter across the room to what they like to experience without them having to stick quite as closely together because I can see all of them easily as I scan the room.
While sometimes I must admit that I would like to send my kids to an alternative universe (what Mom doesn't at times? ;-)), overall they are my favorite super heroes on the planet.  Playing in this room together in this room was also a good reminder to my kids that they do like each other.  That they can have fun together!  Sometimes in the midst of spring break, they need to recall that fact.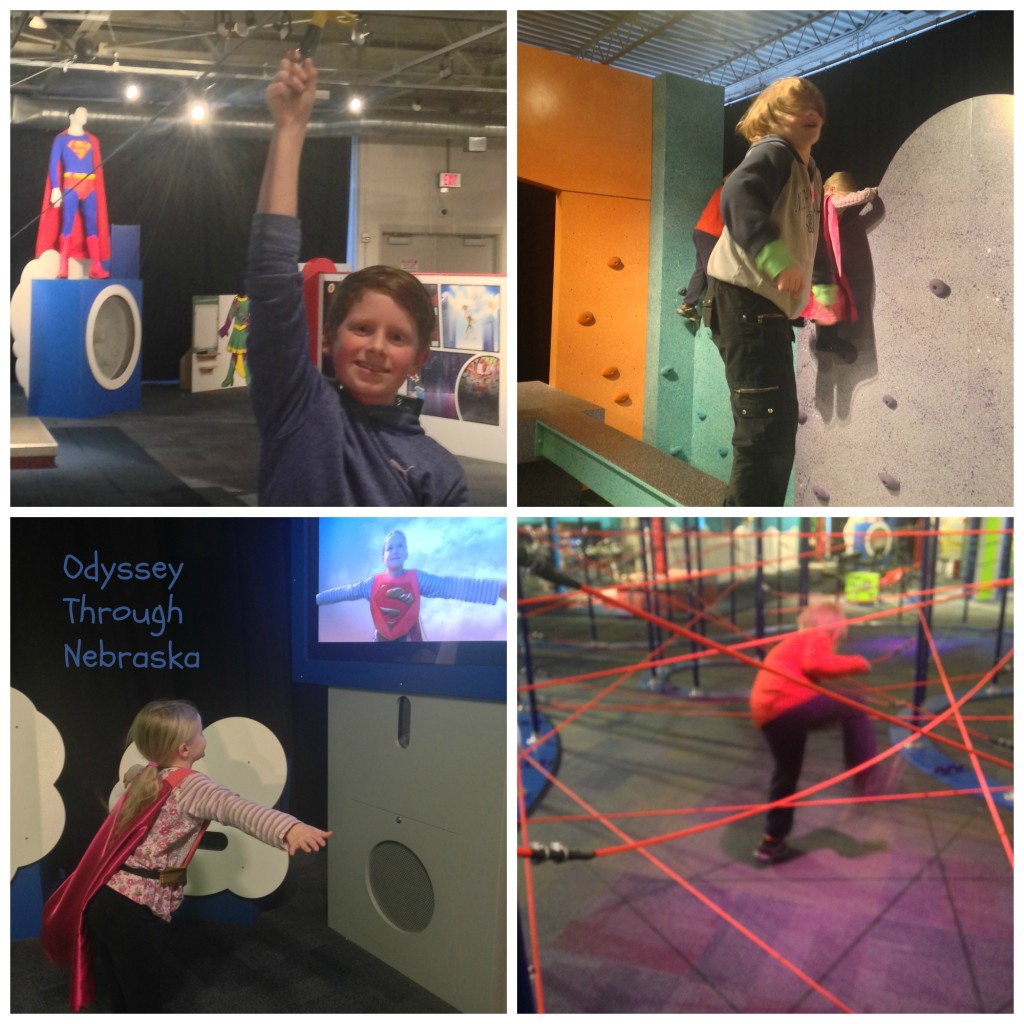 Coming up next at the Omaha Children's Museum? Pirates and Mermaids: Voyage to Treasure Cove is opening the Saturday of Memorial Day Week-end.  Hopefully we will get to tell you all about the treasures that we discovered sometime this summer.