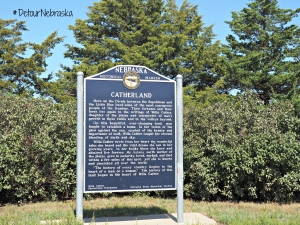 Before I visited Red Cloud, I knew about Willa Cather.  While I have only read excerpts of her writing, I do know that she is probably one of Nebraska's most prolific writers.  I could also tell you quite a few facts about her life.  Yet until I actually went to "Catherland" last September, her story was beyond me.  Seeing the town and the surroundings that impacted her life and where her stories started was impactful to me.   Although I am not quite ready to tackle one of her titles, I know that they will be more meaningful because of my visit to Catherland.   This Catherland Nebraska historical marker is found right outside of Red Cloud.
As I mentioned in Detour Nebraska in the Frontier Trails section, there are several tours available in Catherland.  (Okay, I did not call it that in the book.  But this is such a clever term that I can't help but use it in my blog).  Willa Cather's childhood home is on both tours.  Because there were not any tours happening right when I stopped in town, I had to forgo getting to see inside.  But thanks to the Willa Cather Foundation, I could get a glimpse of this humble home online.
Actually I could peek into several of the buildings associated with Cather.  Including the Red Cloud Opera House.  Filled with tables now, the stage is still visible.  Cather definitely was in attendance on occasion.  The Opera House is on the 2nd floor.  The first floor contains the Foundation offices and more.  As you can probably tell from the picture, the building recently went through renovations to be even more purposeful for the community.
The one room that was a bit more complete when I visited was the gift shop area.  I was impressed by their offerings.  Not only did they also have various editions of her titles, but they also had commentary and collectibles with connections to Cather herself.
Returning to Red Cloud and Catherland
Because this building was definitely in process, I cannot show you completely what changes have taken place.  I do know that I am impressed with their starting point.  Someday I will visit again.  And that is the goal of the post – not to show you all of the details.  Instead I hope to intrigue you to want to go visit Red Cloud yourself.  Explore Catherland.  Learn more about the artist and about a pretty town that is continuing to expand and grow.  They have a vision.  The building pictured below is on the corner where the updated Cather Foundation is found.  A beautiful building signifying a solid community.