Somehow I went from making one meal per state to making several.  Since I have been trying to have Friday be family pizza night, that has added to the fun.  So we had our Connecticut meal on Monday, a sandwich that originated in CT on Tuesday, then a CT specialty pizza on Friday.  Easy meal planning again! Here are the recipes that we tried and what we thought of them.

First, the main dish: Cranberry Pork Medallions.  I will 100% be making this again.  In fact, I could make it once a week and be happy.  The combination of salty pork with the sweeter sauce and the sour cranberries was simply delicious. I had not pan "fried" pork tenderloin before – I did learn that you need to cut the tenderloin in half, so the middle gets completely cooked.
I really struggled with finding a side dish.  At the moment I cannot even find the link to the recipe that was my starting point.  Basically it was potatoes with cream and a bit of cheese. What made them Connecticut potatoes, I am not sure.  But since they had CT in their name, I went with that. 🙂  As for the specialty sandwich served the next day, evidently the first hamburgers were served in Connecticut on toast.  We had patty melts to celebrate. 🙂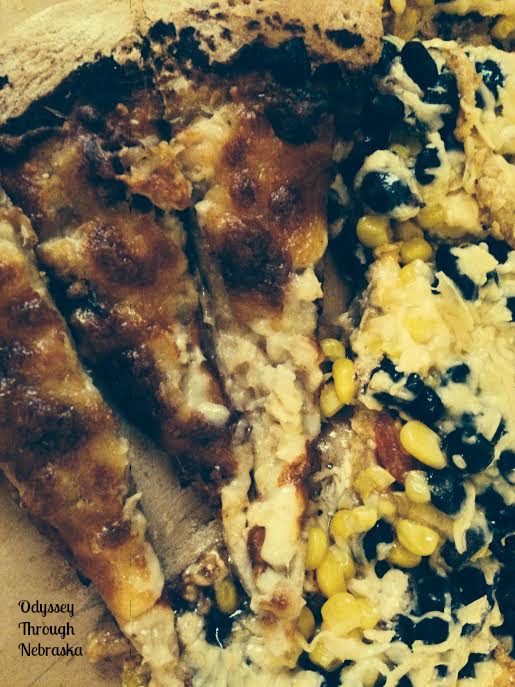 Many people rave about New Haven Clam Pizza.  We must be too Midwestern – we were not convinced that seafood belongs on pizza.  I did use an Italian cheese blend, and my own crust recipe that I made in my bread machine. I think the recipe is probably a good one – the toppings are traditional.  The bacon definitely helped.  I might have added too much garlic.  Glad that we tried this but will not become a regular feature.
While I do want us to keep trying new kinds of pizza, I will be serving one of our family favorites each week as well, just in case.  Pictured is our barbecue pizza.  I used sauce from the fridge along with cooked chicken (marinaded briefly in liquid smoke), corn, black beans, red pepper and smoked Gouda cheese.  The cheese makes the pizza – worth the added cost!