Yikes! While we have been continuing to eat around the United States, I have neglected posting our experiences here. I guess this snowy Nebraska day, when I am stuck inside anyway, is a good day to play catch up. Here are our meals from Rhode Island, Vermont, Kentucky and Tennessee.  Today's pictures seem to be brought to you by cheese since that seems to be a common feature. 🙂
Rhode Island
This ended up being the meal that I made for my birthday supper. Since we were eating out with extended family the next day, I actually had my birthday meal at home. While I did help cook, I did not have to clean up at least. 🙂 The dish of the evening:
This dish was AMAZING!  And somewhat low in calorie due to the portion size.  Did all of my kids like it?  Of course not.  Will I make it again?  Most definitely.
Vermont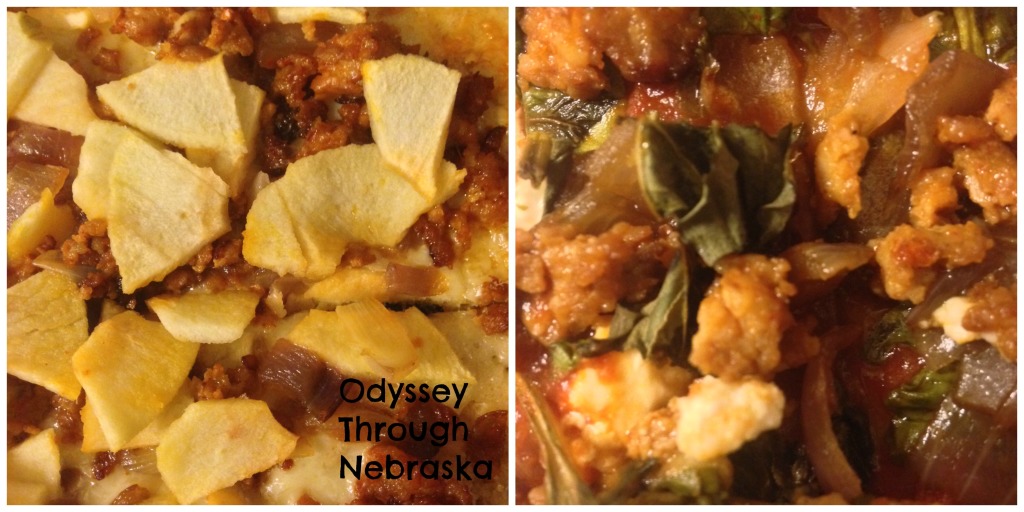 Our first meal for Vermont was actually two kinds of pizza.  Using only three ingredients, this was possibly the simplest pizza I ever made.  I accidentally forgot to brush the crust with olive oil, and I think that was fine.  We did use our apple peeler/corer/slicer to end up with most perfectly sliced apples.  Sargento just came out with Vermont white cheddar cheese – we just used one whole section for our smaller pizza.  This was SO good – definitely a keeper recipe!
Our second pizza was also good.  Due to the sauce containing maple syrup, I thought it fit Vermont.  I did add a bit of sausage to one half for my meat eaters.  This recipe used very little cheese, so it might have been healthier.  Not sure my family was convinced of the spinach, but I liked this style.  I may try it again – especially for a girl's night pizza.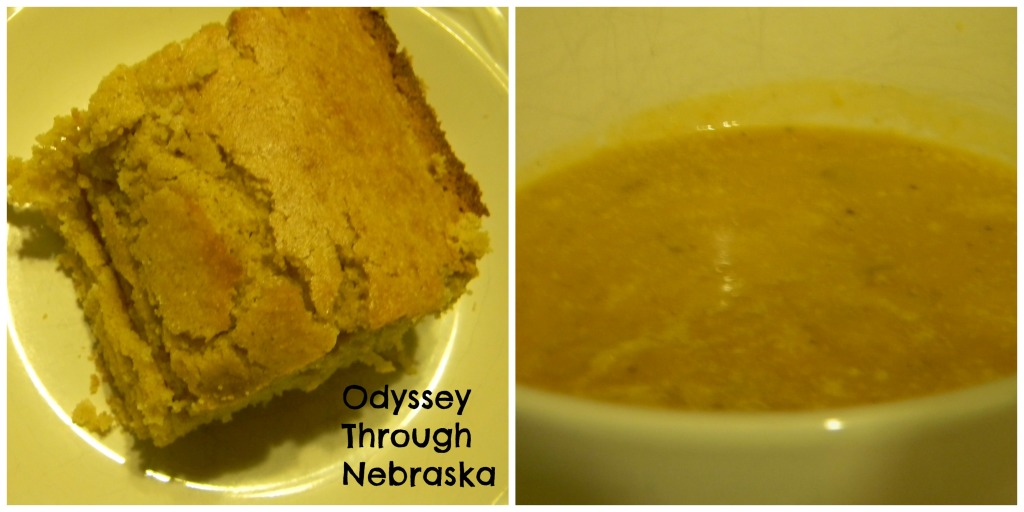 Sweet Potato Soup with Nutmeg and Maple Syrup I thought that soup was definitely good and fit perfectly with fall.  While perhaps looking a bit like baby food according to one of my kids, the taste was grown up.
Maple Corn Bread I would make this again even if it is not Vermont week.  Fitting into a square pan, this was the perfect amount for all of us to have 1 1/2 pieces.  No butter was even necessary.
Kentucky
Evidently I forgot to take a picture of this meal.  My husband was gone, so he actually got to sample the sandwiches for breakfast. We used leftover turkey from my mother-in-law to make our Hot Brown Sandwiches and the last batch of garden tomatoes we had been given.  Actually I must confess that I used deli turkey for mine – not always a regular turkey kind of girl.  Everyone mostly liked these sandwiches.  One or two did not the sauce, but I thought it was the best part.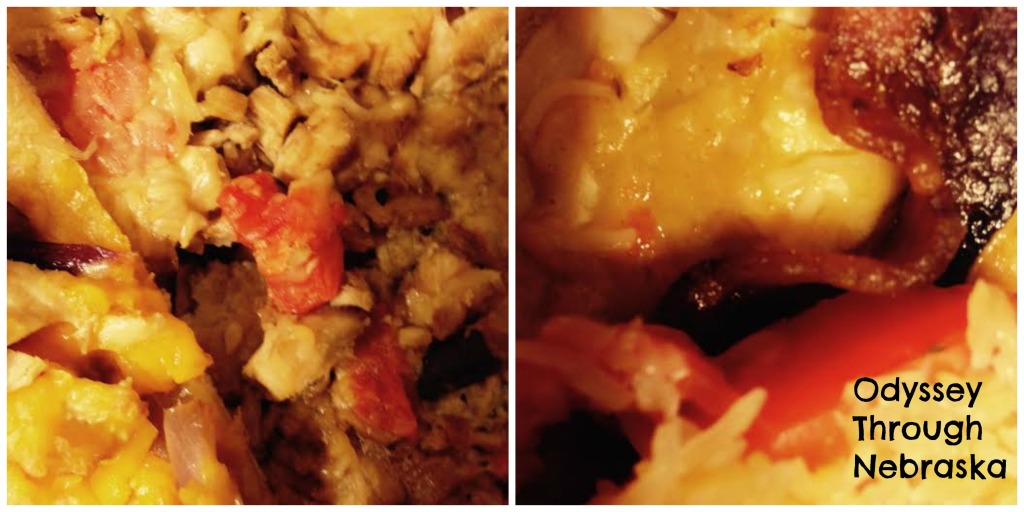 The next day, we tried two pizza recipes.  I sort of followed basic recipes but kind of made them up as well.  For the first, I marinaded chicken in bourbon for a few hours.  After quickly cooking the chicken, I added it along with caramelized onion, pepper and cheddar cheese to a crust.  I think everyone liked this kind, and I must say it was quite easy again.
I sort of followed this Kentucky Hot Brown Pizza recipe, but I added our leftover sauce from the day before.  I marinaded the cooked turkey in a bit of Worchestershire sauce for awhile.  I also forgot to add the sour cream, but I did use Parmesan cheese to top the pizza.  Other than the fact that I really do not think that I like regular cooked turkey, this was good.
Tennessee
Forgot to take a picture of this meat as well, but since I included it on the pizza recipe below, you will sort of get the idea.  Our house smelled pretty great all day when we were cooking this Whiskey Barbecue Pork.
When I picked this recipe, I thought we had Jack Daniels left from the last time we cooked around the states five years ago.  (Obviously we are not big drinkers around here. 🙂 The only type of whiskey we had was the Kentucky Bourbon.  Using that for a Tennessee meal just did not work for me.  So my middle son and I biked to the store to buy some JD (kind of expensive stuff!).  Anyway, while I did spend time with my son, I perhaps did not get the "Homeschooling Mom of the Year" award since it was spent buying whiskey.  I do think this extra effort was worth it – the drink did make the pork dish.  The one who accompanied me, my pickiest eater, LOVED the meat.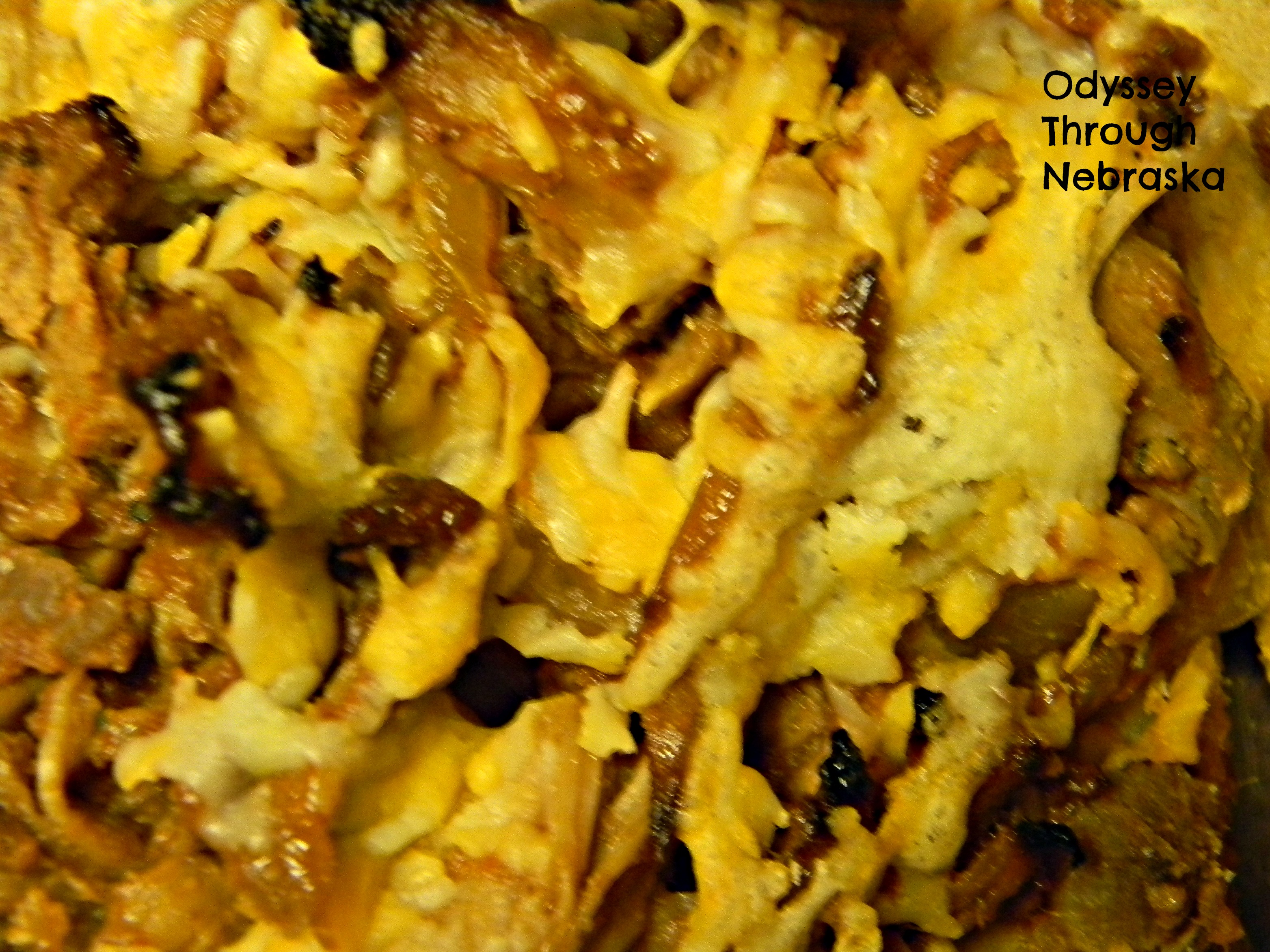 Last night for our family pizza night, I simply added the leftover pork which still had a few caramelized onions mixed in.  After adding triple cheddar cheese on top, my pizza was complete.  This also was a hit with the family.  Amazingly overall, these four stops were all a success.