Maybe someday I will become a gourmet chef.  In the past, I think I could have almost been considered a good cook.  After all, I have been a part of a cooking club for 12 years.  But these are the days when getting dinner on the table before dashing out the door is the ultimate goal.  Actually more often than not, several of us are eating in the car!) Although many of our meals are quicker at the moment, I know that someday I may have more time to cook again.  But for now, I will simply enjoy watching other people create fabulous spreads.  Sometimes that means watching Food Network.  Even better is when I can watch chefs cooking live.  Like when my husband and I attended the Culinary Fight Club Competition this past Monday in Omaha.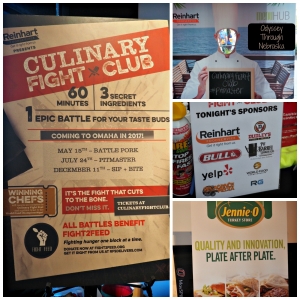 The theme for this week's food fight was barbecue – the Pitmaster Challenge.  Three area chefs competed to get a golden ticket that would allow them to compete in the World Championships.  While I may enjoy the idea of cooking gourmet food, I do think that trying to do so under a clock was really stressful.  And that is how the challenge started.  Each time had 45 seconds to gather their culinary ingredients.  We were not there quite yet, but you can see the chefs race around for ingredients on this Facebook live clip from The Walking Tourists.
Now a little bit more about the competitors …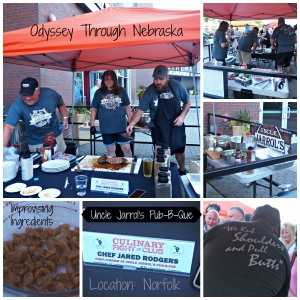 The first competitor is from Norfolk, Nebraska.  They ended up being my favorite team to watch.  And I also liked their food the best.  Jared Rodgers is the chef at Uncle Jarrol's.  Their food was down home.  His mom was one of his assistants.  She graciously let me film her for a minute during the competition.  I have included that link at the bottom of this post.  To learn more about this fun place to eat, please visit Uncle Jarrol's Pub-B-Que on Facebook.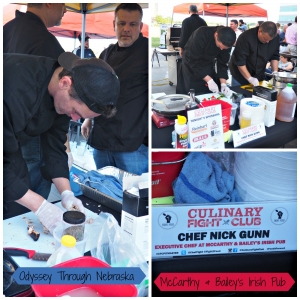 The second competitor is also from up north.  Sioux City to be precise – on the Iowa side.  McCarthy and Baileys Irish Pub is owned and operated by Nick and Sarah Gunn.  Chef Nick has been in the culinary field for several years.  Their team was rather precise in their food planning.  Visiting their restaurant seems like an enjoyable experience based on the pictures that are posted online.
DJ's Dugout Sports Bar were the local competitors. With six area restaurants, they service all corners of the Omaha area.  All of us watching were in awe of their tropical ingredients.  Especially their use of pineapple. This group of cooks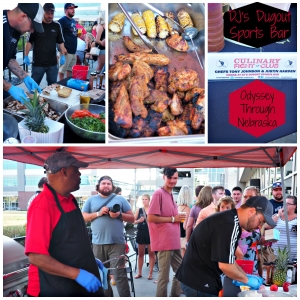 definitely worked together on their presentation.
The Results.
Being a judge might have been harder than being a competitor.   Three locals were able to try all of the food and determine who the winner was.  While they were voting, those attending were able to sample parts of the food offerings.  We were all given green ballots to give our input for the people's choice award.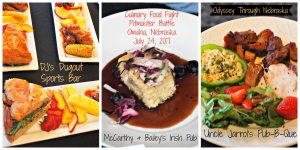 In the end, the "Cheferee" made the announcements of the winners.  Chef Jared won the people's choice award. Chef Nick won the judge's award. And I personally think Chef Tony/Chef Justin should have received the award for the most colorful plate.  Doesn't their sandwich and fruit selection look beautiful?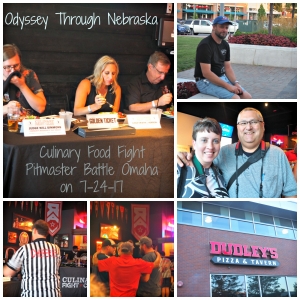 Overall, this was a fun night.  They will be having another battle in Omaha in December.  A few tips for those planning on attending …
Arrive full. Or at least not starved.  While you do get a decent size sample of each selection, they have to cook the food first.  We enjoyed the appetizers at Dudley's Pizza & Tavern (more on those in another post), but smelling the barbecue for 2 hours definitely made us hungry for real food.
Remember that this is event is for charity.  Specifically the Fight 2 Feed organization that fights hunger.  Part of the evening's event was also to get people to try for a 50/50 raffle.  If you win, you will be given the option of donating your portion as well.  Be ready for that.
This is not a quiet evening.  Live music and lots of people meant a lively night.  But it was memorable.  Especially being with friends.
Here is the promised video of a competitor's thoughts on the evening.  Thank you, Mary, for being such a good sport by letting me film you.  Glad you won the people's choice in culinary fight!