More Nebraska by Heart art can be found on the edge of the University of Nebraska-Lincoln East Campus.  East Campus has long served the students of this state.  This location is the perfect setting to display Nebraska pride.
How fitting to see Nebraska's official state bird on the campus where many students study plants and animals.  The title of this meadowlark statue is an interesting one.  What makes this bird unique is not only its coloring but its song.  Too bad there is not a recording playing when you drive up to see these birds.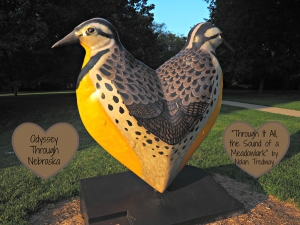 Another set of birds is seen in this parking lot area.  Although Sandhill cranes do not live in Nebraska permanently, they definitely call our state home for part of the year.  I love the detail of the birds taking flight that is seen on this heart.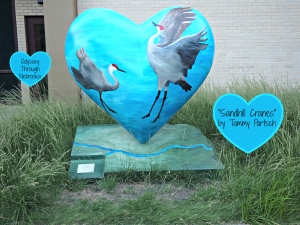 From the birds to a dog, this mosaic heart featuring a Corgi had to have been painstaking to make.  Only when you get closer do you realize that this heart is comprised of fabric squares.  I cannot imagine how long trying to put these pieces into a pattern would have taken.
Across the street from East Campus, two more hearts can be seen around the International Quilt Study Center and Museum.  This floral one might be my daughter's favorite.  Until you get close up, it is hard to see that the shapes attached to this heart are made out of wax.  As this heart of set in the middle of a wildflower garden, this heart is beautiful to behold.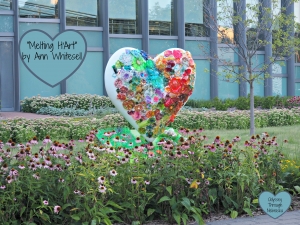 Further into the parking lot, another heart seems to be made out of quilt squares.  Of course this one features a pattern that has been painted on.  Still the symbols are significant to Nebraska.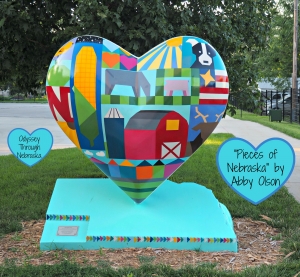 Just Beyond East Campus
This heart is located just down 33rd Street outside of the NET building near 33rd and Holdrege.  With all of the road construction going on in this area, arriving to see this heart takes a bit of maneuvering.  But I do think the effort is worth it.  For one thing, I know the creator.  Lynn Wilson was the former art teacher at Lincoln Christian.  She has been involved in many of the public art projects around Lincoln.  She definitely does beautiful work!