Planning an evening out with friends can be a bit challenging when you have kids at home.  For me, many times that means that my children are often a part of the experience – especially if we happen to be out of town.  At the last minute during our recent trip to North Platte, a friend was able to join us for dinner.  The location was already planned: Pals Brewing Company in North Platte.  (When I had contacted them before our trip, they had kindly agree to partially sponsor our evening with a complimentary large pizza.) At first, I was not sure if the evening out was really going to work.  Taking kids to a brewery?  But this turned out to be a great evening.  Here's why.
An Evening Out Needs Delicious Food and Hearty Beverages
Taking kids out for pizza is generally a great idea.  Plus Pal's also has several other snack food options.  (Including their delicious baked cheese curds which are not pictured because we ate them too quickly.)  Pals Brewing Company is more than beer. For those wanting an evening out, they do offer a limited food menu to go along with their signature drinks.  We decided to have a half-and-half pizza.  The first kind we picked: "Hog Heaven." The toppings included: homemade ranch sriracha sauce, pecan smoked pork shoulder bacon, crumbled Italian sausage, blue cheese, Palsbrew marinated 'shrooms and mozzarella.  As for our second half, we went with "Twisted Buffalo."  This pizza also had the homemade ranch sriracha sauce, blue cheese and mozzarella.  But the meat flavors were chicken and pepperoni instead, plus onions replaced the mushrooms.  Both signature flavor combinations were delicious – we would order these kinds again.
As for brews, Pals does not disappoint.  Because I am definitely not a beer connoisseur,  I liked the fact that I was able to sample several shot glasses of beer.  To my surprise, my favorite flavor was the Jalapeno Cream Ale.  Maybe this was because we had ordered spicier pizza.  The Jalapeno Cream Ale had a bit of heat but was also smooth.  The perfect compliment to pizza.
An Evening Out Needs Comfortable Seating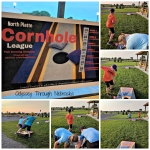 I really like the fact that Pal's Brewing Company has options.  They have a bright dining area with many high top tables.  Besides having great views outdoors, the seats also have television views.   This works out well if you are trying to watch the Huskers or any other games.  Although this may not be the perfect setup to dine with toddlers, the possibilities are perfect with older kids.
We chose to eat outside at the picnic tables.  This allowed us room to spread out.  Plus when my kids finished eating, they played Cornhole. This outdoor game kept the kids occupied for awhile.  (For younger kids, they also have sand toys and other games.) Since the kids were occupied nearby, I was able to relax.  In fact, my friend and I were able to have a somewhat uninterrupted conversation.  Although the August night was rather warm, the dining tables were under an open covered porch.
An Evening Out Needs Atmosphere
My favorite locations are those ones that have a bit of a story.  Pal's Brewing Company was started as a result of a family gathering.  This close connection is what makes Pal's such a warm and welcoming location.  Thought went into their development.  Since they are located on the edge of town, the sunsets are so beautiful.  The wide open spaces calm the spirit.  The next time that you are in North Platte, I highly recommend that you stop at Pal's Brewing Company.