For our family to fully enjoy exploring North Platte, I contacted the North Platte Convention & Visitor's Bureau  first.  Then they helped me to get in touch with many of these locations.  Free and discounted admission made it possible for me to evaluate these places.  I am grateful.
Staying in North Platte
We were delighted to get a discounted stay at the brand new Tru Hotel.  Hanging out in the lobby is usually unheard 
of.  But at this hotel chain, that is exactly their intention.  With a pool table and a cupboard full of games, fun is waiting for all.
The hotel room are spacious and comfortable.  I really liked the squeeze bottle shampoo that is mounted in the shower.  The only potential drawback is the fact that they do not have any roll away beds.  Although the floors are easy to keep clean, they are not exactly comfortable.
As for the breakfast, they had several original possibilities.  My favorite might be adding Oreos to the Greek yogurt.
Exploring North Platte's places to eat …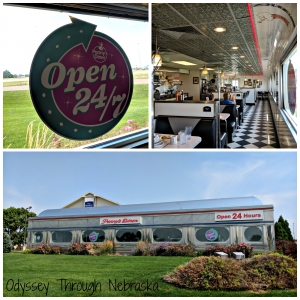 Why not start with breakfast in a 50's style dinner.  Because North Platte is a big railroad town, seeing a Penny's is not surprising.  Because they are open 24 hours, they suit the track life perfectly.  The menu keeps the classics available.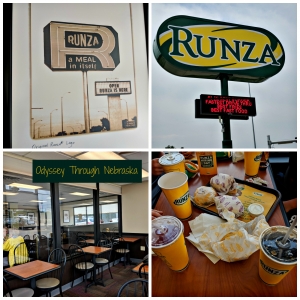 Lunch is a Nebraska original.  Runza is one of my family's favorite places to eat.  In case you are unfamiliar with a "runza" think a soft stuffed sandwich filled with seasoned beef, onions and cabbage.  They also have great burgers, fries and onions rings.
This particular restaurant is one of the biggest locations with over 100 seats.   Because of the size, I think this helps make it be even more family friendly.  One of the seating areas in sectioned off which works particularly well with smaller children.
My recommended supper location may not seem family friendly at first.  Pals Brewing Company a family operated endeavor on the edge of town.  With several kinds of pizza, your kids will enjoy going back.  The food was quite delicious.
Dining outside adds another welcoming element.  Outdoor games are available for the family to play while you wait.  These also work well if parents would like a chance to complete a conversation.  Mom & Dad can talk, and the kids can play.
Parents may also choose to enjoy a grown-up drink.  I sipped several, and I am rather surprised by my favorite.  Their jalepeno cream beer compliments pizza perfectly.  While they do not always have specials, they will be broadcasting the home games.
Exploring North Platte for fun …
The younger set will really enjoy the North Platte Children's Museum.  From farmer to musician to doctor to home builder, your child can envision so many possibilities.  Having been to several children's museums, I must say that I have a special places for these smaller town locations.  Due to limited budgets, they cannot have as complex of possibilities.  Instead they turn on the charm on creativity.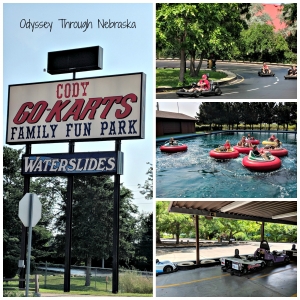 For kids of all ages, this go-cart center will be a family favorite.  Although there are certain package possibilities, mostly you pay per activity.  The kids enjoyed several go kart races.  Even I joined in the bumper boat adventure – that was great.
Exploring North Platte History
Buffalo Bill chose North Platte to be his town.  Touring the property that is now a state park is definitely enlightening.
The Lincoln County History Museum is full of local lore and memorabilia.
Exploring North Platte's Railroad
As I mentioned earlier, the railroad is a big part of North Platte. To learn about its history, visit the Golden Spike Tower Visitor's Center.  The guides encourage you to watch the video first, and I agree that the clips provide a great summary.
Take the elevator to Floor 7 to walk around history. Guides are available to answer any questions you may have.  Mainly these experts are former railroad workers, so they definitely know what they're talking about.
Floor 8 provides an excellent view of Bailey Yard which is the largest switchyard in the world.  If you have a train enthusiast, you may struggle with getting them to leave.
More coming soon …