Last Saturday, our oldest turned 12.  I wanted to go to Omaha to celebrate, but pay day was not until this week, so money was tight.  To find out if there was anything fun going on for families on a budget, I checked on my friend, Kim's Oh My! Omaha's website.  There I discovered that "Celebration of Mind," a free fun family event promoted by Fat Brain Toys, was happening in the Old Market all morning.  We decided to give it a try.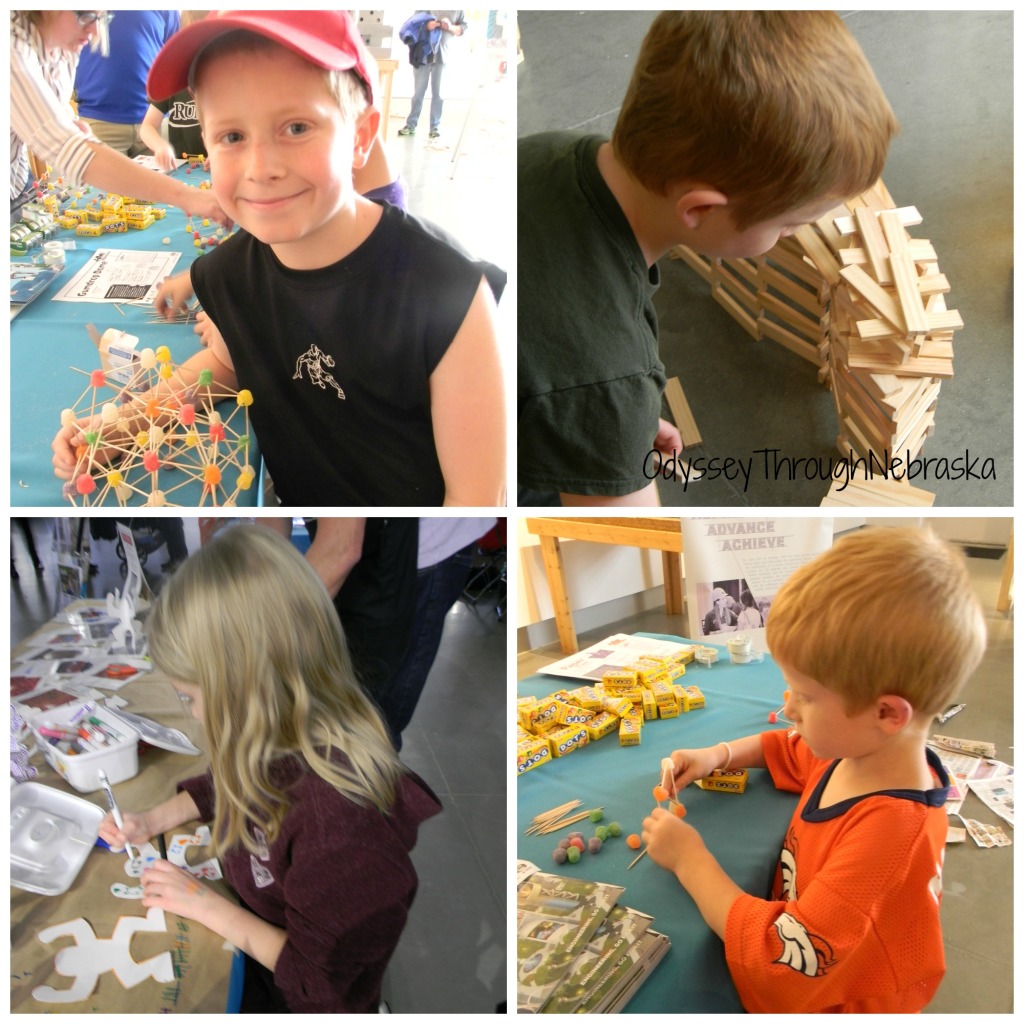 Our family SO enjoyed the event.  About 20 stations were set up around the room for the kids to explore.  We just took turns following our kids and interacting with them.  The pressure was off of us to be creative, yet we could make fun family memories.
I have learned that one way to find out about opportunities is to follow different blogs like Oh My! Omaha and Family Fun in Omaha.  When we are going to the big O!, I always check there first to make sure that I can pick from the fun planned events – many of which are free!  Every week I also try to link their weekly posts on my Facebook page.
This is another way to find out about fun Nebraska events is to become my Facebook follower.  Thanks to scheduled posts, I can compile each week many of the great Husker happenings beyond the weekly games.  If you are a "friend" of my page, you will hopefully get some of the events at least on your news feed.  This week across Nebraska, punkin' chunkin' as well as outhouse races and heritage celebrations.  Turn into my page to learn more!
I will admit that I miss many a wonderful event.  If you know of a family friendly activity in your part of Nebraska, I would be thrilled if you would post the details on the Odyssey Facebook page  page.  Or you can e-mail me, and I will post it for you.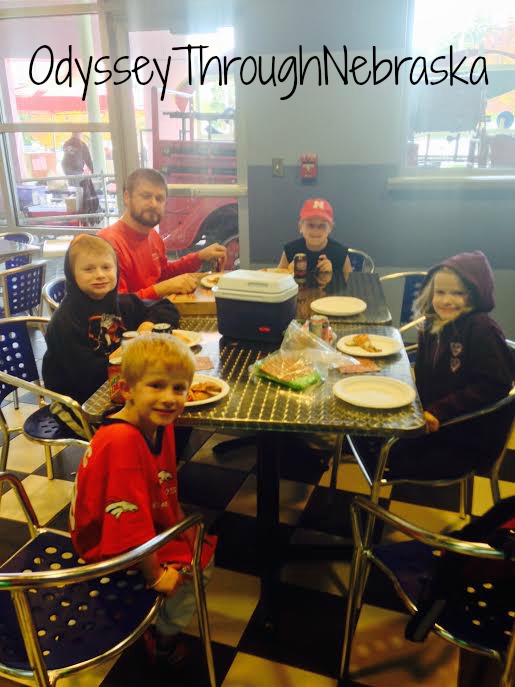 Enjoying our "New York Deluxe" Pizza from Zio's Pizzeria – a great birthday lunch.  Where is our fabulous dining location?  Why, the eating area at the Omaha Children's Museum.  We ordered our pizza to go, brought our own drinks and also did not have to pay tip which allowed us to buy the large extra large pizza with the cash we had brought.  We even had enough that we had 4 small slices left.  A great deal!  Next time I will have someone else take the photo to show that I was actually present.

The next free event we experienced was because we have a reciprocal ASTC membership through Morrill Hall.  One of the places that we have been able to visit for FREE the past year that we have had our membership is the Omaha Children's Museum.  I was worried that our oldest might consider the place too childish now, but much to my delight, he still had fun.
Actually that day they were having a kick-off to their new farm exhibit.  More free events were available, as well as free small pork sandwiches, but of course we were full from the pizza.  While there would have been still been admission cost for non-members, that is still a great way to have lunch AND get to play.
Our day in Omaha cost us $30.88.  For all six of us.  Plus we had a great time.  How about you?  How do you save money on events?  How does your family experience fun on a budget?  Please comment below. Tomorrow I will share other suggestions on how to save money as a family and where to find the best deals.