Buffalo Bill.  Born William F. Cody in LeClaire, Iowa.  Settled in North Platte at Scout's Rest.   Ranched near Cody, Wyoming.  Buried in Golden, Colorado.  For a man who also traveled worldwide, perhaps it is not surprising that he has not one but FOUR museums devoted to his life.  (And that does not even include Fort Cody, a fun roadside attraction.)  By the way, you can click on any of the links above to learn more about these locations.
Besides hanging out in North Platte, another place that Buffalo Bill spent some time was Omaha.  In fact, over 132 years ago, Buffalo Bill's Wild West Show premiered in Omaha.  Exactly how many visits the show made to Omaha is hard to determine, but that is definitely where he made his official start.
In honor of this occasion, The Durham Museum in Omaha has had a special exhibit on display entitled, "Buffalo Bill: From Nebraska to the World."  From January 30th through May 1st, you can see all sorts of artifacts and pictures from Buffalo Bill's life as well as 30 year show that gave him such notoriety.  Because this is largely a traveling exhibit with not all items coming from the Durham, I was not allowed to take any pictures of the display.  (Guess you will just have to go see them for yourself!)  But I can tell you about my favorite parts: seeing the Annie Oakley section along with actual video footage of one of the shows.
In conjunction with their special exhibits, the Durham Museum always does an excellent job of having a themed area for kids to interact with what they have learned full of books and applicable games and activities.  How enriching for kids to be able to "build" log cabins, practice their roping skills and complete some cowboy projects.  I was able to take pictures of this part of the display, so you will get a bit of an idea of how wonderful this area is.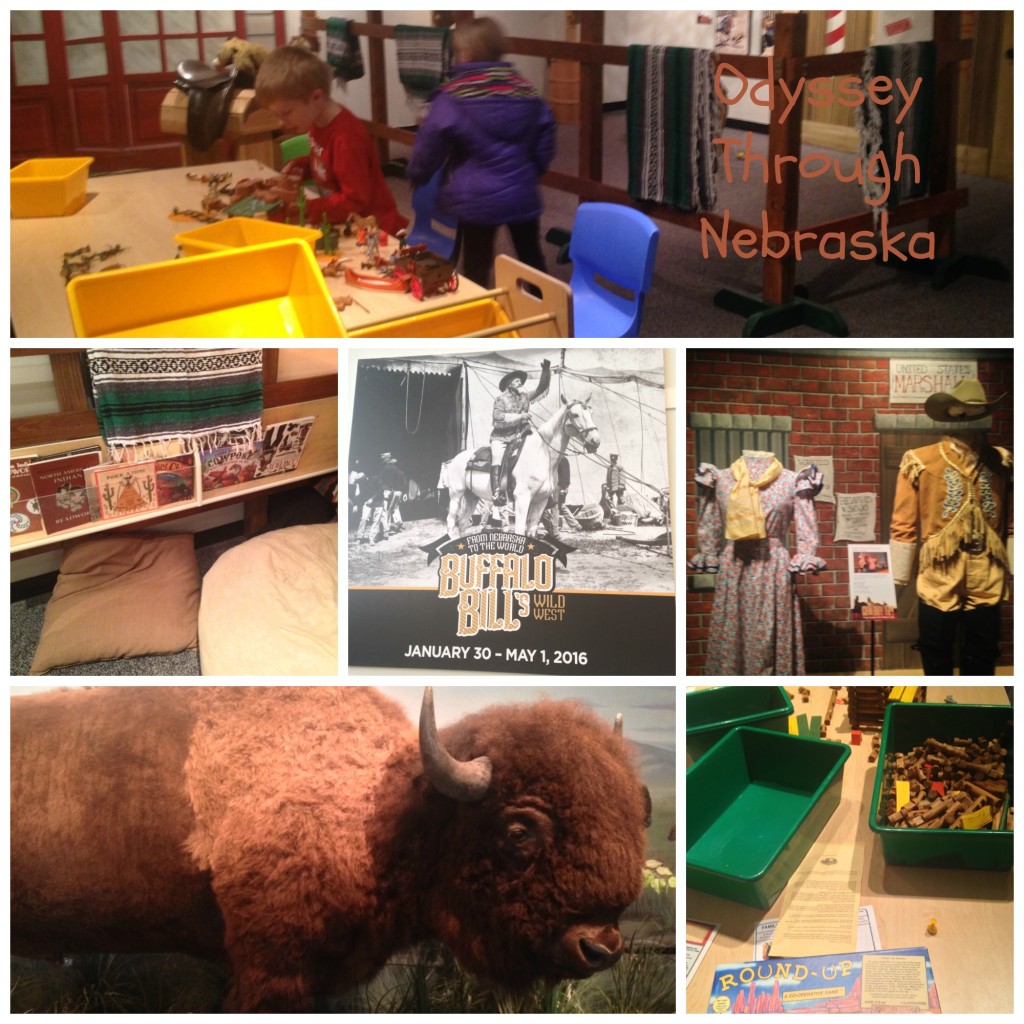 Besides being at the Durham Museum, you can also find Buffalo Bill's influence at the Joslyn Museum through the end of this week.  On display are selected artworks from "The Buffalo Bill Center of the West," the Cody, Wyoming museum.  To see this exhibit, adults are $10, and kids under 17 are FREE!  (If you look at it that way, our family's admission would average out to be $2 per person – a great deal!) Although this artwork is similar to some of the Joslyn's permanent collection, this special display is definitely worth going to see.  In fact, if you are going to be Omaha between now and the closing date of April 17th, I highly recommend that you make this stop a priority.  The paintings that I enjoyed showed a true slice of life for both the pioneers and the Native Americans during the featured time of the last half of the 19th century.
Of personal interest was the painting entitled, The Lewis and Clark Expedition by Thomas Mickell Burnham, an artist that was previously unfamiliar to me.  This was the one painting that was quite possibly set in the Nebraska eastern bluffs region.  Many of the rest of the paintings are set a bit further West.  Besides the paintings, some amazing sculptures are also on display.  If you have the time, you can take a tour using your mobile phone, but docents are also on hand.  Actually that might have been one of my favorite parts too.  Since we visited on a weekday afternoon, the exhibit was quieter than usual, so I was able to ask more questions.  A BIG thank you to the Joslyn for the complimentary admission to allow me to tell you more about the experience.
Just like the Durham, the Joslyn also does a wonderful job of making the exhibit accessible to kids.  Downstairs in their ArtWorks room, students could practice sketching two of the more famous works from the exhibit as well as practice their weaving skills.  When you do go see this exhibit, please make the time for a stop in this room if your children are along.  Because this is also a traveling exhibit I again was not allowed to take pictures.  Since they had color copies of two of the paintings in the "kids' room," I did take a picture of those to give you an idea of the scope of work on display.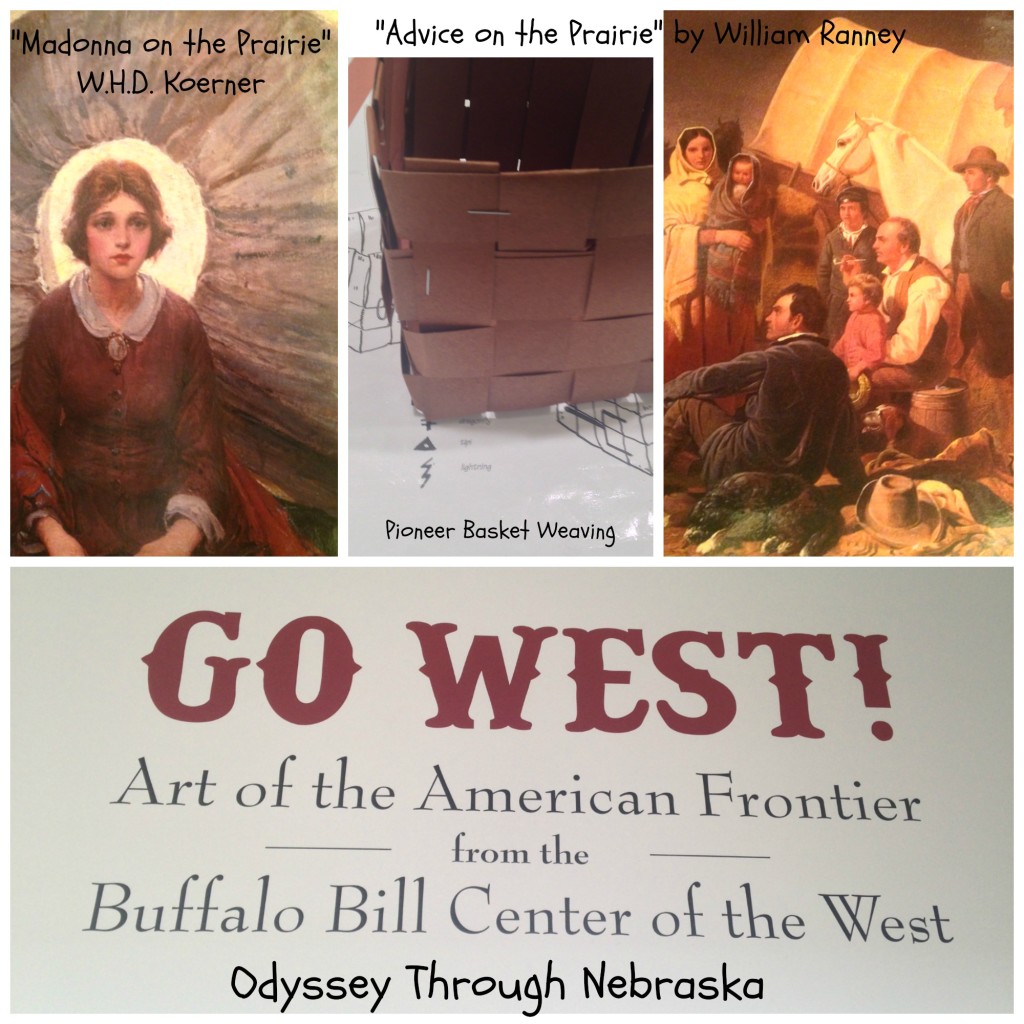 Once you visit these exhibits at the Durham Museum and the Joslyn, please post a comment on the Odyssey Through Nebraska Facebook page to let us know what you thought of your experiences.  By the way, for our Midwest Travel Twitter chat this month, we spent time learning all about North Platte, the town Buffalo Bill considered to be home for the longest amount of time.  Seasonally you can visit Buffalo Bill State Historical Park and take a tour of the place he called home, Scout's Rest.  To find out more about great places to visit in North Platte, you can search up #MWTravel right now to discover a great line-up of opportunities.  If you happen to be reading through this post later than April 2016, simply search up and follow @NorthPlatteNEBR.
One more item of importance, I think an announcement of recent giveaway winners is in order.  Congratulations to Alissa for winning the Alley V arcade $20 gift cards giveaway.  (Thanks again to Alley V for giving me those to pass along to you!)  Congrats, Julie, on winning the prize pack from NET's Nebraska Stories. (Thanks to NET for donating the great items to one of my readers!)  I will get in touch with both of you ladies to get your prizes to you.  As for revealing the clues from the Nebraska History Museum post, well, I decided to wait a bit.  I want to give you a bit more time to go find the answers for yourself.  One post – six great Nebraska places for you to go visit!  Enjoy the possibilities!