This year we are immersed in United States History and Geography.  I think we are officially on a five year cycle, so this is the 2nd time that our homeschool has featured this topic.  Just like we did then, we plan to cook our way around the United States.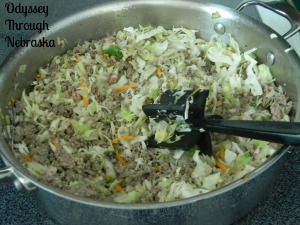 The mixture that I use to fill slightly sweet dough for homemade Runzas.  Last time we cooked through the U.S., I made these for Nebraska.  Now I make them often, so I may try to find a new recipe for us to try.
The first time we studied these topics, my oldest was in first grade.  I started the year with a baby, 2 year old, 4 year old and almost 7 year old.  That time we studied the states in alphabetical order.  Our library's interlibrary loan program was still free, and the fabulous librarian managed to find us The Sleeping Bear Press alphabet books on every. single. state.  (Yep, she was amazing.  If you want to know what series I am talking about, I wrote about C is for Cornhusker on this blog several months ago).  Now that each book you order through interlibrary loan is $2.50, we will not be going that route this year.
Instead we will be going in order of when the states entered the Union, starting next week with Delaware (This is even acknowledged on their license plates that they are the "First State.")  We will average two states a week for awhile then will be taking a break mid-winter since not a lot of states were admitted between the early to mid 1900's.   Next week I will post our order of states.
Where do I plan on getting these recipes?  Primarily we will be using Taste of Home's Recipes Across America.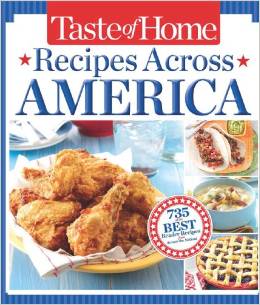 Filled with stories behind many of the recipes, I do feel like we will get an authentic glimpse into how other states and regions eat.  My initial conclusion: we will be eating lots of seafood during our time in the Northeast!
While I do have most of our states primarily mapped out, I would welcome recipes from my readers.  Do you cook using recipes from other states?  This is what I am looking for:
Authentic. Probably every state has tacos.  One of our favorite ways now is the New Mexico version, complete with a fried egg on top.  Is your recipe one enjoyed by locals?
Time friendly.  While I like cooking, I think if I have to spend hours on each dish, I will get burned out.  Although the kids will take turns helping me cook, we still have other school subjects to study also.
Budget friendly.  I am privileged to cook for six people.  For instance, we will be having lobster for Maine but probably in either Lobster Newburg or Lobster Rolls where I can spread the meat out a bit.  Buying six lobsters is not quite practical.  Plus my kids still like visiting the ones at the grocery store – they might be a bit sad to have to eat their "friends."
Recipes I can share, either through links or by posting them here.  I am glad to share your food blog with my readers if that is where I can find authentic recipes!
If you want to follow on our journey across the U.S., I plan on "tweeting" a link to each recipe.  Not on Twitter?  I will compile a document of all of the links to the recipes that I use.  If you send me an e-mail, I will be glad to send out the document to you periodically if you want to cook along with us.  I am excited to begin doing this as I feel like this is a great way to get to know another aspect of the United States.