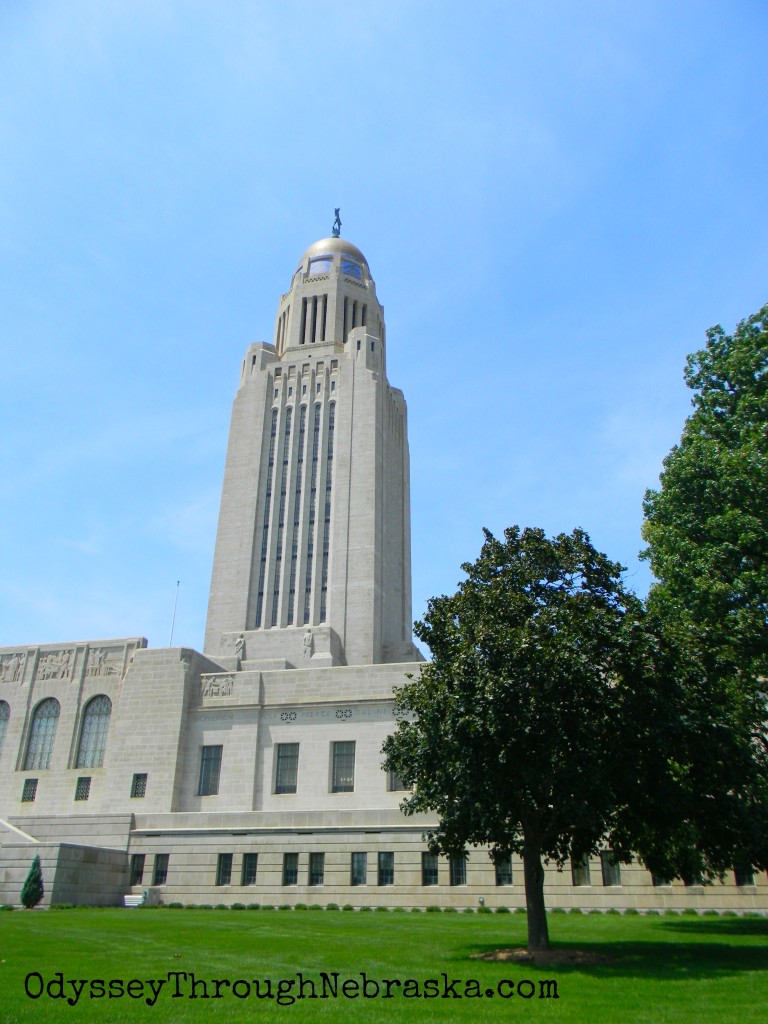 Looking up at the Nebraska Capitol building from the base, one cannot help but be inspired.  Especially since all of the area buildings are noticeably smaller with only a few on the Lincoln skyline even coming close to the proportion and grandeur.  What if you could see the building from above?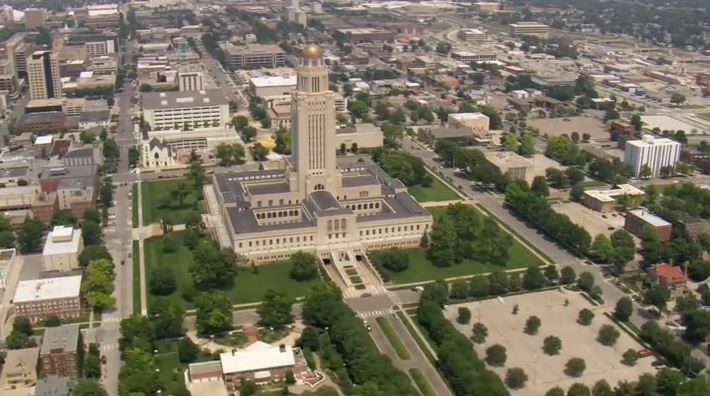 Photo Courtesy of NET
Isn't it amazing how a view change can change your perspective? Months ago for my 200th post, I linked a short video showing Nebraska from above.  (I still think that is one of the coolest clips ever!)  Anyway, tonight they are finally showing all of their footage put together in a feature show.
I really enjoyed my advance preview of this amazing new special on NET (Nebraska's Public Television) that is premiering TONIGHT!   Based on the title, "Nebraska: Land & Sky," I was certain that I would enjoy the show, but the show blew away my expectations.  I recommend it SO highly to anyone who loves Nebraska and wants to experience our state  in a whole new way. The clips are well organized by area or natural features and often include quotes or segments  from various people and places across the state.
By showing the Cornhusker state both from the ground and from the air, the visual images, especially the ones taken from the sky, are incredible.  Below is the official description of the program, including the list of places that are featured in the video.
Program Description: From high above the land and down on-the-ground, the documentary traces Nebraska's history and legacy. Featured stops include Willa Cather's childhood home in Red Cloud, Nebraska's majestic and rugged landscapes around Wildcat Hills in the Panhandle and the vibrant cityscapes of eastern Nebraska.  Homage is given to Nebraska's ranchers and farmers, the state's culture, recreation and exciting moments in Nebraska sports history. A British aerial photographic team, Skyworks, joined the NET crew on their statewide journey to film and archive Nebraska's vast landscapes and hidden places from above. Skyworks specializes in top-end aerial filming, creating footage and shows for broadcasters all over the world, including National Geographic, PBS and the BBC. "NEBRASKA Land & Sky," funded in part by the Nebraska Tourism Commission and Nebraska Game and Parks Commission, is a production of NET Television.  ·        

Locations Filmed Include: Lake McConaughy, the Niobrara River, Ponca State Park, the Platte River, the Sandhill Cranes, Willa Cather home in Red Cloud, Cowboy Trail, Wildcat Hills, Carhenge in Alliance, North Platte rail yard, Fort Robinson, Scottsbluff National Monument, Chimney Rock, Castle Rock, Courthouse Rock, Arbor Lodge in Nebraska City, Missouri River, and locations in Omaha and Lincoln including the Henry Doorly Zoo, Lauritzen Gardens, Boys Town, Memorial Stadium, Sheldon Art Gallery and the Nebraska State Capitol."
This is a GREAT way to kick off the beginning of the school year by being reminded of the Nebraska places that are worth studying.  You have three opportunities this week to watch this program on NET.  Other times may be introduced at a later date, but these are the ones that are set. Watch the show while you have the opportunity!
Monday 7:00 p.m. CT
Monday 10:00 p.m. CT
Wednesday 9:00 p.m. CT
Below is the preview that is also worth watching – LOVE the featured poem, "So, This is Nebraska" from Flying at Night by Nebraska poet, Ted Kooser.
One more important note of interest, once this program officially comes out on DVD in the next few weeks, NET is giving me TWO copies to give away to my readers.  Once you watch the show, you will understand why this IS a show that you will want to watch again and again.  (To be honest, I am trying to figure out how to rig the giveaway, so I can win a copy. No, I promise I will not actually do  that – I just want to do so!)
"Nebraska: Land & Sky" Giveaway
Note: You only have a few days for this Giveaway – it ends on Friday night!  I hope that ALL of you tune into watch the show.  Live outside of Nebraska?  Once I am granted permission to do so (after the show premieres), I will post a link to the actual show.