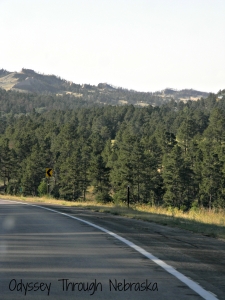 On our trip up to Northwest Nebraska several years ago, we passed on the edge of Halsey.  I could see the trees off in the distance that make up the Nebraska national forest.  And part of the road that we traveled was lined with trees.  But that was during the days of napping children.  When kids are sleeping, there is no stopping.  While I could still appreciate and enjoy the beauty of the many trees, I was unable to get out of the car and explore the way that I hoped.   The picture on the left is one that I managed to get from our moving car.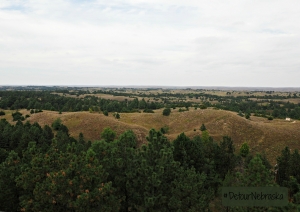 So when I was planning my solo 2016 Nebraska trip,  I knew that the Nebraska national forest was one place that I definitely wanted to stop.  I wanted to experience this beautiful location and not just drive by it.
This forest is unique for several reasons.  For one thing, this forest was hand planted.  A University Professor named Charles Bessey had the vision to see that planting trees would make a difference in the Sandhills region.  Not only helping prevent erosion, but also in providing fuel and building materials for those living in this area.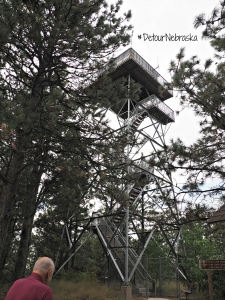 To be able to see the expanse of the forest, I highly recommend climbing the Scott Lookout Tower that is found in the middle of the forest.  There is plenty of steps to the top.  But as you can see from the picture, even those tourists who are older think it is worth the attempt.  Actually that gentleman made me a bit nervous.  We were the only visitors in the area, so I was glad that I was around to make sure that he made it up and down safely.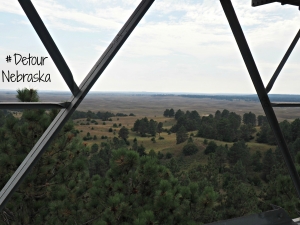 One nice aspect of the climb is that there are landings where you can take a climbing break.  Or the opportunity to take a great photograph.  With the land stretching out for miles, the trees and the Sandhills area sight to behold.  I wish I knew exactly how far that a person can actually see into the distance.  Other than Halsey, there are not really any nearby towns.  This means that identifying specific landmarks on the horizon is a bit more challenging.  But I am certain that you can see at least ten miles from the tower.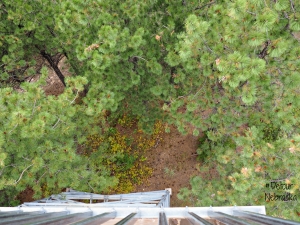 If you are afraid of heights, I might not recommend looking down once you make it the top.  The height is a bit staggering.  But the views from the top are definitely worth the effort.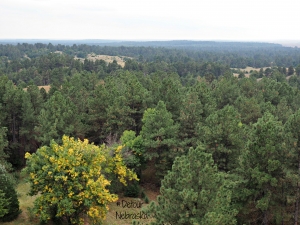 Let the Nebraska National Forest Continue to Grow
The Bessey Ranger District is doing its part to continue to plant and grow more trees for the Nebraska national forest.  Conservation and protection of natural resources is important.  They want Nebraskans to continue to benefit from the beauty of trees.