This week, Nebraska unveiled its new advertising campaign that is officially starting in 2019.  Featuring the slogan, "Nebraska: Honestly, it's not for everyone," this concept is already getting a lot of buzz.
Today Show's Take on New Nebraska Slogan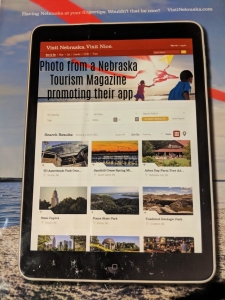 I remember when the latest slogan, "Visit Nebraska, Visit Nice" came out. While the ads were lovely, the slogan was a bit bland.  And perhaps borrowed since "Minnesota Nice" has been a well-known saying for awhile.
Nebraska Has Had Many a Slogan
Here are some more campaigns that the Omaha World-Herald noted …
Possibilities … endless
America's Frontier
Genuine Nebraska
Send a Postcard from Nebraska
Come See What We're Up to Now
Celebrate Nebraska
My Choice, Nebraska
Nebraska … Discover the Difference
Nebraska Delightfully Different
Vacation Nebraska
Which one of the slogans do you think best represents Nebraska?  Which one do you think is more likely to draw in tourists?
Nebraska Has Had Many Nicknames
The above list features the many campaign slogans that have occurred through the years.  But we have also had many nicknames as well.  For years, we were known as the "Tree Planter State."  That saying was on all of the original license plates.  J. Sterling Morton got the nod on that one since this founder of Arbor Day hails from Nebraska.  But here are few others that may or may not translate well into future campaigns.
Squatters was the first unofficial state nickname (according to History Nebraska) – evidently too many people did not file claims properly?  This one makes me think of weight lifters now.  Pretty certain we do not want to resurrect that one.
The Bug Eating State (I think it was bad enough that this was the name of our football team for a few seasons)

The Cornhuskers State (The current state nickname translates better into sports chants but maybe not into tourism.)

The Beef State (Made the license plates in the 1950's to 1960's.  May not drive tourism. Especially not vegetarians.)

The Antelope State (What about this, "Nebraska: Where the Deer and Antelope Play" – would work well during hunting season!)
The Blackwater State (Anybody else have the Doobie Brothers song pop into their head?  This seems to be more about the Mississippi River than Nebraska. So it's a "no go")
The Good Life State can still be seen on my state signs.  I agree with this slogan.  But perhaps it does not appeal to people who only want to visit and not move here.
"Good Life. Great Opportunities" is the current header on the official Nebraska state page.  This one might have been a good one.
Any nicknames that you think Nebraska should consider?  Or any slogans that might be better?  I do know one thing.  Nebraska may not be for everyone, but it is for me.  Whether Nice or Genuine or Delightfully Different, I am glad that Nebraska is the land that I call home.