Once our children are ready to bike on their own without training wheels, we have a celebratory family outing.  Every time we have ventured over to our favorite local ice cream shop, UNL Dairy Store to enjoy a sweet treat!  The last time we stopped in, I found out that the UNL Dairy Store has been serving up ice cream for over 90 years.  Their flavors change seasonally, but some remain on the menu all year long.
7 Standard Ice Cream Flavors
Vanilla
Strawberry
Capucino  Chocolate Chip
Karmel Kashew
Scarlett & Cream: double strawberry (Go, Huskers!)
Bavarian Mint
Butter Brickle
If you polled our family, we would probably each have a different favorite kind.  Since Daddy wasn't with us the last time we stopped, we brought home a carton to share.  While their brand is a little bit pricy (just under $6 for a carton), the taste is worth it.  In fact, the six of us almost ate the whole carton of margarita sherbet.  (I hid the rest just so we could have some for later!)  Every flavor we have tried has been a hit for us except one: maple bacon.  Although the flavor was amazing, my husband decided that one just shouldn't have to brush his/her teeth after enjoying a cone!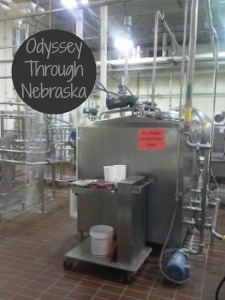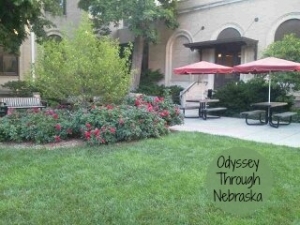 In nicer weather we enjoy our cones in the lovely setting outside.  But since they are open year round (shorter winter hours of course), we have never let a little cold outside stop us from enjoying this frosty sweet treat.
The best thing is they make the ice cream RIGHT there! Almost like getting to enjoy homemade ice cream (without the rock salt mess!)   And if you happen to go there at the right time, you can even watch the ice cream being churned out, as they have windows looking into part of the processing center.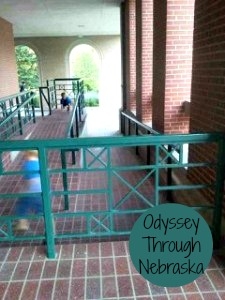 After the ice cream itself, my kids enjoy running around the ramp that is located by the door.  (We really do try to watch out for people walking up!)  I figure that usually they need to burn off a little sugar before we go home anyway.
Just in case you need an excuse to indulge, I will be giving you lots of them!  Next Sunday happens to be national ice cream day with national ice cream month being celebrated all of July.   All next week, I will be featuring several entries about this delicious dessert!