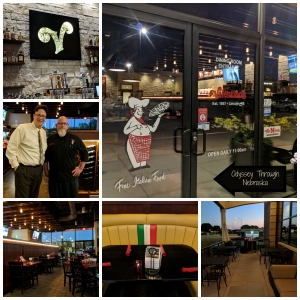 From my childhood on, I have enjoyed Valentino's.  Their 2nd location was about 5 minutes from our house.  At the time, you had to travel a few miles of gravel to get there.  (Lincoln has changed a bit!)  For me, Val's has meant pizza at football games, mini pizza lunches with my BFF and (especially now that we have teenagers) enjoying the buffet for birthdays.  But maybe one part that I missed in the ristorante aspect.
Ristorante obviously means restaurant in Italian.  And I discovered that restaurant originally came from the idea that "food restores."  While all of the above Valentino's memories are delicious ones including delicious foods, recently Valentino's was taken to a whole new level for me.  That was when I joined several influencers for one of the best dining experiences of my life.  Even though this was a complimentary event, the staff went above and beyond to serve all of us.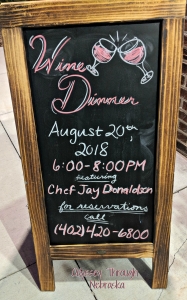 The Ristorante Experience
The Valentino's Ristorante at 28th & Pine Lake in Lincoln is transforming tradition to provide patrons with possibilities beyond pizza.  That Wednesday night, servers gave us five different courses paired with five perfectly selected wines.  All of us were astounded at the flavors and at the experience.  For one thing, Michael Messineo, Valentino's vice president (and son of the current owner!) dined at our table.  He shared stories about Valentino's through the years and his part in creating recipes.  Executive Chef Jay Donaldson came out to the table periodically as well to tell us how he is continuing with traditional recipes while coming up with new creations.
Besides these two gentlemen, Mark McDonald and Jessica Steinbrook of The Italian Vine Wine Distributors were on hand to tell how they custom selected all of the wines to go along with the entrees.  This was also a new experience for me – having sommeliers on hand to tell me exactly what I was sipping.  Evidently they have been assisting the chef in choosing wines to go along with his entrees.  Frequently the ristorante is hosting wine dinners where the sips coordinate with the selections.  Next Monday is the next one, and so far they do room for additional patrons.  Reservations are required.  The cost is around $40, but for the fine dining that you will be enjoying, the cost is worth it. If you missed this one, they will be scheduling more wine events in the future.
We were given a wine and dine experience.  Although I did a brief Instagram live video that night, filming the entire meal would have made all of you rather hungry.  To recreate the evening. I thought I would share my once "live" Instagram collages.  By the way, you will be able to enter to win an experience of your own.  There is a giveaway for one of you and a discount for all of you coming at the end of this post!
The Ristorante Appetizers
For our starting course, we were served two artisan flat breads. First a lahvosh with alfredo sauce, grilled chicken, cherrywood bacon and smoked gouda.  The next flatbread was a take on the traditional margerita pizza: grape tomatoes, whole milk mozzarella balls, julienned basil  atop a balsamic reduction.  Pictured in the inset: Valentino's classic "special" pizza.  Their version of the multi-meat pizza includes hamburger, sausage, pepperoni ham, along with mushrooms.  Featured wine: Tenuta Delle Terre Nere – an Etna Rossa.  If you are a commoner like me, that means a red wine from grapes grown on Mount Etna.
The Ristorante Salads
Typical to form, course number two featured Valentino's take on salad.  Of course, they went beyond expectation.  The ensalata bowl included Italian lettuce, red onions, olives and tomatoes tossed with the Valentino's Ristorante signature Creamy Italian dressing.   Topping this off was focaccia croutons.  Our other plate was a fresh take on salad: heirloom tomatoes, golden beets, fresh mozzarella, basil with a balsamic glaze.  Delizioso! Featured wine: The Bastianich Sauvignon Blanc.
The Ristorante Traditional Offerings
Our third course consisted of offerings one might expect at Valentino's.  Two variations of pasta.  I was rather skeptical of one of the offerings.  Because I am not a fan of mushrooms at all, knowing that they were prominently featured in the ravioli dish made me nervous.  Surprisingly this entrée ended up being one of my favorites.  Evidently I need mushrooms to be prepared properly for them to be delicious.  With the four variety of mushrooms and the marsala reduction sauce along with the cheese, I would happily eat this again.   Of course, the LA Lasagna with the pasta, fresh ricotta pepperoni and marinara sauce was also a winner.  Featured wine: The Valpolicella red wine from northern Italy.
The Ristorante Transformed
For course number four, Chef Donaldson truly demonstrated his ability to take this Italian ristorante beyond the typical pizza and pasta offerings to include fresh seafood.  Shrimp Diavalo was a spicier dish with chunks of plum tomatoes, red pepper and plump jumbo shrimp.  Salmon, fresh from a Scottish farm, dominated the next plate with its ginger glaze.  But the basil pesto risotto was so creamy and flavorful that it might have been the star of the show.  I even enjoyed the grilled asparagus.  (See, Mom – all of those "no-thank-you" helpings you used to serve me finally paid off!)  Actually I would say that finding a plate that would surpass this one even at the finest of dining establishments would be challenging.  Kudos to the chef!!!!!  Featured wine: The CascinAdelide – an acidic Piedmont wine that balanced out the stronger flavors.
The Ristorante Desserts
Somehow we all managed to find room for dessert.  When the offerings are tiramisu and mango panna cotta, how could one resist?  Tiramisu means "pick me up" – an appropriate name when you consider the Valentino's ristorante version includes ladyfingers, fresh mascarpone, dark rum, cocoa and Starbucks espresso.  How the chef managed to add mango to the panna cotta and still have it taste light and airy is a mystery.  With the raspberry coulis sauce, this was the perfect end the evening.  Although I did enjoy all of the wines, this Valamasca Moscato D'Asti was my favorite.  Italian wine is meant to be paired with food we found out.  This sparkly, bubbly wine is a perfect dessert wine.
Winning the Valentino's Gift Card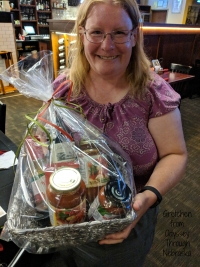 As I mentioned above, Valentino's kindly passed along a $50 gift card for me to pass along to you.  There are a few conditions … well, sort of.  Can I say that there a few preferences?  Part of the beauty of my Valentino's Ristorante experience was the adult conversation around the table.  I do love our kids, and most events I attend involve them.  Hey, most of the places I tell you about on this blog are told about with kids in mind.  BUT, I am giving you my permission (my blessing even) to use this gift card for an extravagant night out.
Second, whether a date night, a girl's night or an evening with friends, I am hopeful that whoever wins strongly considers using the gift card at this Southwest Lincoln Valentino's location.  (Of course you are one of my readers from Western Nebraska, I am happy to make an exception for you!)  I simply know this – once you order off the menu at this Valetino's Ristorante location, you will become a repeat customer.  Although my husband enjoyed some of my leftovers (thanks, Valentino's for that), he did not attend this one with me.  Someday soon hopefully we will return for a date night.
To win the $50 gift card, please comment below on which one of the plates that I sampled that you would like to try.  Or if you are more of a wine connoisseur, noting your preferred wine is also acceptable.  In case my winner would like to use the gift card for the Monday night event, I plan on announcing the winner this next week on Monday 8/20.  (If that is your hope, I do recommend going ahead and making a reservation.  They fill up fast, so you may not be able to wait until that night).  I will make arrangements to get the gift card to you or the restaurant by that evening if you so desire.
Enjoying Valentino's at a Discount
I am also happy to announce that all of you are already winners.  Valentino's also has graciously agreed to give all of my winners a discount.  Simply click over to this link for your coupon to enjoy 10% off dining at the Valentino's Ristorante 28th & Pine Lake Location.  Good until the end of September, this a great coupon.  In case your back-to-school math brain has not kicked in yet, you can use the discount for up to $100 worth of food.  That is quite a bit of Italian deliciousness that could be coming your way!
One more thing to note … Although I did receive the meal of a lifetime and this amazing gift box full of Valentino's products, I did not receive any additional monetary compensation.  But for all that I mentioned and more, I am so grateful that I was included as part of this event.  Thank you, Valentino's Ristorante!