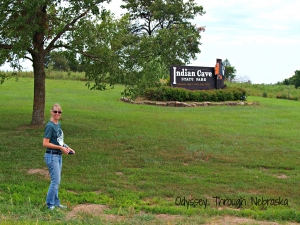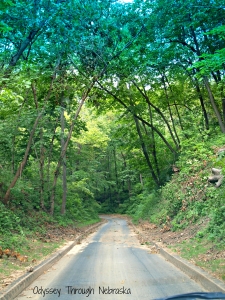 One of the prettiest places in Nebraska is found in the Southeast  corner of the state.  With rolling hills, a myriad of trees and miles of hiking and biking paths, clearly adventures are waiting to happen at Indian Cave State Park.  If you happen to arrive on a colder or even wetter day, you can still enjoy the park.   As you can hopefully tell from the picture, the roads through the park are especially beautiful.
Long before we were even a state, people have been enjoying Indian Cave State Park.  One proof is the writing that was left behind.  Petroglyphs can still be seen on the cave wall.  I must admit when we visited we were unable to find them.  But I am guessing we did not know where to look.  At the top of a longer staircase is the cave area that the park is named for.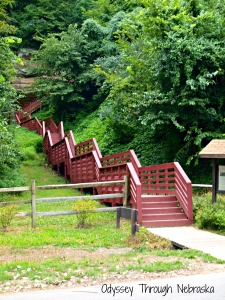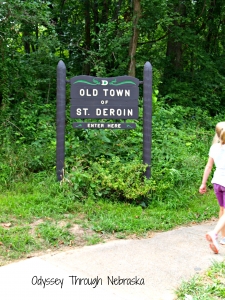 Once upon a time, you could also find the town of St. Deroin at this location.  According to the Nebraska State Historical Society, this was once an important place to cross the Missouri River.  This former town was built right next to the river at a low elevation.  Not surprisingly, almost the whole town was swept away during 1911 and 1920 floods.
But here in the park, you can still see one of the older buildings.  And you can also see the former school.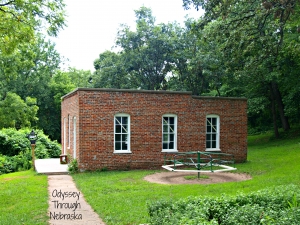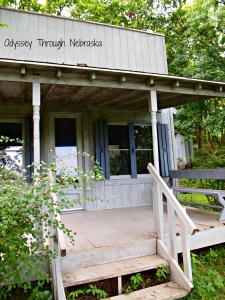 We enjoyed hiking around part of the park.  This picture of me with my children might be one of my favorites!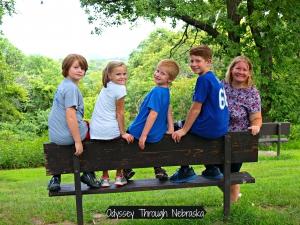 One of my favorite parts of Indian Cave State Park was the Missouri River overlook.  Getting to look out past the trees to the water flowing beneath is a relaxing experience.  You can see glimpses of the river from the road.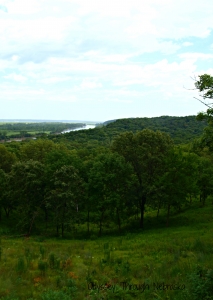 You can also walk out on to an observation deck for a better view.  This is also a great place to learn more about the history of Indian Cave Park.  Each of the plastic plaques tell more about the park.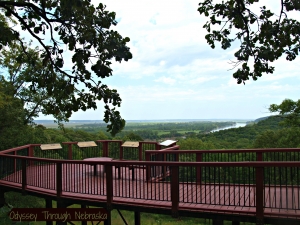 Before visiting this State Park …
One part of the drive is winding and does not have an easy places to stop.  Make any pit stops in advance.  I would definitely look at a map because this park is rather vast.  You will enjoy your trip to this beautiful Nebraska location.  Especially because the entrance to this park is free with a Nebraska State Park Permit.