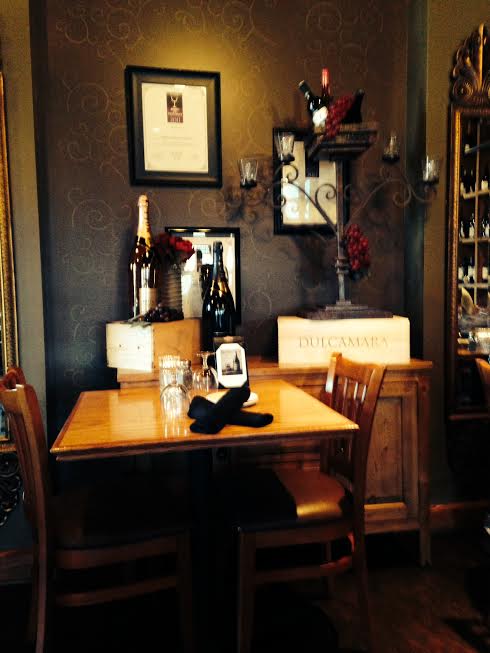 Notice anything special about this picture?  Possibly the lack of crayons?  No stack of napkins?  Just two chairs?  Yes, last night my husband and I experienced Lincoln's Restaurant Week on A DATE!  Can I get a woo-hoo?
After writing about Lincoln's Restaurant Week earlier, I knew that I wanted to go out and have an actual dining experience.  Complete with conversation.  I am starting to realize that I really do not like very many fast food places.  (Perhaps cooking even more often and going out less often to nicer places just might be my new goal.)  Clicking on all of the Lincoln Restaurant Week options, I had fun trying to pick where we would go.  In the end, our selection came down to two factors: 1) what locations were close to our next destination AND 2) where would we would not take our children to dine.  Our choice: Carmela's Bistro and Wine Bar.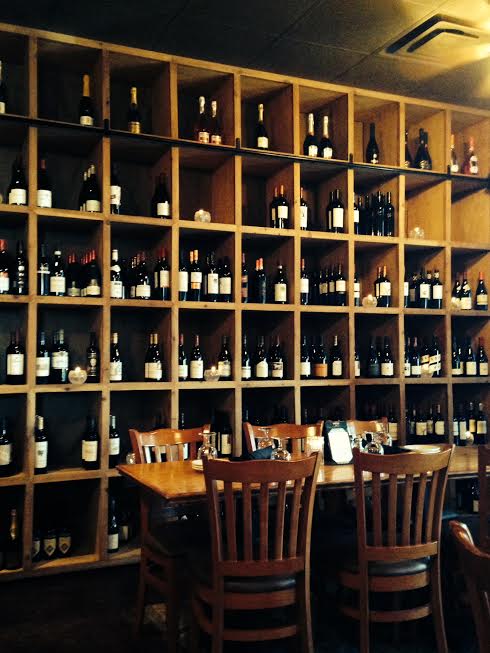 Located in the Pioneer Woods Shopping Complex right off of 70th Street, I do believe that this may be an overlooked dining destination in Lincoln.  The ambiance was soothing, and our meals were delicious.  We cannot speak for the wine quality.  As we were both already tired from a short night of sleep (children!), we decided that a bit of vino would contribute toward the likelihood of us sleeping through the concert we were about to attend.  (Since the lights were dim soothing acoustic instruments were played, our prediction of nap taking would have definitely come true).  So, we stuck with the water.
My dining companion and I decided to share an appetizer and then one of the $19.95 three course offerings.  Doesn't that somehow sound more glamorous to say "dining companion?"  Anyway, my companion, my sweet husband, let me do the ordering.  I tend to be more of a foodie, so the menu was making me a bit excited.  He tends to be overwhelmed at all of the choices (just give me a burger), but he usually likes what I pick for him to eat.  Since I do the majority of the cooking at our house, I guess that makes sense!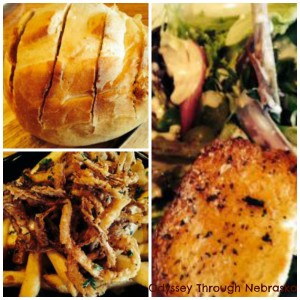 Any meal that starts out with sourdough bread has to be a good one!  Our appetizer selection was the duck poutine.  This was a sound decision since duck will probably not be on our menu any time soon.  This is the official description from the online menu: crisp French fries, duck reduction, duck confit, Parmesan cream sauce and crispy leeks. My husband reminded me that the last time we had duck, (dining one other time without children), that I did not really like duck.  This time though, I was not disappointed.
Deliciously rich.  Almost too rich – sharing with just two was almost too much, and this would not taste quite as spectacular heated up.  Sharing with friends makes the experience more fun anyway!  I just might order this appetizer to go someday to share with our children.  Any preconceived ideas that they might have about eating duck would fly out the window.  As long as I did not manage to tell them what was covering the French fries until after they ate them.   So very good!
We chose the salad for our first official course of the evening.  The menu description: Gorgonzola & Honey Salad – Mixed Green / Candied Walnuts / Red Onion / Gorgonzola / Grapes / White Balsamic & Honey Vinaigrette / Crostini  Putting grapes on a lettuce salad had never occurred to me before.  They will now be a welcome addition to our greens.  The vinaigrette was lightly applied resulting in a salad with delicate flavors that combined well.
The listed main course offerings ALMOST kept us from trying the restaurant.  You see, according the menu on the Lincoln Restaurant Week site, smoked salmon was featured.  For both an appetizer and two of the main courses.  While I like smoked salmon, I do think that was a bit odd.  After arriving at Carmela's, discovering that their actual selections were blackened Tilapia for the 2nd entree and pasta for the 3rd entree was a nice surprise.
We ordered the signature dish that is not on the regular menu: blackened Tilapia with Creole Sauce and watermelon pico over whipped potatoes with steamed broccoli. If this item ever is added to their dinner selections, I would definitely order the specialty again.  The tilapia was perfectly seasoned with just the right amount of meat, and the watermelon pico salsa added the perfect touch of sweetness.  The vegetables were also delicious.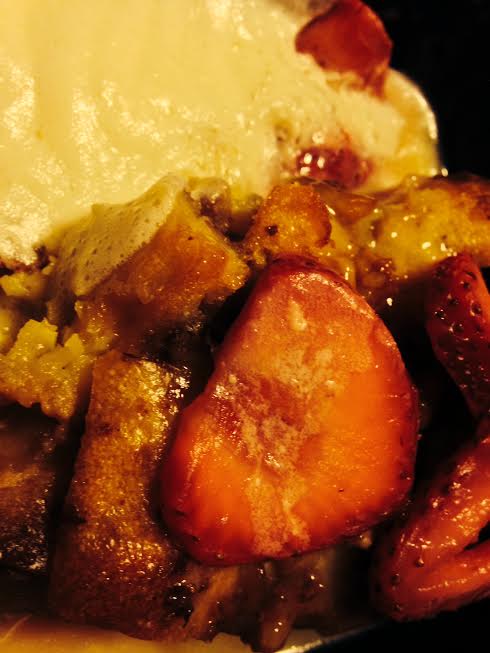 Dessert!  At this point, we were both rather full.  Since the concert was just beginning, we took our white chocolate bread pudding to go.  Then we went home and relished part of the dessert.  I was going to sneak the rest for breakfast but went another direction instead.  At the moment, the bread pudding is waiting for both of us to finish later.  Possibly I will have enough will power to keep the dessert in the fridge.  I would definitely order that again too!
Will I return to Carmela's?  I certainly plan to do so.    I do think it is probably more of a date night or girls night out place, but they do offer a Sunday brunch that you could definitely enjoy as a family.  Due to the wine bottle decor, I would probably not show up with a wandering three year old.  Yet older children would enjoy the restaurant, especially if they appreciate gourmet food.  Perfect for a special family or other larger gatherings. reservations are available for up to 32 people – difficult to find places that will do that anymore.
You still have five days to enjoy Lincoln Restaurant Week.  I appreciated the three course offerings since that gave me an opportunity to try several menu items at a fabulous price.  Having an excuse to get dessert at the end of meal was wonderful!  Ordering off the menu at any of the featured locations is still also a possibility.  Choosing a restaurant that you have always wanted to try will result in a fabulous evening of excellent dining.