Almost halfway between the south edge of Omaha and the south edge of Lincoln you will find Springfield Drug.  With the feeling of an Apothecary combined with a soda fountain, you will feel as if you have stepped back in time.  And just like tradition from years gone by, this Nebraska location is closed on Sundays.  Springfield Drug has been a part of the Nebraska passport program in the past.  Anyone who makes the stop in this small town is in for a real treat.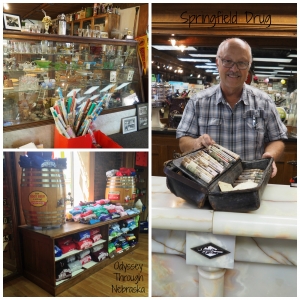 One of the aspects that makes this place such a wonderful stop is definitely the owner and pharmacist.  Keith Hentzen has now been operating this business for 30 years – all but ten of the years that it has been opened.  Since the drug store was once the bank, the still existing money vault makes quite the showpiece.  Keith's own display of antique pharmaceuticals is quite intriguing.  If Keith is around, the experience is even better.  Allow time to listen to his stories about his collection and about former days.  Beyond the available medicine, the aisles contain many unique and interesting purchase possibilities.  We were there for awhile, and we did not come close to seeing all of that is available.
The other important part of Springfield Drug is definitely the soda fountain. The authentic 1930's Brunswick soda fountain is still operational and is definitely the centerpiece.  All sorts of delicious concoctions are available to order.  And sitting at the classic round tables on the ice cream parlor chairs makes the sweet snacks taste like an experience.  This is definitely a great place to find refreshment.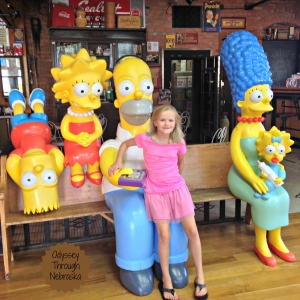 P.S. Here you will also find a great photo opportunity.  If you recognize the characters and know a bit of the history of the show, you may be able to guess why they are here.  To find out more about this part of the story, read page 23 in my Detour Nebraska book.  Although none of these pictures made it into the book, the story behind these life-like statues did.