Really I like cooking.  Coming up with new recipes has always been fun for me.  While I do not always enjoy the clean-up part, I do like creating from my kitchen.  Except on Mother's Day.  That is the one day a year that I insist on not having anything to do with the kitchen except for dining there.  So I thought in honor of tomorrow, I would feature a series on this blog on three great places across Nebraska where you can take mom in honor of her special day.  Our breakfast stop is closed on Sundays (sorry), but that simply means that you can take mom out this morning.  Start celebrating her early I say!
We first found Back Alley Bakery last summer when we went to visit my Aunt and Uncle in Hastings.  Actually that is not exactly true.  Discovering this Bakery happened when I heard about it through the Nebraska Passport Program – they were a participant two years ago and just happen to be one again this year.  As I did a bit of research on the featured places in that program, I knew this was one I did not want to miss.  I was not disappointed.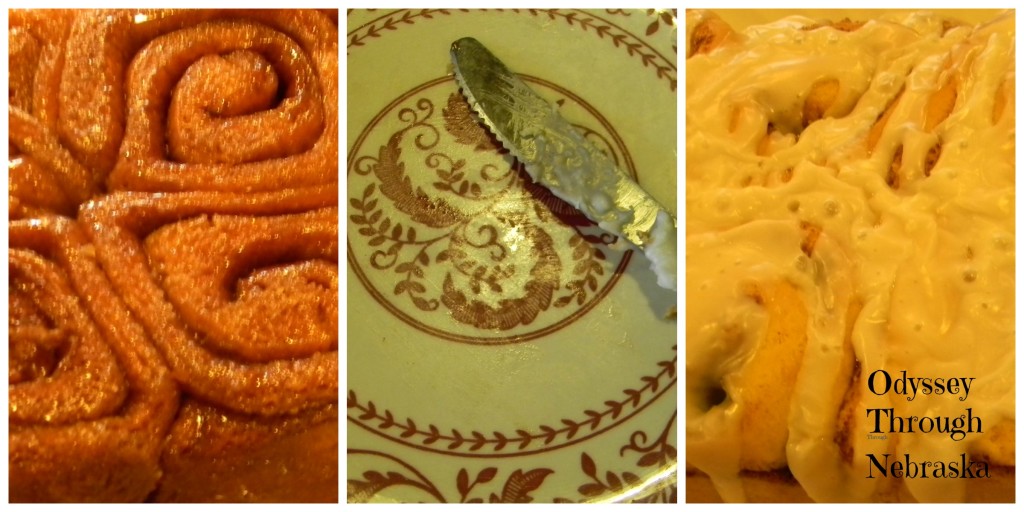 The only trouble?  Picking which kind of roll to sample.  We tried both.  Usually caramel is my favorite, but this time I was undecided.  Guess another taste test is in order!  I also sampled their coffee.  Evidently their coffee is a favorite because of the way their kind is roasted.  Since I always add creamer to mine,  I can neither confirm or deny the flavor of just the coffee.  Evidently you are just going to have should sample a cup. 🙂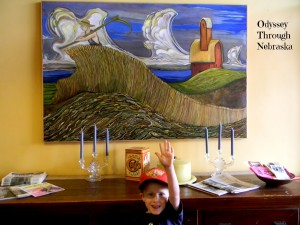 My aunt sent us home with several loaves of their delicious artisian breads.  Made from certified organic locally grown grains, this bread is many, many steps above any bread you purchase from the store.  I appreciate their emphasis on using grains grown in Nebraska.  To learn more about their process, you should definitely watch this video shown on the home page of their website.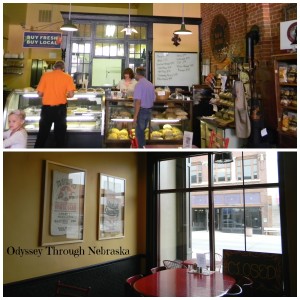 Besides delicious food, what else makes the Backalley Bakery a place to not miss?  Definitely the atmosphere.  There is just something about dining in a place with historic details.  Although I did not take a picture of the tin ceiling (that seemed a bit odd), you can get the idea of coziness from the exposed brick walls.  Evidently when they originally opened, they just had carryout breads.  Literally you would pick up your orders in the back alley.  I am so glad that they decided to open up the front of their building for customers.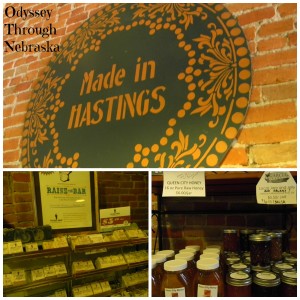 Even more than the dining and the deliciously prepared food, Backalley Bakery also has local products for sale.  Locally grown and made honeys and jams.  Various kinds of sauces.  One of the most intriguing sections was their Pacha Soap display.  Besides the unusual ingredient combinations (such as tangerine eucalyptus and cassia spearmint), they are "raising the bar" by being on a mission to promote hygiene and sustainability while reaching out worldwide.  I think this Hastings company deserves a blog post of its own, but until then, you can read more about them on their own Pacha soap website.
Back to the food since that was the original point of this post.  Not only do they have a delicious selection of breads and rolls, they also serve daily lunch.  And Thursday nights is pizza night – their carryout pizza is so popular you need to pre-order!  The gourmet part of me especially appreciates the fact their menu changes daily.  Going back to dine again there during the midday hour is definitely on my agenda.
When visiting the Backalley Bakery, keep these details in mind.
Location:

609 West 2nd Street, Hastings, NE

Hours:

Mon-Fri 9:00 am – 5:30 pm
Sat 8:00 am – 4:00 pm
Yes, you have less than hour to wait before you can go sample their goodness for yourself!  Stay tuned for lunch and dinner suggestions later on today!