Pi Day: 3-14.  The day mathematicians rejoice.  I wish I could tell you that there are events all across Nebraska celebrating this day that indirectly honors the circle, but other than possibly some math class observations, this is a quieter holiday.  Simply a good excuse to go out for pie – to support the cause.  🙂  Although you may not find citywide celebrations in honor of geometry, there are plenty of other Nebraska events to enjoy.
With the official start of spring happening just days away, our state seems to be waking up from hibernation. While there have obviously been activities taking place the last several months, today seems to be a day when SO much is happening throughout Nebraska. I know our family enjoyed getting to spend part of our day in Omaha exploring outdoors instead of having to be stuck inside the whole time. If you are wanting to get out and about today, there are lots of great options.
Metro Area …
Besides the circus and boys state basketball being in Lincoln today, two other fun events are waiting for you.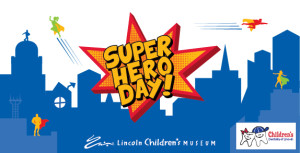 From 10 to 1 today, you can get $1 off admission to the Lincoln Children's Museum. So find your inner "Wonder Woman" or "Super Man" for a fun filled morning.
After spending time at the Lincoln Children's Museum events you will have just enough time to find a fun downtown place to eat lunch before attending the "Pi Day" celebration. The Nebraska Historical Society is celebrating 3-14-15 in circular style with all sorts of crafts and activities. Since their museum is still closed for renovations, this free family fun day is taking place at the Nebraska State Historical Building Headquarters at 1500 "R" Street.
As for Omaha, you do not want to miss the Saint Patrick's Day Parade in Omaha's Old Market. For other fun Omaha area events, please check out the great blogs of my Omaha friends, Oh My! Omaha and Family Fun in Omaha for their favorite Omaha picks.
Across the State …
Check out the Super Science Saturday this afternoon at the Edgerton Explorit Center in Aurora. Learn about "Rube Goldberg" and why that should matter to you.
Today at the Hastings Museum, they are celebrating Dr. Seuss' birthday, One Fish, Two Fish style. Starting at 10, this is great event for the preschool set. You may want to give them a call first in case this program is already full.
The City of O'Neill is having their annual Saint Patrick Day Events this week-end. Unfortunately, I could not find an online schedule of events. Their Facebook page is showing some pictures of the ongoing activities, but you may just have to plan on spending the day there to not miss out on any of the activities.
P.S. Wanting to attend a fun event tomorrow instead? Check out the cookie competition at the Elkhorn Valley Museum in Norfolk from 1:30 to 3:30. What a fun way to introduce their new kitchen exhibit!