Visiting the Henry Doorly Zoo in Omaha should be on the list of anyone who wants to be considered well-traveled.  Perhaps this statement is a bit bold.  Yet since this zoo is currently ranked BEST zoo in the WORLD this year on  TripAdvisor, exploring this place could almost be considered a top-ten destination, if not in the world, definitely in the country.
Recently my kids and I got to spend a beautiful summer day exploring this fine zoo.  Some dear friends were visiting from Minnesota, and we decided this zoo would be a fabulous destination.  Although we were there almost eight hours, we still missed seeing some of the animals and displays.  Determining what moments to share was a bit of a challenge.  After all, so much is going on.  While calling this a definitive guide to the zoo would also be bold, I do hope you enjoy my "tour" of an amazing place to visit.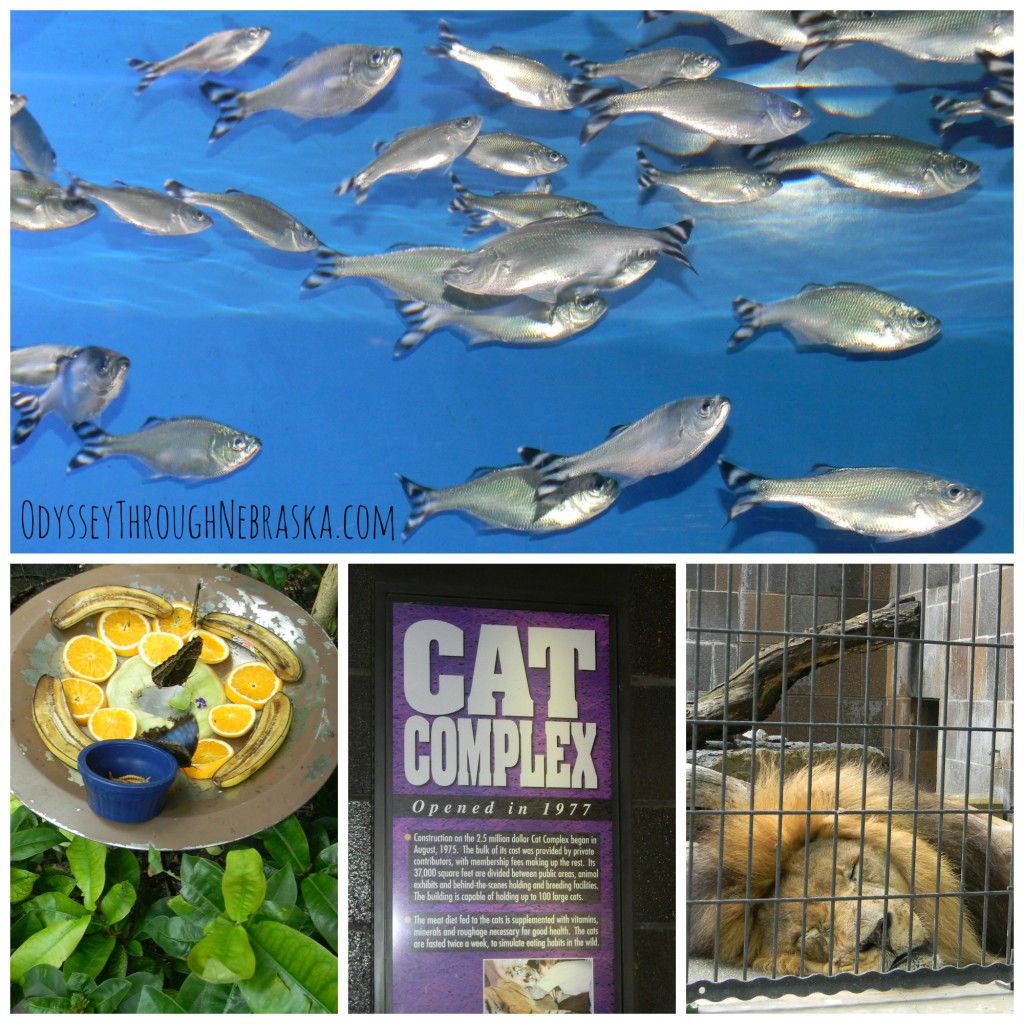 Aquarium: This first stop on my "tour" was actually our last destination.  Purposefully.  The aquarium is my favorite place to see.  Tired legs were suddenly rejuvenated at the sight of the marine life.  This spot is a must-see!  (This area has supplied many an adventure for kids.  Groups are allowed to camp out under the sharks for a night.  Someday I would love to do that!)
Butterflies: Walk about the paths through the tropical haven for butterflies.  Watch them feast on fruit.  Let them coming in for a landing on your shirt (especially if you are wearing red or yellow).  To learn more about how these butterflies arrive to Lincoln and about the other insects that call this exhibit home, please click here.
Cat Complex Now this is the one that I remember seeing from childhood.  Featuring varieties of lions and tigers (not bears), oh my, along with pumas, leopards and jaguars!  30 cats call this complex home.  My personal favorite is still the white siberian tiger!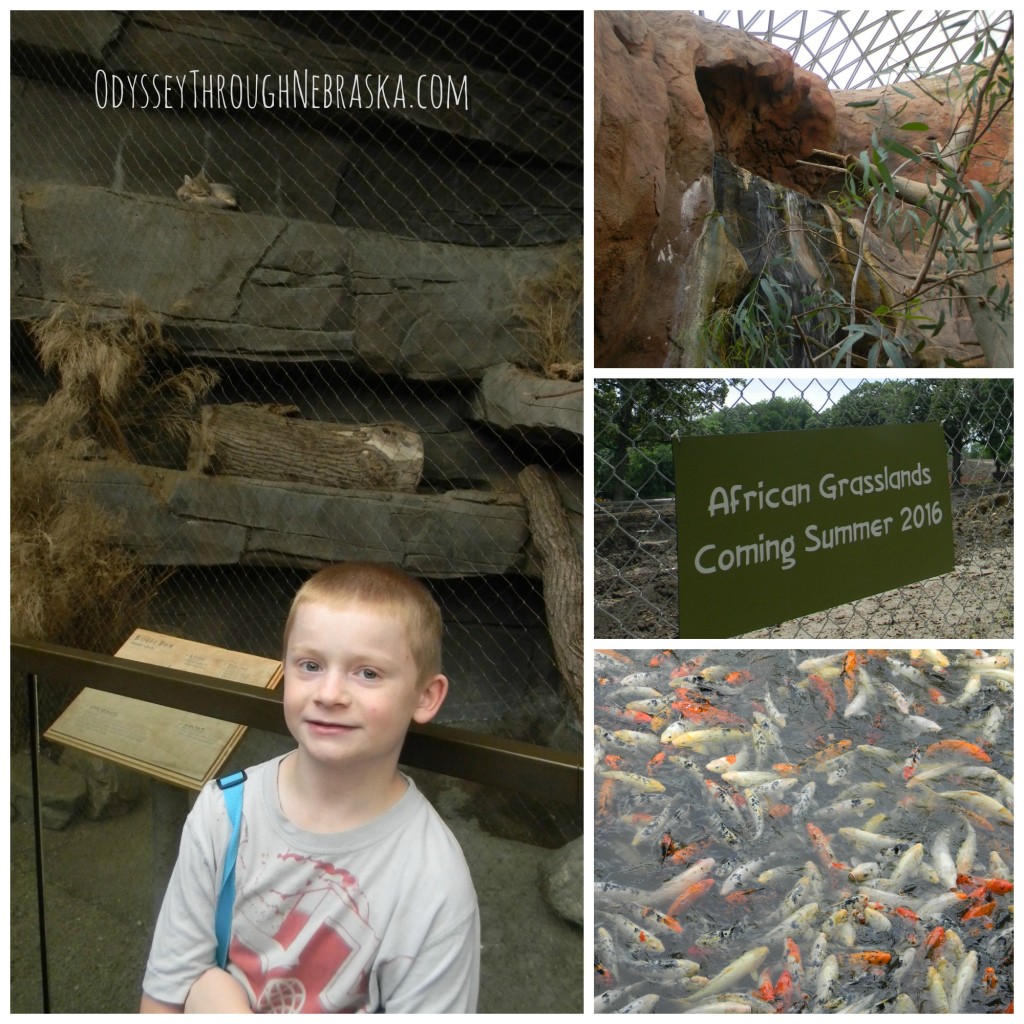 Desert Dome Underneath this world's largest glazed geodesic dome, you can "walk through" several of the world's largest desert areas.  Divided by continent, the animals and even plant life contained in each section reflect what would actually be found if one was actually exploring the Namib, the Sonoran or Australia's Red Center desert areas.
Cresting the hill to see the elephants is another fond memory of my childhood.  Unfortunately the title of a well-loved children's book is more true right now: But No Elephants.  Yet never fear – in the next few years, elephants will again find their way to Omaha to be a part of the "African Grasslands" display.  Needing the space to expand, having enough room for these social animals in the meantime was not possible.  Doing without these pachyderms temporarily will be worth it when this new area is completed.  Curious about other planned additions to the zoo?  Check out their Master Plan!
Walking over the bridge to see the fish was another fun part of visiting the zoo long ago.  (This is turning into a "Flashback Friday" post for me. 🙂  I did not realize that these koi (Japanese carp) are an official part of the Lagoon Island.  Originally a part of Omaha's Riverview Park, this area held the former ice skating rink and fishing pond.  For decades now, the area has been home to many swinging primates, along with the koi.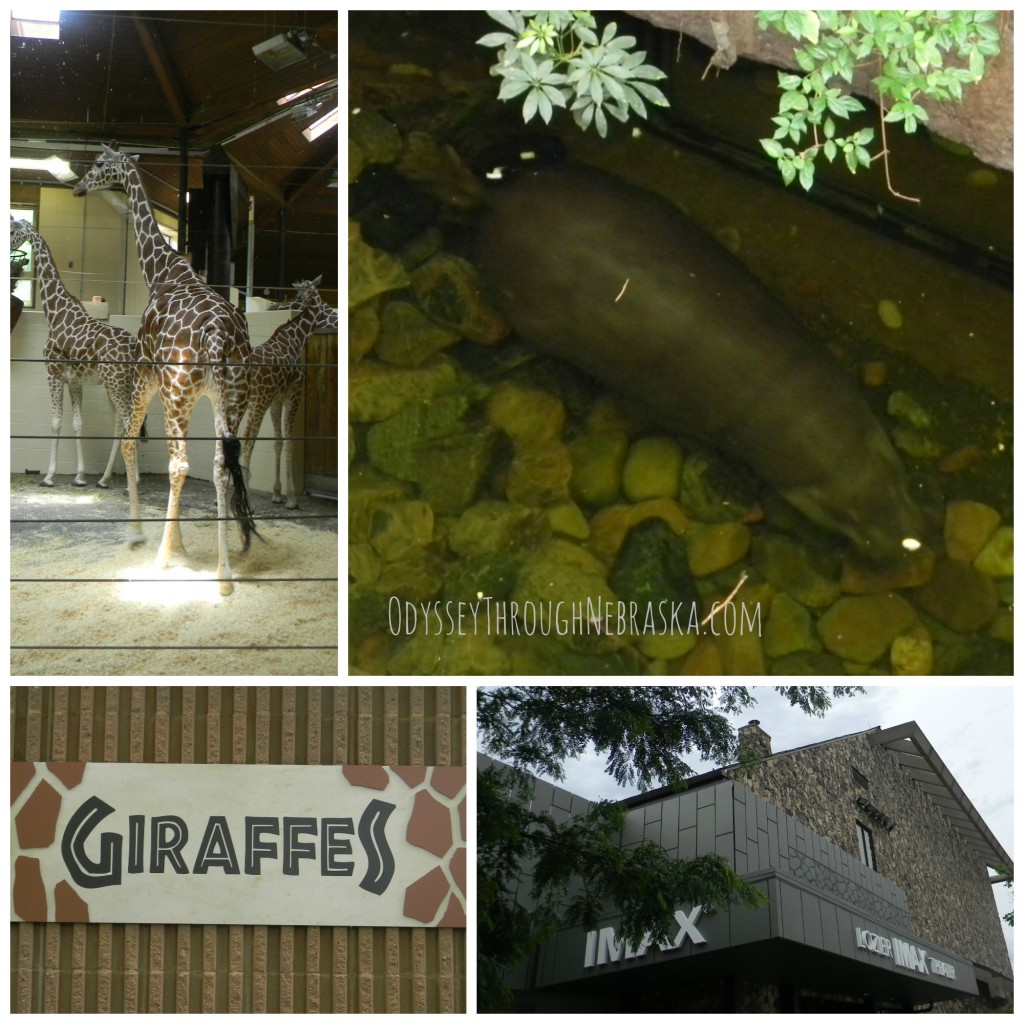 Giraffes up close and personal cannot help but make a person smile.  These tallest animals are housed with other area African mammals.  Seeing them outside in their natural habitat is not as striking.  Standing up close in the interior displays, and one recognizes just how short we actually are.
Topping the list of Africa's most dangerous attack animals, hippos are not exactly friendly.  Yet observing them from a distance at the zoo is quite enjoyable.  Guess being their direct zoo keeper could be challenging at times.  But I still think they are cute from afar.
IMAX  Where can you see a feature that is as tall as 4 giraffes and as wide as 7 rhinos?  Why at the zoo's large theater of course!  This attraction does have an additional cost, but combo tickets are available.  This is one of the perks of membership: free IMAX tickets!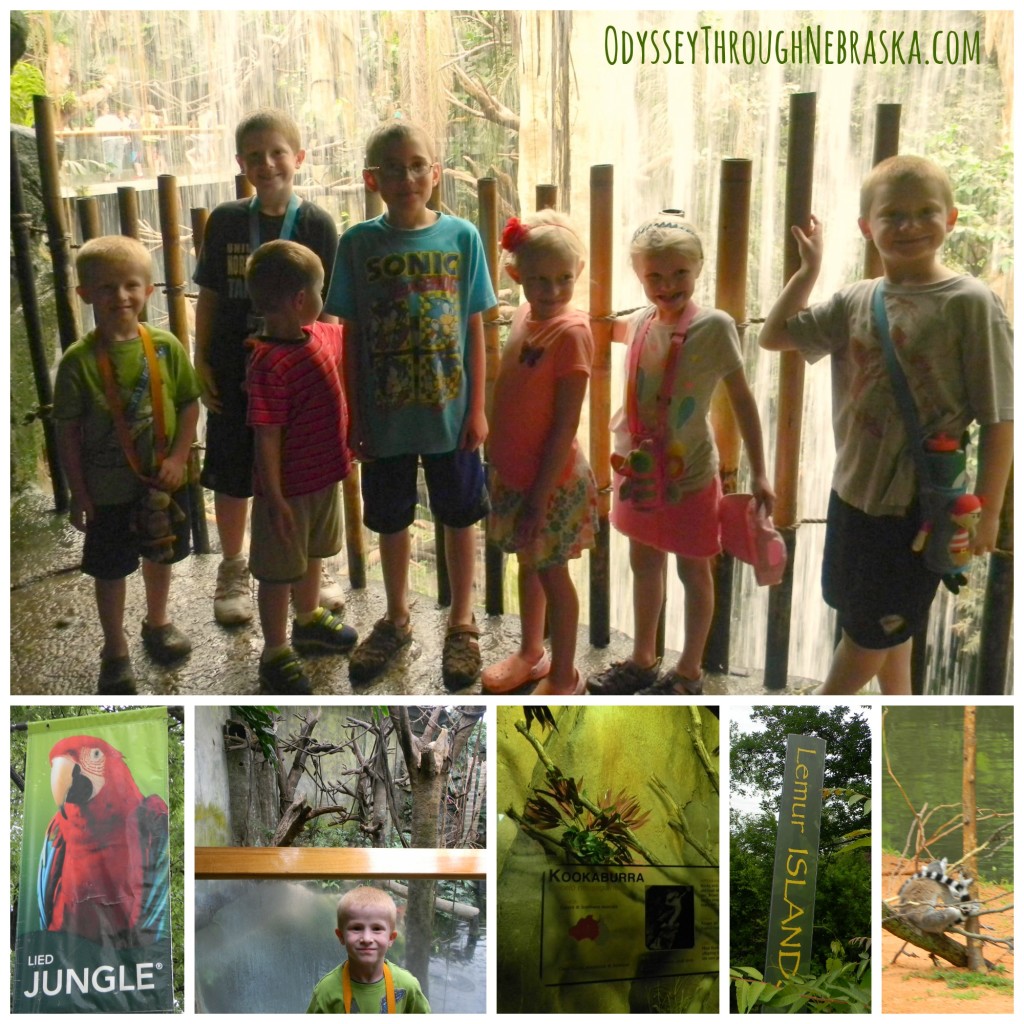 Enjoying all aspects of the Jungle from top to bottom would be challenging in any other setting.  Where else can you wander through all levels of a rain forest?  Or get your picture taken that close to a "waterfall?"  Again plants and animals are divided by continent.  So many fun animals to see including the monkeys!
If your child has ever taken piano lessons, quite possibly the song about the kookaburra was one of the early song selections.  Did you know that this cute little bird can be found in the Australian desert?    Did you know that the "Kookaburra" song will be stuck in your head for quite awhile now if you have the fortune (or misfortune) of recognizing the tune?
Lemurs! Only one character in the Madagascar movie, these cute little creatures are given a whole island area at the zoo.  Evidently just as the movie was seen for a limited time, to see them on their island, you must go during warmer weather as these animals have restricted viewing  times due to temperature.  (Daily in summer and fall week-end hours!)   After that, check them out on the interior exhibits!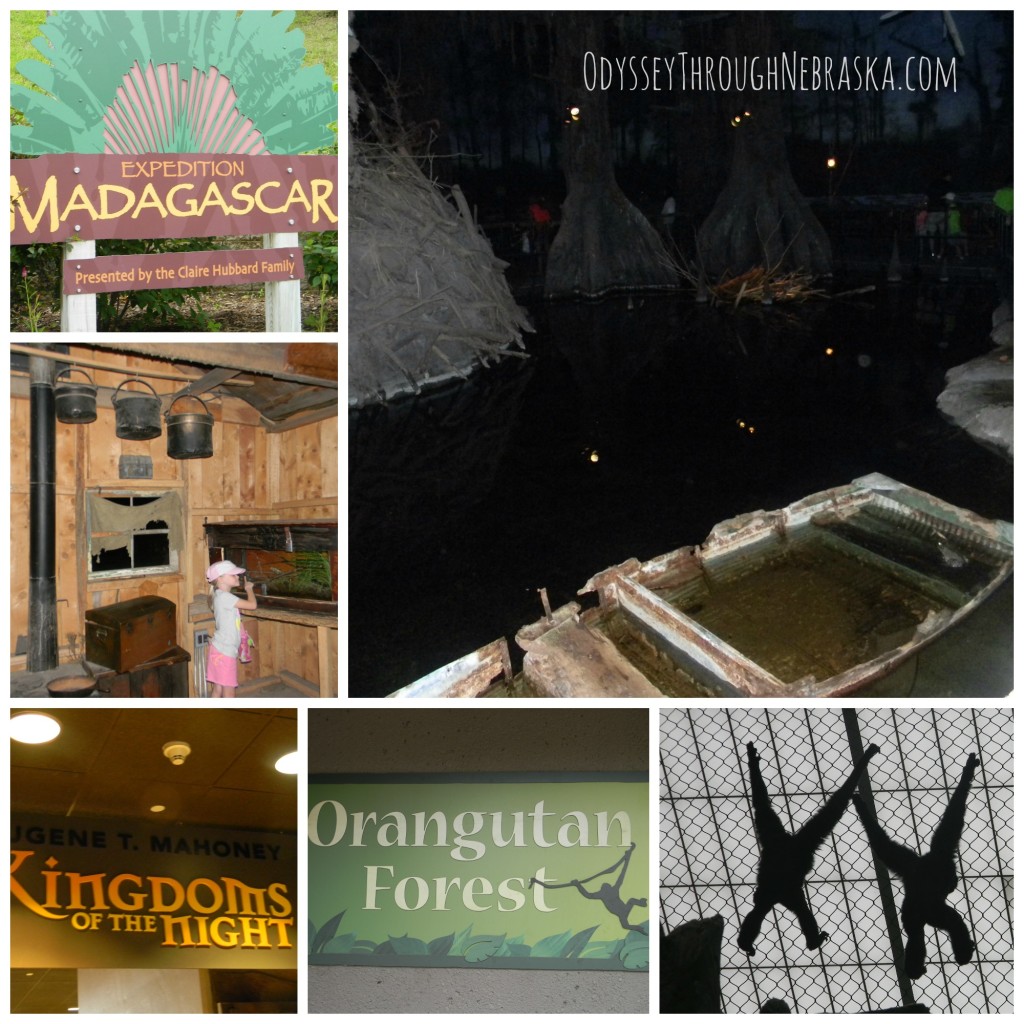 There is of course more to Madagascar than the lemurs.  Giant jumping rats.  Fossa.  Aye Aye!  Featuring 14 indoor exhibits, you can see all sorts of animals that are only found on the island of Madagascar.  And at the zoo of course!
Night Kingdoms A place where nocturnal animals are tricked into believing that night time has actually arrived.  This is of course to your benefit, so that you can experience animals that you would normally have to stay awake all night to observe.  Keen eyesight is definitely helpful, especially in the swamp areas to see these creatures in their natural habitat.  Hopefully if the day is stormy (like it was for us one time), the lights will not go out while you are walking along the fenced plank path.  Thankfully the emergency exit lights were still functioning!
Watching orangutans climb the constructed 65 foot pretend banyan trees is pretty spectacular!  These creatures make quite the impression as you can hear them vocalizing about the zoo.  You can observe from both the top and bottom of the exhibit.
Penguins!  I could stay at this exhibit for a few hours. Watching the penguins dive and almost waddle about is so entertaining.  Determining which penguin is closest in size to you is a fun activity, especially for the kids.   At one time, you could watch "The Penguin Cam" from the comfort of your home, but evidently that option is no longer available.  I guess I will just have to visit more often to enjoy seeing these tuxedoed animals!
Quick Reference
Handicapped and Stroller Accessible. (Both items can be rented).
First aid station (staffed during summer & fall week-ends)
Dining: Fast food and sit-down style PLUS you can also bring in a picnic lunch, as long as you do not include alcohol or glass containers)
Multiple Restrooms and even an ATM
The Rainforest is just one of the many habitats represented at the Zoo.  Pictured is the area just past the main section of the aquarium featuring creatures, including piranhas and alligators found deep in the Amazon featured behind glass for a close-up view.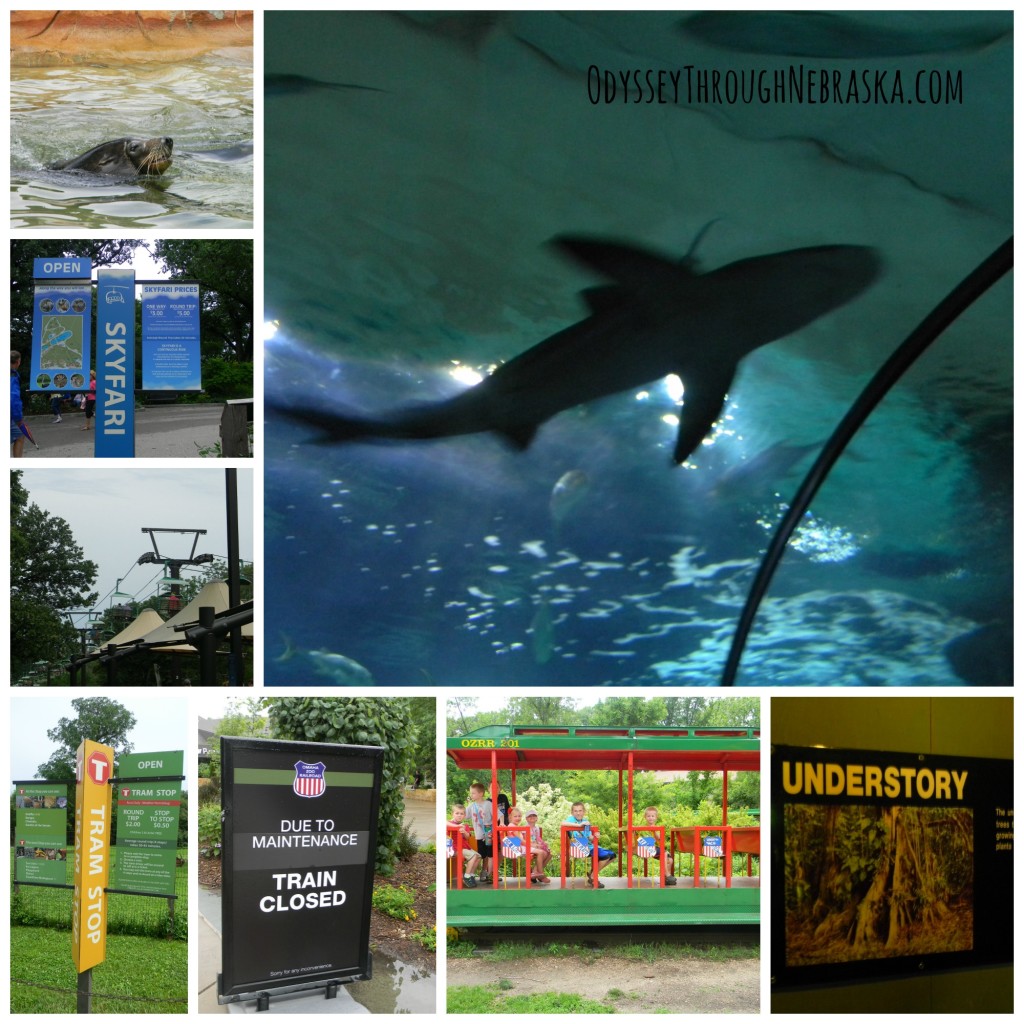 Sharks!  Yes, I know that I have mentioned this area of the zoo a lot of times.   I can go beyond this building and also talk about the sea lions.  Another childhood favorite destination when the zoo was quite a bit smaller, how can you resist these aquatic creatures showing off for their trainers?
Transportation  As the zoo covers lots of area, your feet may get a little tired.  The zoo offers many options!
Skyfari.  See the zoo ski-lift style.
Train
Tram
If you are up for a little adventure, you could try a camel ride.  Into more of a stationary experience? Try a ride on the Carousel.
Note: A fee is involved for each riding option, but "All Day Rides" passes are available.  These are mainly open during the warmer seasons.  If you will notice by my sign, despite being the end of June, the train was closed that day.   Maybe do not make promises your child can ride the train too far in advance just in case! 🙂
The Understory – the lower part of the largest indoor Rainforest. (AKA Lied Jungle).  Watch this short tour to see this wondrous place firsthand.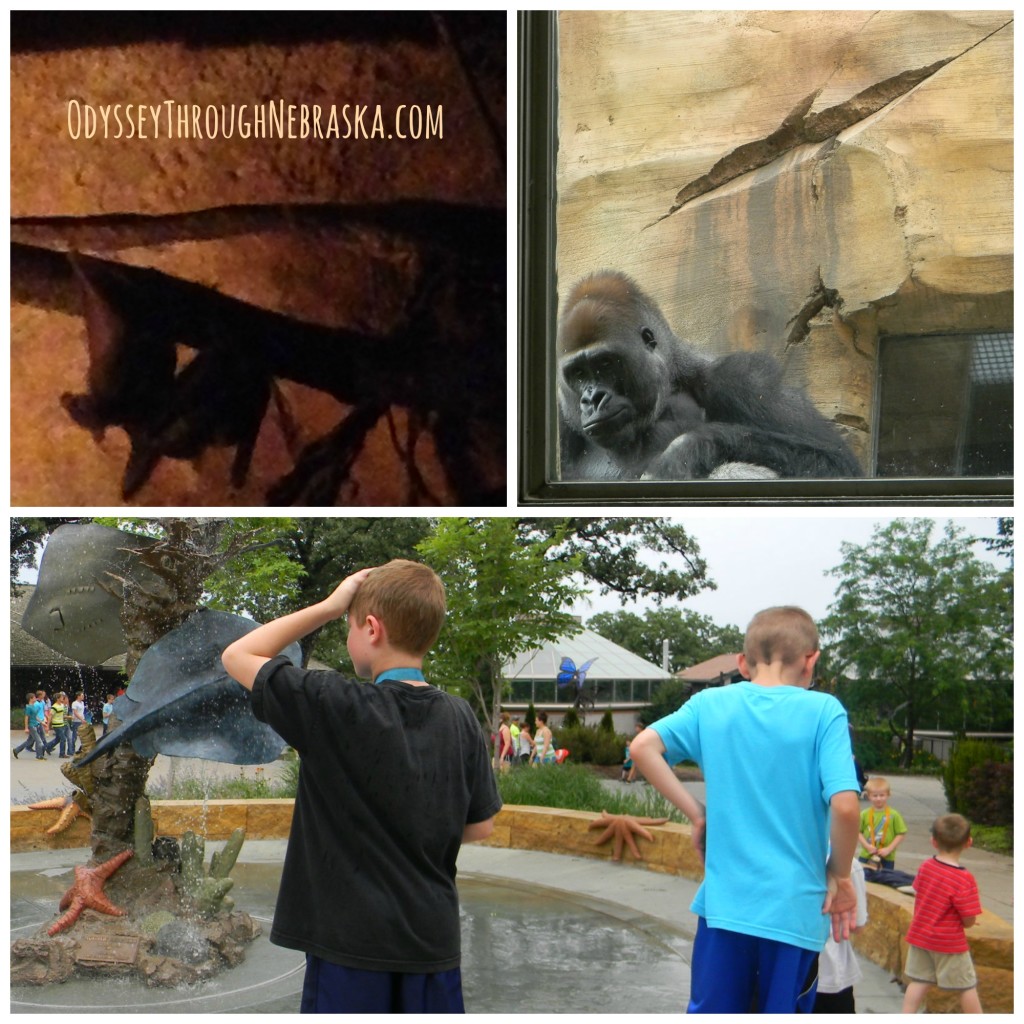 Vampire bats are just one of the many creatures that you can see flying about the Kingdom of the Night.  Thankfully behind netting and barriers.
Water  Besides having water fountains for drinking, the zoo also has a giant water fountain area for playing.  (Recognize the starfish from a distance that I featured close-up in my Wordless Wednesday post from yesterday?)  This is a great place for kids during the hot summer days.  Not wanting your toddler to end up here?  Possibly hook them up with a stroller when you pass by the aquarium and butterfly pavilion entrance.
X marks the areas we missed …
The gorillas.  For whatever reason, this area was REALLY busy when we tried to explore.  So much so that while I managed to get one picture, that was about it.  Pretty much we hustled through.  Trying to peak around people at the end of the day was not appealing.  Hopefully we will get closer next time.  Getting to see gorillas charge up to the window is kind of funny.
Other areas not blogged about …
Garden of the Senses I will try to include some of our parrot pictures from this area on my "Friday Photography" post tomorrow.  The sundial in yesterday's Wordless Wednesday can be found in this area.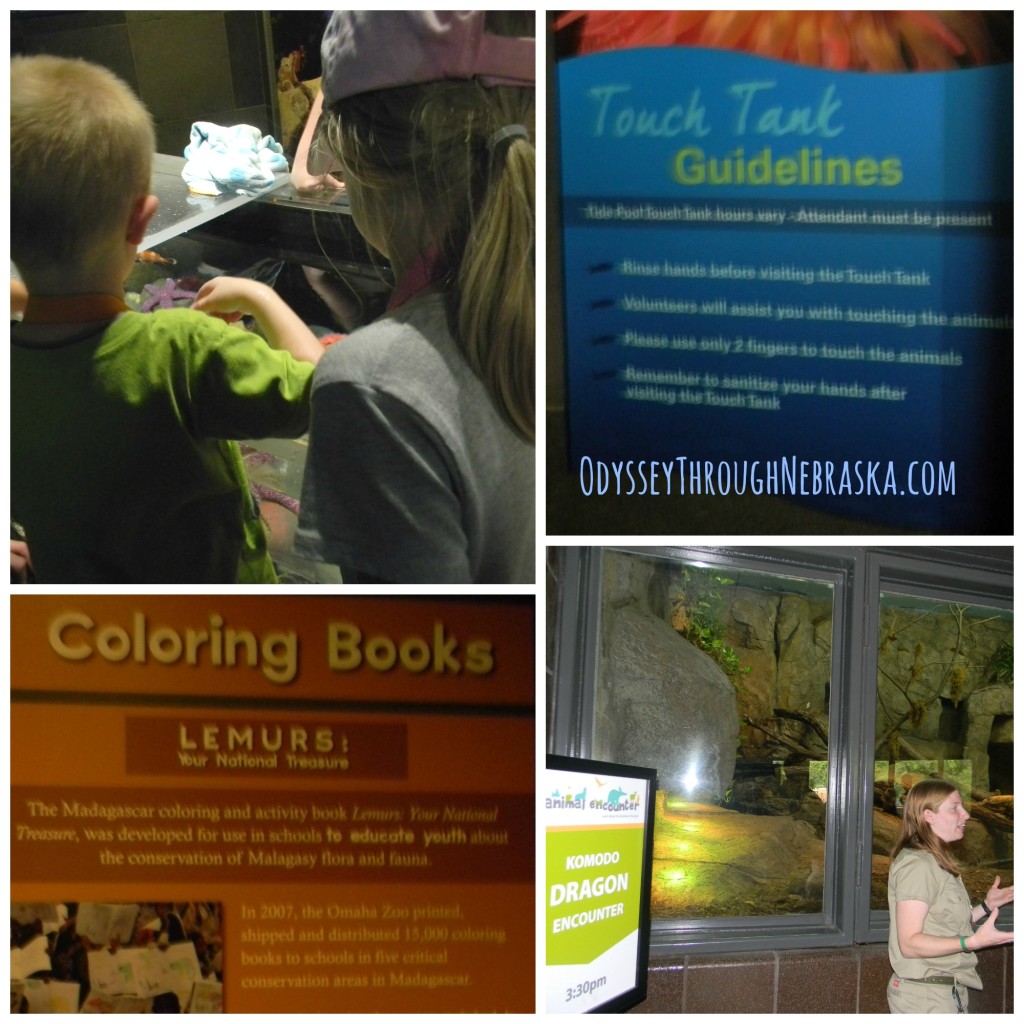 Youth
While the zoo is for all ages, they definitely have many areas planned with kids in mind. Educating children about animals is important to the zoo.  Displays include relevant information about each species.  Additionally, there is an online library of educational resources for teachers to share with students either before or after zoo visits.
Children are also able to interact with the displays in various areas.  At the aquarium, the "Touch Tank" is open in the afternoons, so that children can feel live sea stars and shells.  In Red Barn Park, children can enjoy exploring the many areas including a petting zoo.  Going on a "dinosaur dig" is also the fun destination for many of the younger set.
The zoo also reaches out to the areas where their animals are arriving from.  For instance, coloring books are provided to children in Madagascar to help them to learn about the importance of conservation.   Training youth to care for animals is how zoos will continue to thrive.
Zookeepers Where would the zoo be without qualified zoo keepers?  Probably much, much  smaller.   Animal Encounters allow visitors to interact directly with keepers and animals.  Almost two dozen of these mini-shows happen daily throughout the zoo during May through October with additional events happening in the Red Barn area.
Well, with all of the places that we missed, I am thinking that even though we live a little distance away, buying a membership would be a great investment.  For our family, we would only need to visit twice to come out ahead.  This would allow us to take a bit more time at some of the exhibits as well.  If you are coming from out-of-town, you definitely want to spend one full day or several days exploring to glimpse most of what this amazing zoo has to offer!