Sometimes a dining place draws you in even though you are not even hungry.  Blue Moon Coffee was definitely such a place for me when I went to Hastings, Nebraska.  Technically we had already eaten cinnamon & caramel rolls.  But when my favorite Hastings Aunt Kristi encouraged me to go through the adjoining door at the Well-Read Book Store, I instantly was enchanted with Blue Moon Coffee.
First of all, the interior is just comfortable and cozy.  The perfect place to sit and sip a hot drink while enjoying a good book.  I loved the fact that they have a stack of boardgames on the shelf, and I was wishing I was going to Hastings College, so that I would have an excuse to visit more often.
Second, they also managed to have "kitschy" touches.  Does anyone have any guesses as to the tall corner item?  My kids could not figure it out, but the piece made me smile.  Thankfully I had never been forced to be under the torturous structure – no, I am not that old. 🙂  Be on the hunt for the pink bicycle which was in an unexpected location. I did not manage to capture all of the fun items that they had spread around the store.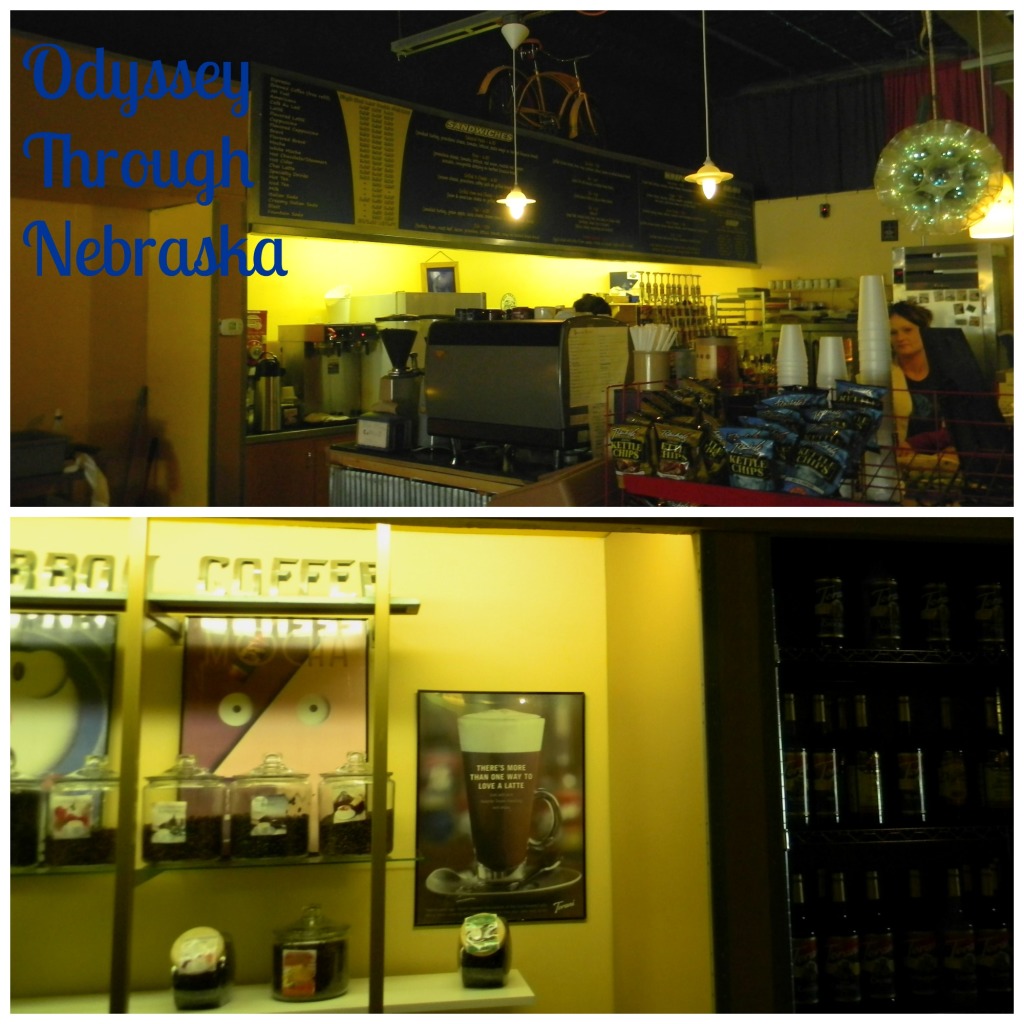 My original intention was just to take pictures and leave.  But I could not leave without supporting this lovely establishment.  Deciding I could justify a bit of protein with all of the previous sweetness, I splurged for two breakfast sandwiches for all of us to share – a croissant and bagel one.  They were both delicious, but I think the asiago bagel egg/cheese/sausage sandwich was my favorite!
With the sweet rolls we had earlier, I had drank two cups of coffee almost twice my normal limit.  The coffee there was good if you are a coffee purist.  As for me, I must admit that I am a frou-frou coffee drinker.  I will never be able to drink black coffee.  I adore flavored coffee, so when I saw the labels of my favorite Ah'Roma Coffee, I was sad.  Especially when I saw nearby bottles of syrup to add to my coffee.  I would LOVE coffee from Blue Moon Coffee.  In fact, I think that when we go back to visit my favorite Hastings Aunt & Uncle again, this might be my first stop.  To avoid giving my family an overly hyper mom all day, I passed on the coffee this time.
I would highly recommend picking out a great book from the next-door Well-Read Book Store.  Their selection was amazing and eclectic, and their prices were reasonable.  Then take your selection, go next door for a delicious sandwich or pastry from Blue Moon Coffee.  Settle yourself in the corner and read the day away.  What better day than today – a chilly day with no Saturday Nebraska football on the docket?  Not only do you have my permission for such an adventure, you have my envy. 🙂