Happy belated Cinco de Mayo!
Yes, obviously I am several days late.  But I will admit that holiday gave me a perfect excuse to go on a date with my husband.  Since we were out working on our business, we enjoyed a dinner date at a Mexican restaurant near our home.  Despite the fact that Pancho Villa Mexican Grill is located in our area of Lincoln, we had never visited there before.  Wow – we had been missing out!  Delicious authentic Mexican food is always a reason to celebrate!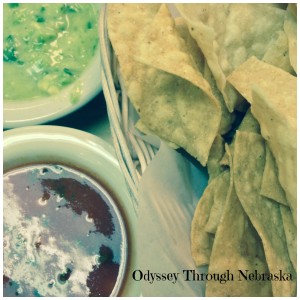 The starting point for a good Mexican restaurant for us?  Free chips and salsa.  Pancho Villa Mexican Grill passed this one with flying colors with  TWO kinds of homemade salsa.  The red variety had just the right amount of heat although it was bit messy since our bowl we sampled was not very chunky.  The green salsa?  I think we ate three bowls.  I had fun trying to guess the flavors.  My determination?  All of the ingredients added up to delicious – we wanted to lick the bowl clean.  (Yes, we refrained).  Evidently you can bring some of the salsa home, and I am hoping I remember to do that next time.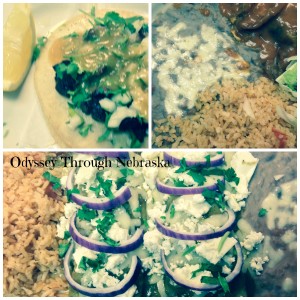 The most challenging part of the evening?  Picking what to order.  So many choices, so little room to eat all that I wanted to do (maybe that is a good thing!)  Using the descriptions directly from the menu, these are the two meals that we ended up ordering …
Combination # 18 One soft taco and one chile relleno served with sour cream, lettuce, rice, and refried beans.

Combination # 20 Two green enchiladas topped with red onion, jack cheese and queso fresco.  Served with our choice of meat. (We picked the ground beef and the grilled chicken).
We had contemplated sharing a meal and definitely could have.  One of our meals was actually served on a platter.  The best thing about ordering our own meals?  I had a fantastic lunch of leftovers!  To find out their specials, you will definitely want to become a fan of their Facebook page.  When we went on Tuesday night, we just happened to go the night that they were giving away dinner for two – a $25 value.  No, we didn't win.  But so many people entered, they actually gave away TWO of them.  Definitely the type of place that I want to support.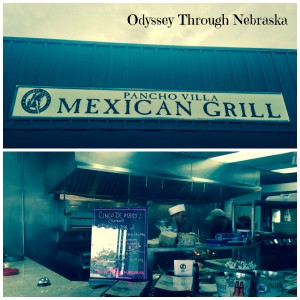 One fun thing about the Pancho Villa is that you get to watch your chef in action.  Somehow seeing how the food is prepared makes the meals taste even more delicious.  Plus the service was excellent.  Next time we will definitely be taking our kids along.  Although being alone with my husband was definitely wonderful … will have to figure out how to do that again too!  Guess we have lots of trips to Pancho Villa Mexican Grill in store.