This is my first post about Iowa. Will possibly be my last, but since I never thought I would write any on this blog about Nebraska, I guess you never know. 🙂 So, why Iowa?  The past several months I have been enjoying interacting with several area bloggers.  One of them just happens to live in Iowa.  She is a teacher and is passionate about her community.  This same community, Oakland, is recovering from an F-2 tornado and straight line winds from months ago.  What could be a better way to replace what was broken than to use junk?
If you have ever been to our house, you would know that we are great "re-purposers."  I guess the chic term today is "upcycling" – taking what is old and making it new.  Since two of our bathroom vanities are re-purposed dressers, this definitely applies to us.  Well, next week-end in Oakland is your perfect opportunity to find something old and make it new for you!
Flea market finds.  Old license plates to start a collection.  Antiques.  Pinterest projects.  Christmas gifts.  The possibilities are endless.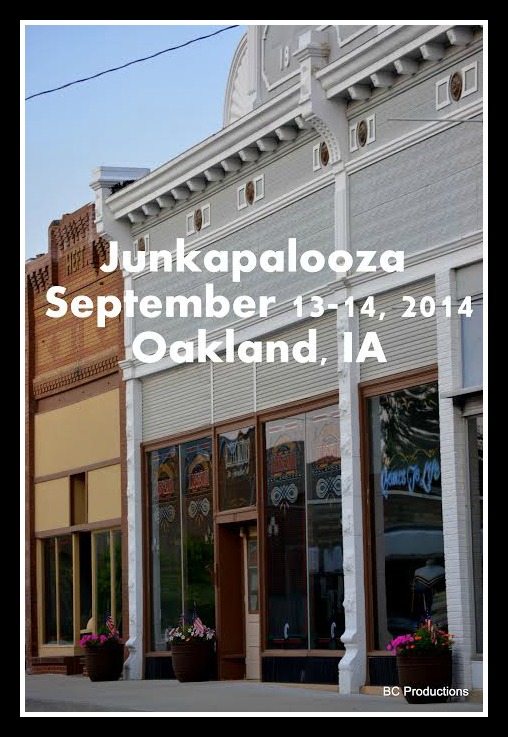 Here are the details …
Oakland Junkapalooza 2014
Grab the phone, the calendar, the master schedule of football games, and SAVE THIS DATE:
Saturday

and

Sunday, September 13-14, 2014

!
Where will you be:  Oakland, Iowa
To be more exact:  Main Street Oakland, Iowa
When: 
9am – 7pm
Saturday
and
9am – 4pm on Sunday
Cost:  $4 for Adults, $2 for kids 12 and under and free for 2 and under.  All admission proceeds will go to the Nishna Heritage Agricultural Gardens to help them recover from the tornado.  To keep up-to-date, you can check out their Facebook Page as well!
You may just want to camp out in Iowa for the week-end.  The Walnut Antique Fall Festival is also happening September 13th and 14th.  Maybe you should go here first, find inspiration, then head over to Oakland to find the junk to bring home to make your ideas possible!
Unable to attend Junkapalooza but still like the idea of helping the community of Oakland with recovery and town refurbishing?  Please contact the town directly to learn how you can donate.